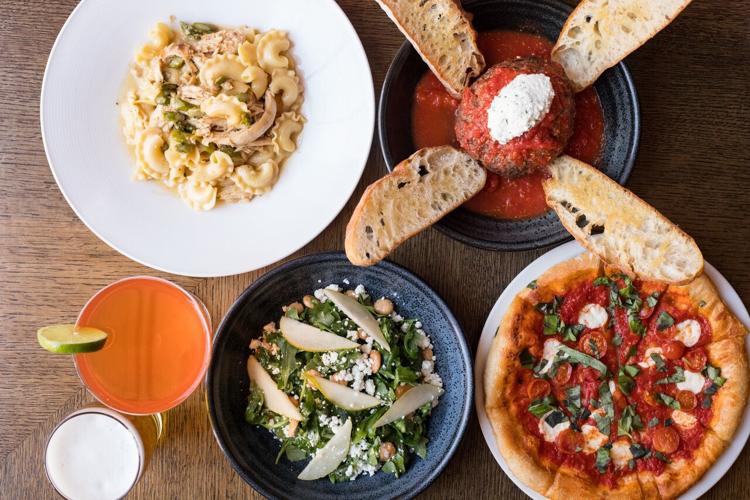 Quattro Trattoria + Pizzeria – which debuted just a month ago at The Westin St. Louis downtown, next to Busch Stadium – features an Italian-focused menu with pastas, pizzas and more in a casual, contemporary setting.
The eatery, on the hotel's first floor, replaces Clark Street Grill, which closed in mid-December to make way for extensive renovation. The resulting expansion features a 140-seat dining room, a brand-new bar with 30 additional seats and an additional entrance with views of the stadium. Sleek textures and earthy tones highlight the inviting space.
Executive chef Josh Wedel, who has worked with The Westin for more than 16 years, developed the menu with fresh flavors, simplicity and affordability in mind. He also works with a number of local companies to source ingredients, among them Midwest Pasta Co., Companion Bakery and Salume Beddu.
"I think of it as modern Italian with smaller portions and smaller plates," Wedel says. "Guests can come in, sit down and have starters, pasta, and still have room for dessert. It's an affordable menu so anyone can come in and have a great meal."
Highlights there include hand-tossed personal pizzas, made with a from-scratch dough with 00 flour (an Italian wheat flour type) and cooked in a stone-fired pizza oven at 700 degrees. The Margherita, for instance, comes topped with mozzarella, basil, extra-virgin olive oil and a special rich tomato sauce flavored with an herb-infused olive oil, butter, fresh basil and Parmesan.
This signature tomato sauce also appears in another specialty, a shareable polpette, or 16-ounce meatball, topped with the sauce and herbed ricotta, served with crostini. The meatball is also available as a pasta dish, stuffed with tagliatelle in Bolognese and topped with grated Grana Padano cheese.
Additional offerings include an arugula salad with pear, 'Marcona' almonds, goat cheese and white balsamic vinaigrette; lasagna al forno with Bolognese, béchamel and mozzarella; and balsamico pasta with fresh creste di galli, balsamic cream, chicken and asparagus. Diners who customarily can't decide on just one entrée should feel free to bring a group so multiple items can be ordered and sampled before catching Salt, Root and Roe from Upstream Theater.
From the bar, patrons can choose from 10 beers on draft, more options by the can and bottle, and a wine list with around 20 options – all of which are available by the glass or bottle. The cocktail menu features classics with Italian twists such as the Italian in Jalisco, a unique take on a margarita; the refreshing drink comprises Patron blanco tequila, the Italian apéritif Aperol, the Italian digestif Amaro Montenegro, lime juice and agave.
Quattro Trattoria + Pizzeria, 811 Spruce St., St. Louis, 314-552-5850, facebook.com/quattrostlouis