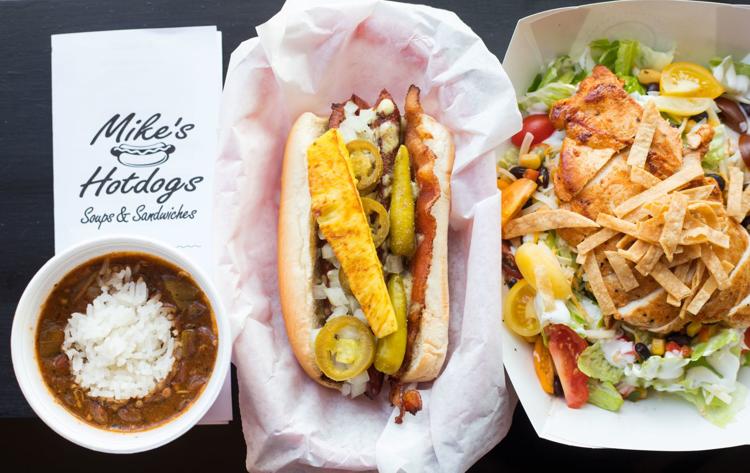 In University City, Mike's Hotdogs Soups & Sandwiches offers a seasoned chef's gourmet take on a classic hot dog stand with an array of casual options for lunch and dinner alike.
The eatery comes from Michael Eagan, whose culinary résumé includes previously serving as executive chef at Cardwell's in Clayton, as well as owning St. Louis' Park West Grille. Prior to his stint in fine dining, Eagan gained experience in the hot dog biz decades ago while working locally for CC's Depot Dogs (of Home Depot fame) and even running a wiener stand inside a furniture store.
"I decided to open a business here because it's just a great area," Eagan says. "The neighborhood's fantastic. We have awesome neighbors in every direction and have had a really warm reception."
The restaurant fills approximately 1,600 square feet, seating around 40 people inside and an additional 20 on a front patio. The building, which previously housed a hair salon, received a full renovation complete with a retro American-eatery theme highlighted by a red-and-black color scheme.
From the menu, guests can choose from a selection of burgers, other sandwiches, hot dogs and sausages, salads, soups, sides and drinks. Eagan uses local products from Ferguson's El Rey Cooked Meats. The Volcano hot dog, for instance, features an El Rey St. Louis Red Hot with peppered bacon, hot sauce, jalapeño aioli, chopped onions, jalapeños, sports peppers, seared pineapple and celery salt.
As perhaps the most popular hot dog, Eagan's take on the classic Chicago frank features mustard, relish, chopped onion, tomato, pickles, sport peppers and celery salt. A St. Louis dog adds bacon and Provel. Also available is a vegan hot dog.
"My motto is, you've gotta have it fresh," Eagan says. "We make it simple, we make it fresh, and we make it delicious. I don't overdo anything."
The selection of sandwiches includes Angus burgers, seared on a flat top and topped with caramelized onions and pickles. Another highlight, the roast turkey sandwich, boasts house-roasted turkey with Monterey Jack on buttery, toasted sourdough, served with a side of sweet pepper marmalade.
Salads include a Buffalo chicken salad with crispy Buffalo chicken atop a romaine blend with Monterey Jack, tomatoes, bacon and ranch dressing. Soup offerings comprise hearty Texas-style chili and a rotating soup of the day from Eagan's arsenal of recipes amassed over the years – everything from tomato bisque to Creole gumbo.
Specials include chicken wing baskets, toasted ravioli and crabcakes. To drink, guests can choose from a selection of soft drinks, among them bottled options from local landmark Fitz's Bottling Co. and Excel Bottling Co. in Breese, Illinois. Craft soda floats and milkshakes are also available. Basically any offering from Mike's Hotdogs Soups & Sandwiches, though, should make a fine reason to visit the eatery before catching The Black Rep's production of Milk Like Sugar.
"It's just good old-fashioned, quality food at a great price," Eagan says. "I always like to say we have the best hot dogs, but we have the best everything else, too. There's a lot of fun, interesting stuff you wouldn't normally see at a hot dog stand – something for everyone." 
Mike's Hotdogs Soups & Sandwiches, 7293 Olive Blvd., University City, 314-776-9225, mikeshotdogsstl.com