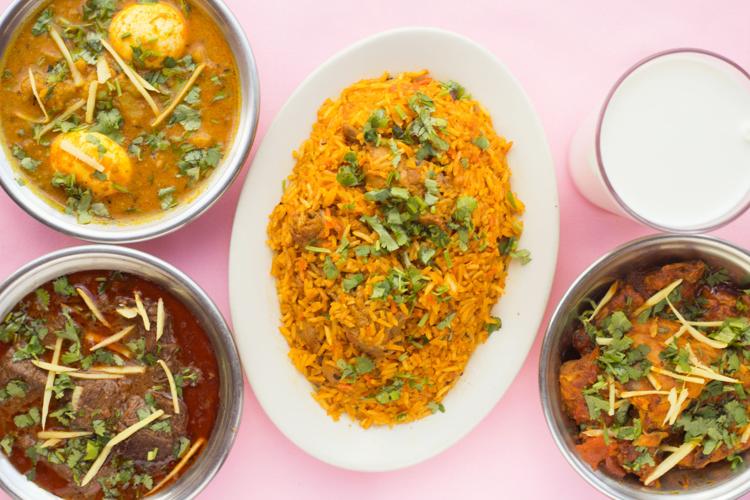 Bold scents and brilliant colors abound in the Pakistani and Indian cuisine served at Masala in St. Louis' Skinker DeBaliviere neighborhood.
This homestyle Southern Asian restaurant comes from husband-and-wife duo Zahid and Shaheena Khan of Spice-n-Grill, which opened in 2011. With Masala, the Khans can cook the types of dishes that were refined at the takeout-focused Spice-n-Grill in a more spacious setting. The bigger digs allow a larger menu, as well as a regular lunch buffet, so guests can easily get a truer taste of the couple's varied offerings.
"Our food is totally homemade-style," says Zahid Khan, a native of Karachi, the capital of the Pakistani province of Sindh. "A lot of our customers love our Pakistani cooking."
Masala, which debuted in February, fills the space previously occupied by Thai Cafe. The remodeled interior sports a predominantly pink theme, from the paint on the walls to the napkins on the tables, and seats roughly 65 patrons. One side of the dining room centers on the lunchtime buffet, with a spread featuring 10 to 12 different items, including rotating options day by day.
Popular items from the Spice-n-Grill menu available at the new eatery include murgh (chicken) tikka masala with boneless chicken breast cubes, creamy tomato sauce and spices; goat peshawri with goat cooked in tomatoes, onions and herbs; and one of the Khans' foremost specialties, nihari – a stew of chicken, lamb shanks or beef shanks cooked with yogurt, spices and special gravy.
True to the restaurant's name, each dish features its own set of spices with flavoring ingredients like red chilis, red chili powder and red chili flakes, as well as coriander, cumin, salt, pepper, turmeric and the Indian spice blend garam masala.
The menu begins with appetizers, salads and condiments including kheema samosas, or white flour patties stuffed with spiced, minced lamb, and hot, spicy mixed pickles accompanied by mango chutney. Tandoor-cooked dishes include a variety of kebabs – among them tender marinated lamb cubes broiled over charcoal – while the rice specialties seem endless, with delicious options such as vegetable biryani.
Recent additions to the Khans' repertoire of entrées include fish tikka masala with tilapia and a lamb karahi with fresh tomatoes and herbs. In addition to breads such as paratha (layered whole wheat bread) and tandoor-cooked naan, Masala offers a new, unique option, sheermal, a layered soft bread made with special white flour; its hint of sweetness pairs well with many of the slow-cooked items from the menu.
Guests should come hungry for the seemingly endless combinations of delicious entrées, appetizers and breads – and they shouldn't forget to order a dessert or thick lassi drink before heading to see Death Tax from the Mustard Seed Theatre. About those desserts and drinks. The former include ras malai, or homemade cheesecake in sweet condensed milk flavored with rose water and pistachio, while the latter include mango lassi or salty lassi with cumin seeds and fennel seeds.
"I'm very happy for this location," Khan says. "This is a very nice environment with fantastic neighbors. I hope we are very successful here." 
Masala, 6170 Delmar Blvd., St. Louis, 314-899-9909, stlmasala.com