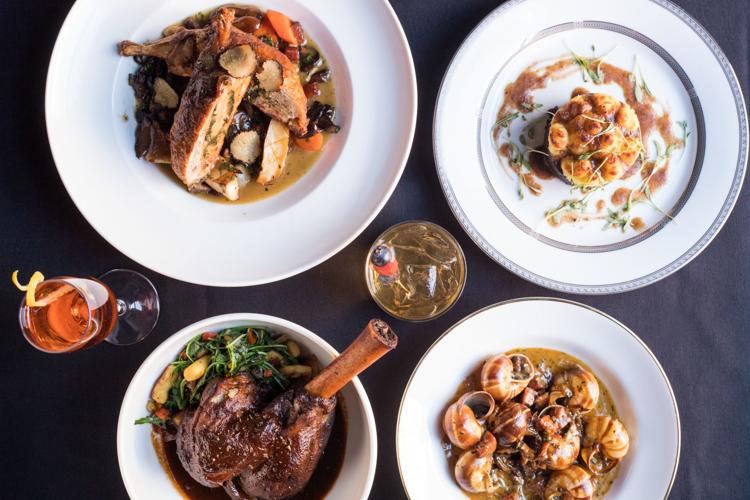 The French bistro 808 Maison, featuring a menu by former Franco chef Jon Dreja, debuted with a soft opening on Jan. 2 in St. Louis' Soulard neighborhood. It comes from Luke Reynolds and John Rogers, who also own the adjoining popular haunt, Mollys in Soulard.
"We honestly had more space with the Mollys complex than we could really handle, and I really felt there was a need for something a little more upscale and more refined in Soulard," Reynolds says. "We're a small, intimate American-style bistro with traditional French cuisine. It's a casual vibe but a bit sophisticated."
Reynolds redesigned the approximately 800-square-foot, 48-seat space himself. Woodwork includes a new backbar, a bar top made from mahogany – salvaged from The Edge in St. Louis' Lafayette Square neighborhood – and a communal table made from a walnut tree. The dining room's exposed-brick archways, tin ceilings and original floors are juxtaposed with updated, chic elements such as velvety seats, floral wallpaper and midcentury modern light fixtures.
Dreja, who also serves as the executive chef at Mollys, offers a full menu of French fare for dinner service. Small plates include pommes frites; escargot served in the shell with Spanish chorizo, caramelized fennel, Madeira and saffron-garlic butter; and smoked sweetbreads Parmentier with wild mushroom-foie gras duxelle, duchess potatoes and veal jus gras.
"Fruits de Mer" options include oysters on the half shell, scallop tartare, trout caviar and, perhaps most notably, smoked petite octopus. A small selection of soups and salads includes a French onion gratinée; celery root soup with black truffle, quail egg and celery leaf; and a beet butternut chevre terrine with field greens, shaved fennel, pumpkin seed and Pernod vinaigrette.
From the entrées, guests can choose from such options as poussin – chicken stuffed with veal sweetbreads and black truffles – with wild mushroom barigoule and Perigueux sauce; Burgundy-braised lamb shank with Parisian gnocchi, mirepoix and arugula; and cassoulet with duck-leg confit, Toulouse sausage, braised heritage hog, haricots blancs and breadcrumbs. Desserts include crème brûlée and apple tarte Tatin with caramel and vanilla ice cream.
"I'm excited to bring Soulard a particularly comfortable, upscale and friendly place to come and get really good food done right with service that's, for a lack of better words, proper," Reynolds says.
The beverage list includes wine by the glass and bottle as well as a selection of whiskeys, bourbons, cognacs and Calvados. Absinthe service is also available. Becky Ward, previously of Edwardsville's Cleveland-Heath, serves as bar manager. A menu of specialty drinks will be available soon, including Champagne cocktails and mixed drinks such as the Calvalier: a concoction of Calvados, muddled house-brandied cherry, blueberry, simple syrup and black walnut bitters.
If all of the preceding sounds good enough to make you dance – as well it should – then before enjoying Fiddler on the Roof at The Fabulous Fox Theatre, do visit 808 Maison, which serves dinner Wednesdays through Saturdays from 5 to 9:30 p.m., with the bar open till 1:30 a.m., and brunch available Sundays from 10 a.m. to 3 p.m. 
808 Maison, 808 Geyer Ave., St. Louis, 314-594-4505, 808maison.com