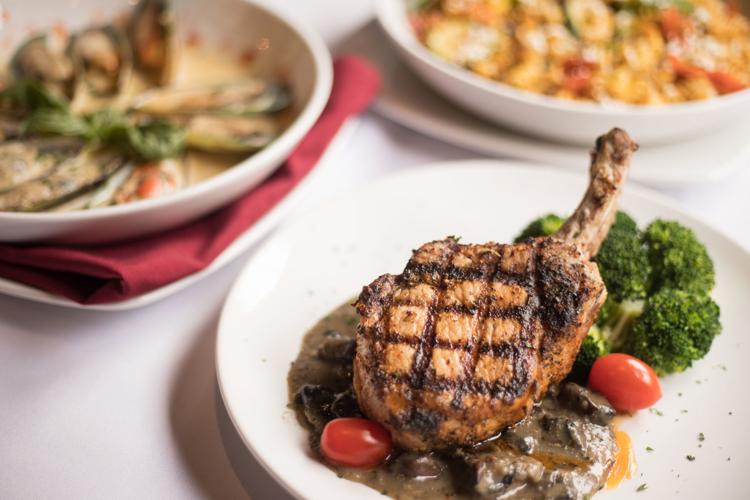 Kemoll's Chop House, one of St. Louis' oldest and most iconic family-owned restaurants, recently started anew in Westport Plaza.
Originally located on North Grand Boulevard from 1927 to 1990, Kemoll's then moved to the Metropolitan Square Building in downtown St. Louis; there it occupied first the lobby, then the 40th floor till January, when it again relocated to Maryland Heights and effectively rebranded.
As its name establishes, the new iteration of this classic Italian restaurant features a chophouse-style menu alongside Italian mainstays, internationally inspired appetizers and grilled fish.
"Over the years, we've had over 80 items on the menu at Kemoll's," owner Mark Cusumano says. "Out of the top 10 best-selling items, eight were from the grill, and two of them were steaks. We decided to follow that trend while keeping our list of favorite appetizers and Italian dishes intact."
Kemoll's remains an upscale dining destination, filling an 8,000-square-foot space with a contemporary, elegant design. A mixture of classic and modern aesthetics provides a lavish backdrop for quiet dinners, made possible thanks to tapestries, carpeting and other purposeful elements to help with acoustics. Embellishing the dining areas are antique gilded mirrors and historical family photos printed on stainless steel, including as a centerpiece a framed portrait of the family matriarch, Mrs. Joe Kemoll (née Gaetana Danna).
From the menu, guests can choose from longstanding favorites like veal Milanese, featuring a cutlet breaded in Kemoll's breadcrumbs, sautéed in garlic butter and topped with tomatoes, basil, artichokes and Kalamata olives. The appetizer menu also carries over from the former menu, featuring highlights such as baked oysters, beef tenderloin brochettes and fried artichokes.
Cusumano worked with executive chef Don Tadlock to develop a number of new items for the retooled menu. In addition to best-sellers such as filet mignon and strip steak, guests can enjoy additions including a 24-ounce certified Hereford beef cowboy rib-eye steak, a 16-ounce center-cut bone-in veal chop and a 10-ounce lobster tail. This combination of old favorites and new offerings makes Kemoll's a great spot to design a decadent dinner before catching I Now Pronounce from the New Jewish Theatre.
Guests otherwise should take pains to visit the distinctive octagonal bar, which boasts a large selection of single-malt scotches and some exclusive bourbons. Bottled craft beer also is available alongside classic cocktails and wine by the glass and bottle.
"We have at least 10 employees who have been here for 35 years or longer as well as an enthusiastic young staff that's dedicated, conscientious and just a pleasure to work with," Cusumano says. "It's all about seeing everybody coming in and enjoying themselves. After 92 years, it's like we're starting a whole new life for Kemoll's, and hopefully, we'll go for another 92 years."
Kemoll's Chop House, 323 Westport Plaza, Maryland Heights, 314-421-0555, kemolls.com