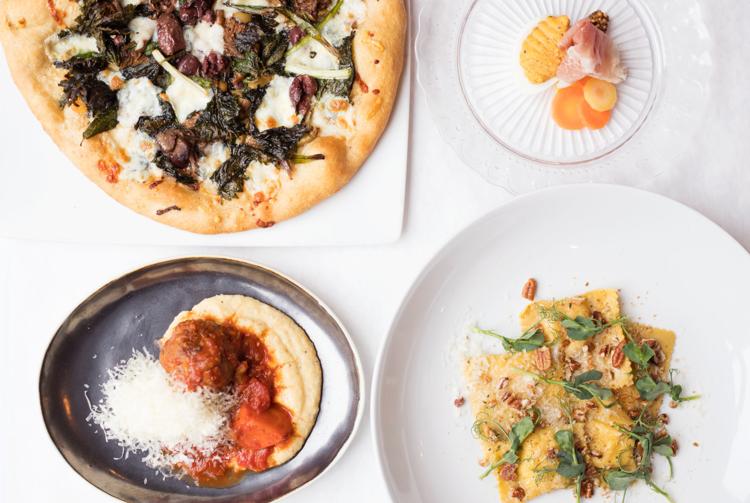 A longstanding restaurant just last month reimagined itself in the St. Louis neighborhood known as, simply, The Hill, when J. Devoti Trattoria transformed from Five Bistro, plating modern farm-to-table Italian.
Chef-owner Anthony Devoti named the restaurant and its continuing market counterpart, J. Devoti Grocery, after his great-grandfather, Joseph Devoti – an Italian immigrant who opened a grocery on The Hill in 1906.
"We've done Five Bistro for 12 years, and I'd been wanting to do something different but still maintain the same beliefs that we had at Five," Devoti says. "It's a little bit of our family history mixed in with the same farm-to-table experience we were offering before in a beautiful atmosphere."
Devoti worked with longtime friend Aaron Bunse to develop the feel for the revamped dining room, which features a fresh coat of paint and a collection of framed photographs. The spread includes old family photos of Devoti's great-grandfather, as well as images of New York, San Francisco and St. Louis – all places where Devoti has lived and worked. His wife also contributed her own pictures of Italy for the walls.
"It's become a little more personal here," Devoti says. "We put our name on the window, and we're representing our family and places I've lived and grown as far as being a cook goes. And I just love that you can come here on a date, on a business meeting or bring the whole family."
The main dining room seats roughly 50 guests, while the grocery area incorporates a table for private parties seating up to 20 guests. The next phase of the restaurant's development involves a garden on the patio, where Devoti plans to plant flowers and vegetables alike.
From the menu – which, like the one at Five Bistro, changes daily based on the availability of fresh, locally curated ingredients – guests can still order a few favorites from J. Devoti Trattoria's precursor, among them a house burger featuring ground beef, lamb and pork, Sangamon Double Cream from Fithian, Illinois' Ludwig Farmstead Creamery, 24-hour pork belly, a fried chicken egg, greens and pickles. According to Devoti, the kitchen also still offers sous chef Mark Mulitsch's thoughtfully prepared local cheese and charcuterie plates.
Recently, otherwise, a sourdough wheat pizza base came topped with goat cheese from Bloomsdale, Missouri's acclaimed Baetje Farms, olives, nettles and chili flake. Also recently, house-made ravioli came stuffed with local cheese topped with J.T. Gelineau pea shoots and Missouri pecans.
Behind the bar, Jacob Nord curates a seasonal cocktail/beer list that focuses on supporting local producers. Guests can enjoy six draft beers (as well as a list of smaller production wines).
"You can get a high-quality meal here and dine on food that's produced locally in our region," Devoti says. "One hundred and twenty five miles away from the city is the farthest that we go. You can feel proud about supporting local farms and breweries and these guys who are working every day to make a living, and the folks who used to come before [to Five Bistro] don't have to be worried about their favorite charcuterie plate not being there. You can have a taste of that and something new."
So whether going to enjoy a seasonal snack or a brisk beverage, guests should make sure to do so before catching Phantom of the Opera at The Fabulous Fox Theatre.
Starting this month, J. Devoti Trattoria also will feature family-style dinners the first Sunday of each month until Thanksgiving. The four-course meal features pasta, an entrée, a veggie and a salad for groups from 4 to 8 p.m. During that time, guests can pick a retail bottle of wine from the on-premises shop with no corkage fee. 
J. Devoti Trattoria, 5100 Daggett Ave., St. Louis, 314-773-5553, jdevoti.com