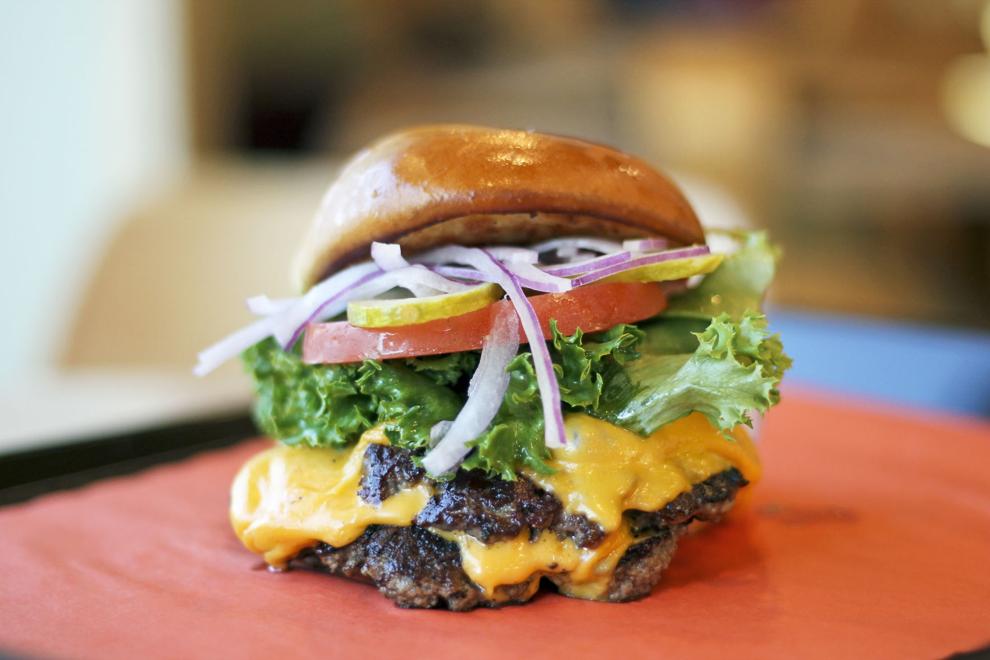 One of the year's most anticipated new restaurants is officially here: Hi-Pointe Drive-In, the latest project from Sugarfire Smoke House chef-owner Mike Johnson, which opened its doors in January.
Located in a former Del Taco off McCausland Avenue, the restaurant – with longtime Sugarfire chef Adam Pritchett at the helm – serves burgers alongside other sandwiches, salads, milkshakes and a handful of sides like Belgian frites and white cheddar mac 'n' cheese.
The griddle-style burger is similar to the one served at Sugarfire, but comes on a butter-toasted potato bun from Fazio's Bakery. Veggie and turkey burgers also are available, as well as the signature taco burger, which features a taco-seasoned patty made with crushed Cool Ranch Doritos and Chili Cheese Fritos, American cheese, lettuce and Mission Taco Joint sauce.
Sandwiches make up the bulk of the menu, including a roast beef sandwich with chimichurri, brie and charred onion; a salmon bánh mì with chili-mango aioli; a hot salami made with Salume Beddu genoa and soppressata; and a griddled or crispy fried chicken sandwich with garlic mayo. Sugarfire fans won't be surprised to see a few creatively named sandwiches on the menu: "The Abaconing," for instance, features smoky Wenneman bacon, bacon-fat aioli, collard greens, white cheddar and a bacon bits-fried tomato, while the "Guac-Ness Monster" features Funyuns-fried avocado, guacamole, avocado ranch, provolone, radish sprouts and tomato.
A handful of salads round out the menu, including a classic Caesar and a chef salad, as well as the "Greens & Grains" with quinoa, wild rice, wheat berry, avocado, roasted corn, cotija cheese, tomato, red pepper, crispy tortillas, greens and lime vinaigrette – all of which sound like great options before catching To Kill a Mockingbird at The Rep.
To drink, choose from Breese, Illinois' Excel Bottling sodas and beer, as well as wine and boozy slushies. Milkshakes also are available in chocolate, vanilla, strawberry, Dreamsicle and butterscotch, with the option to add booze for $3. In collaboration with Strange Donuts, Hi-Pointe otherwise offers a rotating seasonal shake; look for a spiced pear-gooey butter shake on the initial menu.
"I hope [diners] get a quality food experience," Johnson says. "It's fast, friendly and a good price range."