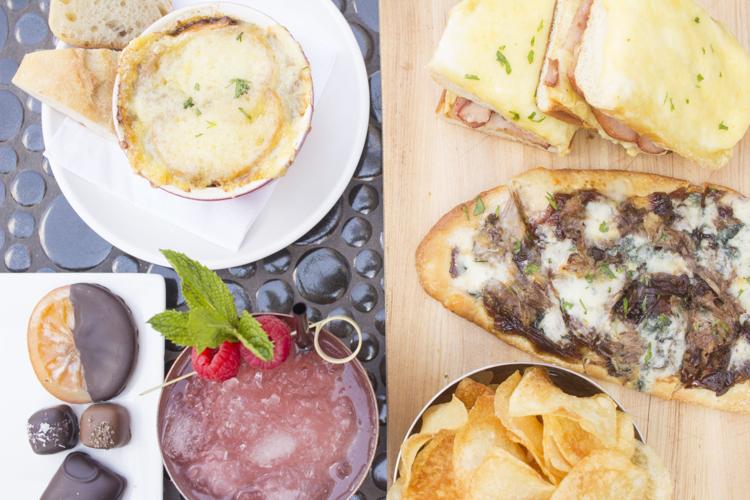 A local chocolate landmark recently celebrated the grand opening of its latest evolution, which features expanded food and beverage offerings. That evolution, Handcrafted by Bissinger's, debuted in the St. Louis' Central West End neighborhood with breakfast items, a lunch menu, shareable plates, wine, cocktails and more.
Handcrafted by Bissinger's replaces former retail shop Bissinger's Handcrafted Chocolatier. It's owned and operated in collaboration with Bissinger's sister company, 23 City Blocks Catering, which also runs The Caramel Room at Bissinger's.
"We wanted to change the name so people know that we're selling more than just chocolate," says 23 City Blocks Catering's vice president of operations, Nick Jovanovic. "It's more inviting and transforms throughout the day. It's a great place for meetings or getting some work done by yourself. It's also a great place for a group of friends to come in together and just enjoy the experience, before or after dinner or an event."
Local interior design firm Savvy Surrounding Style provided an aesthetic facelift to the space, which now features a casual European café feel combined with a lounge, complete with a wine wall. Various seating options – around 40 inside, with an additional 20 outside – are available on both sides of the space, including low and high tables, couches and window seats.
In addition to all of Bissinger's popular chocolates from over the years – bear claws, salted caramel and fresh cream truffles among them – guests now should further enjoy the food menus designed by 23 City Blocks Catering chef Nick Miller (who previously co-owned Harvest in Richmond Heights).
In the mornings, guests can look forward to an upgraded coffee service, which features everything from Kaldi's nitrogen-infused, cold-brew coffee to signature lattes that tie back in to Bissinger's chocolates. For breakfast, an array of quiches are available, as well as pastries including muffins, croissants and bagels.
The lunchtime selection consists of salads, soup and sandwiches. Guests can choose from such highlights as French onion soup and a croque-monsieur with country ham, béchamel, Comté cheese and Dijon mustard on ciabatta. In the evenings, shareable plates include house-made charcuterie and flatbreads, among them roast beef with Point Reyes blue cheese and red onion jam – all great choices before catching Newsies at The Muny.
The dessert menu has also expanded to include items such as a Bing cherry-brown butter trifle. A carryover from the previous menu is the classic cococino, made up of molten flourless chocolate cake and vanilla-bean crème anglaise.
Bissinger's new wine preservation system features three temperature-controlled cabinets divided into white, old-world and new-world varieties. Pours are available in 2-, 4- and 6-ounce offerings. An upgraded cocktail menu features options such as a seasonal mule and the Our Signature with Bissinger's chocolate liqueur, Chambord, house-made coffee liquor and vanilla-infused vodka.
"The combination of wine and chocolate and chocolate and coffee is just classic and amazing," Jovanovic says. "This kind of re-concepting was an upgrade based on a lot of feedback we were getting from our guests. It's an opportunity and direction everyone sort of naturally saw, and we can't wait for people to come in and try it."
Handcrafted by Bissinger's, 32 Maryland Plaza, St. Louis, 314-367-7750, handcraftedbybissingers.com