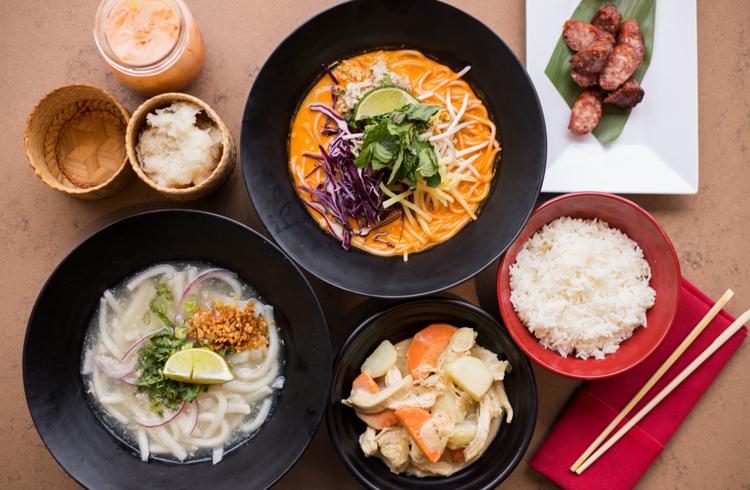 Han Lao, featuring Laos- and Thailand-inspired cuisine, debuted last month in Brentwood.
The casual restaurant – whose name translates simply as "Lao store" – comes from Thom Chantharasy, who also owns Robata, a Maplewood eatery featuring Japanese cuisine.
"I wanted to get my children eating what I ate growing up more often," says Chantharasy, whose mother is Laotian. "I didn't always have time to cook these dishes for them at home, so I thought I'd open this restaurant so they could have it any time, as well as hopefully share it with other people who want to try it."
Han Lao fills the roughly 3,000-square-foot space previously occupied by Camille's Sidewalk Cafe, seating roughly 55 in booths, at wooden communal tables and at the bar. The dining area features an open kitchen and clean, neutral tones.
Chantharasy says Lao cooking showcases wok cooking, a lot of broths, coconut milk, some nice spice, a lot of citrus, fish sauce, and sweet and sour flavors. His menu features southeast Asian-style soups like one of his personal favorites from his mother's recipe: khao poon with red curry and coconut pork broth, vermicelli noodles, ground pork, bamboo, bean sprouts, fresh herbs, red onions and cabbage.
Another highlight, khao piak sén, involves chicken broth, house-made fat rice noodles, pulled chicken, fresh herbs and fried garlic. Appetizers include such items as house-made beef jerky and Lao-style sausage served with a side of jeow bong, or spicy chili paste. Fresh spring rolls are prepared with sliced pork, vermicelli, lettuce, bean sprouts and fresh herbs wrapped with rice paper and served with a sweet lime-fish sauce, topped with crushed peanuts.
Nam khao, another unique regional dish, comprises red curry and coconut rice salad, optional nam moo (pickled pork sausage), fresh herbs, whole dried peppers and lettuce. A staple of the menu is steamed sticky rice, available as an additional side.
For an easy entry point, Chantharasy also included a couple of familiar Thai dishes on the menu, such as pad thai and pad see ew with the diner's choice of beef or chicken stir-fried with thick flat rice noodles, Asian broccoli and egg in sweet soy sauce.
From the drink menu, guests can choose from a selection of bubble tea, including flavors such as Thai iced tea with tapioca balls and the option to spike it with rum. Also available are beer, white and red wines, and cocktails like the Lychee Buddha, with peach liqueur, Tito's vodka, cognac and lychee juice. A Lao bloody mary features Tito's, Sriracha sauce, soy sauce, fish sauce, bloody mary mix, shrimp, olives, bacon and celery, rimmed with salt and hot pepper.
"I like the challenge of introducing people to different types of food," Chantharasy says. "I think people should come try it because they'll be surprised by how much they like it."
Whether you're interested in trying something Thai or simply want to wet your whistle with a cocktail, be sure to do so at Han Lao before catching Alabama Story from The Repertory Theatre of St. Louis.
Han Lao, 1250 Strassner Dr., Brentwood, 314-932-1354, hanlaostl.com