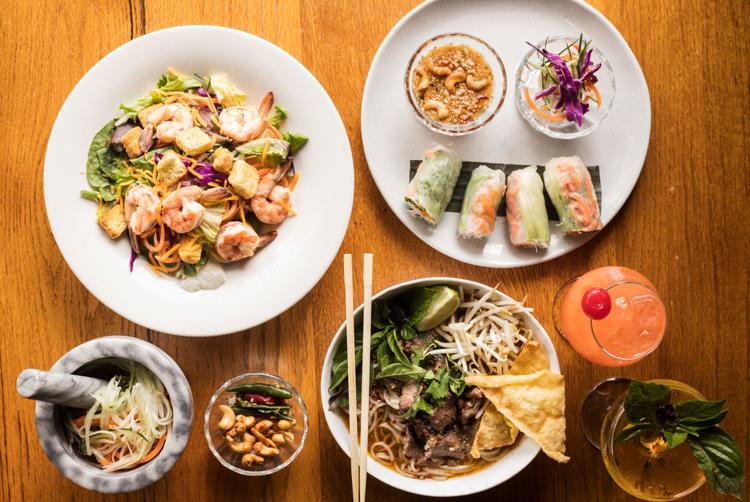 Pan-Asian cuisine and wood-fired specialties make for a deliciously unique match at Fox Fire in University City. The menu mirrors the marriage of owner and chef Somying Fox and her husband, Kevin – a blend of their backgrounds present in the Asian- and American-inspired dishes.
"We wanted people to be able to enjoy Asian food and American food at the same time," Somying Fox says. "It's all made with love. We want to make everybody happy and for them to have a good experience – that's our goal."
Fox Fire in the Delmar Loop is Fox's newest restaurant; she also owns Basil Spice Thai Cuisine in St. Louis' Tower Grove South neighborhood and My Thai in that city's Central West End.
Filling the space previously occupied by Público, Fox Fire retained the wood-fired grill in the kitchen and treelike sculptures mounted on the dining area wall. Fox reworked the open kitchen to suit her needs and brought many new touches to the dining room, including a teak carving imported from Thailand and art by local talents Andrew Tansil and Ray Moody.
"This place feels like home," Fox says. "I can be cooking, and my kids can sit here and watch, and friends and family can come hang out. It's very comfortable."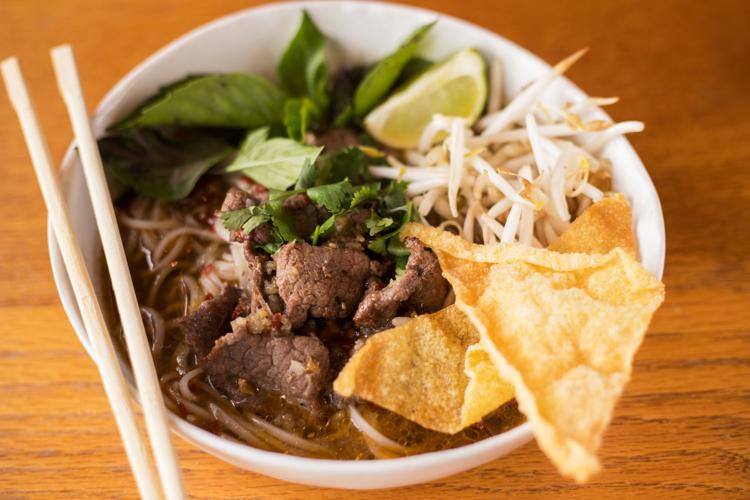 Highlights from the menu include a grilled shrimp salad with romaine, other lettuce, garlic croutons, shaved Parmesan and a ginger-vinaigrette dressing with a hint of sweetness from honey. A Philly cheesesteak, another favorite, comprises a soy- and ginger-marinated steak topped with cheese, lettuce, peppers and onion, served with fries and taro chips.
Pan-Asian offerings include pad Thai with noodles, bean sprouts, green onions, egg, lime and crushed peanuts, available with marinated chicken, pork, tofu, beef, shrimp or a seafood combo. The same proteins are available across a number of items, including Fox's take on Vietnamese phở, featuring a rich, savory broth with noodles, bean sprouts, green onions, cilantro, basil and fried wontons.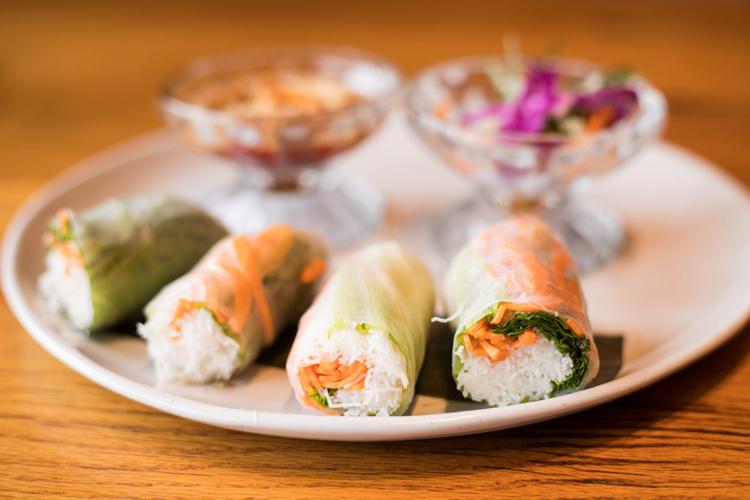 Wood-fired specialties include a grilled pork chop marinated in Asian-style sauce; a spicy fish fillet featuring crispy fish with garlic, pepper, red curry, ginger, onion and basil; and basil mussels with sautéed mussels, scallops, ginger, pepper, basil and Brussels sprouts.
Fox Fire makes the perfect spot for customers who are hungry but don't exactly know what they're craving – so theater fans can feel free to enjoy a feast that transcends continents before catching the Bard's classic Love's Labors Lost from the Shakespeare Festival St. Louis.
Otherwise, guests oughtn't forget about the delectable desserts from Fox Fire, which include sweet sticky rice and custard, fried bananas with ice cream, crème brûlée and chocolate cake. A full bar, with a selection of beer, wine and cocktails like the lychee martini, is also available for guests. 
Fox Fire, 6679 Delmar Blvd., University City, 314-899-9995