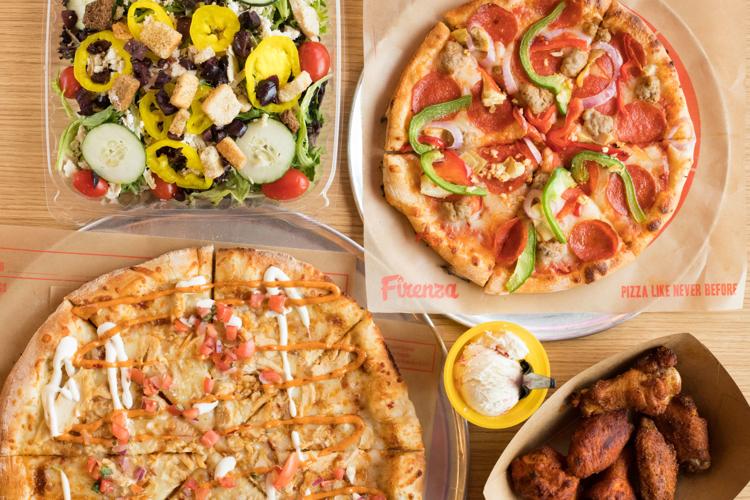 With summer approaching, Webster Groves' Firenza Pizza and its sweet counterpart, Ziggy's Frozen Treats, make one of the metro area's best spots to enjoy casual, family-friendly Italian fare (including gelato).
The tandem establishment, which debuted in January, comes from Firenza Pizza franchisees Steve and Darah Imrie. The Webster Groves operation represents the 25th from the Fairfax, Virginia-based chain – just the second in Missouri, after Kansas City. However, Ziggy's Frozen Treats remains unique to the local location, with a separate counter at the back of the dining room, as well as an outdoor walk-up window for warm-weather service.
"The tagline is 'Pizza like never before,'" Steve Imrie says. "It's wonderful food and a great product. We do our best to ensure everything is completely first-rate and incredible quality with attention to detail. That's what we're after."
Filling the previous space of SanSai Japanese Grill, Firenza Pizza can accommodate up to 50 guests in the 3,100-square-foot dining room, with additional patio seating. St. Louis' Mademan Design served as the architect for renovations, creating a modern industrial interior that features Firenza's signature red-and-black color scheme.
As the centerpiece of the open kitchen, a live-flame oven bakes pies in just three minutes at roughly 770 degrees. The house pizza dough is made with 00 flour imported from Italy, resulting in a delectable combination of a crisp edge with an airy interior. The house pizza sauce is made from vine-ripened Northern California tomatoes.
From the menu, guests can choose from six signature pizzas or can build their own pie; options are available in 10- or 14-inch sizes. Highlights include chipotle chicken with chipotle sauce, mozzarella, chicken, crema, chipotle dressing and fresh pico de gallo. Another popular pick, the Firenza, contains marinara sauce, mozzarella, pepperoni, sausage crumbles, artichoke hearts, red onions, mixed peppers and minced garlic.
Signature salads include such options as a Greek salad with mixed greens, chicken, tomatoes, feta, Kalamata olives, cucumbers, banana peppers, Greek dressing and croutons. And guests shouldn't forget oven-baked wings, another menu mainstay, which come in such flavors as chipotle-lime rub, barbecue-style and Buffalo-style.
Drink options abound, with fountain beverages, fresh-brewed Texas tea, three beers on draft (as well as offerings by the can and bottle) and wine by the glass. Desserts include oven-baked cookies and gooey butter cake. For cold treats, though, guests should head to Ziggy's for gelato, frozen custard, sundaes and shakes. All things considered, Firenza Pizza and Ziggy's Frozen Treats make a perfect pair for delicious food and decadent desserts, preferably on the patio in sultry spring weather, before catching Nina Simone: Four Women from The St. Louis Black Repertory.
"We've learned a lot, and I'm sure we have much more to learn," Imrie concludes. "All that being said, it's an honor to be in this town. Webster Groves is such a warm and friendly community. We're just so lucky to be here." 
Firenza Pizza/Ziggy's Frozen Treats, 20 Allen Ave., Webster Groves, 314-733-5268, firenzapizza.com