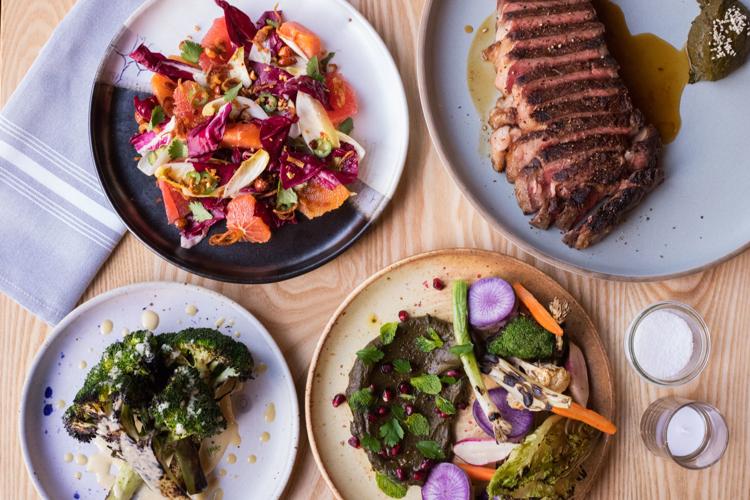 Elmwood – a restaurant from Niche Food Group alumni, as well as one of the metro area's most-anticipated recent openings – launched on Jan. 22 in Maplewood, featuring modern American cuisine with global influences, centered around Josper charcoal grills.
Co-owners Adam Altnether and Chris Kelling first met while working at the original Niche in St. Louis' Benton Park neighborhood. The two subsequently partnered to create their own upscale neighborhood eatery offering everything from burgers, wings and salads to steaks and whole roasted fish. Altnether defines Elmwood's goal as having each item on the menu of seasonal fare feature flame-kissed elements – an incendiary twist to complement a thoughtfully curated beverage list.
"When the city of St. Louis purchased the piece of property that was Maplewood, Elmwood was a potential name for the neighborhood as well," Altnether says, explaining the inspiration for the name of the restaurant, which showcases full service with a casual feel. "We want to be known as an upscale neighborhood place where you can grab a burger and beer after work or celebrate a special occasion."
Elmwood fills the corner spot previously occupied by The Live Juke Joint, with a newly renovated modern industrial design including such elements as perforated metal accents and a concrete floor. An "aquarium-style" kitchen allows guests to view the cooking process through a set of expansive glass windows. The bar sports a live-edge walnut top by David Stine Furniture.
The bar program features a house cocktail list with both specialty options and classics categorized by proof – full, medium, low and no – all made with house syrups, cordials and fresh fruits. Draft and bottled beers accompany a selection of California wines focused on old-world styles, as well as sparkling varieties.
Altnether says the food menu will change with the seasons, with some staple proteins like grilled pork steak and dry-aged rib-eye. Additional highlights from the opening board of fare included crudités with charred sweet-potato dip; citrus salad with bitter winter greens and candied peanuts; and amber-roasted stone fruits with vanilla ice cream and charcoal caramel – all of which sound like delectable options before catching Avenue Q at the Playhouse @ Westport Plaza.
"I think live fires intrigue everyone," Altnether says. "Centering cuisine and running a restaurant around that is very inspiring, and we're superexcited to fire it up."
Elmwood, 2704 Sutton Blvd., Maplewood, 314-261-4708, elmwoodstl.com