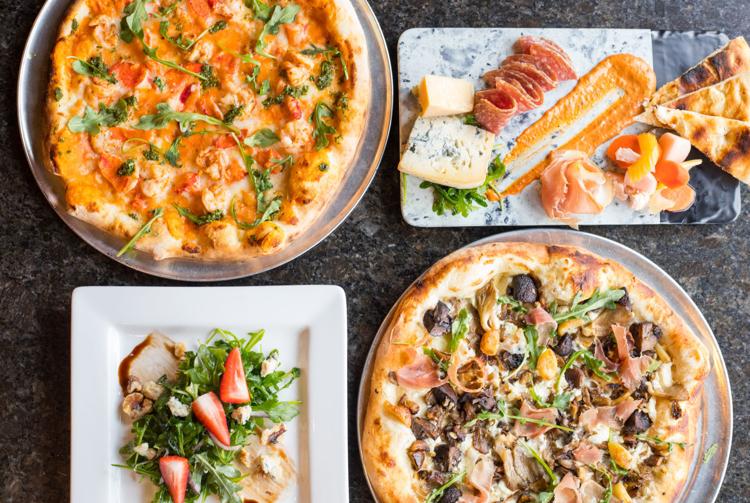 Cork n' Slice Woodfire Bistro, which debuted in March in St. Louis' Central West End neighborhood, focuses around a wood-fired pizza oven and features pies with unique topping combinations alongside appetizers, salads and more.
The restaurant comes from St. Louis native Cornell Thirdkill, a veteran of the local event-production scene and a first-time restaurateur. As an artist manager, Thirdkill traveled internationally, observing global food trends firsthand. He brought on executive chef Kyle Parks to carry out his vision for a casual yet fine-dining eatery of his own – a style he dubs "fine casual." Parks has served as an instructor for L'École Culinaire for the past three years.
"I wanted it to be neighborhood-friendly, but also a place for a great date night," Thirdkill says. "Pizza is a comfort food, and we're offering it here in a relaxed setting."
Cork n' Slice fills the corner space previously occupied by Pizzeria Mia, inheriting its custom-built pizza oven. The sleek, contemporary dining room features a red-and-black color scheme, with seats for around 40, as well as a patio garden.
"Our focus is on elegant simplicity," Parks says. "We really try to keep things local and fresh. It's an entirely from-scratch kitchen with a lot of European influences from the aspect of taking the right ingredients and showcasing them as best as we can. There's definitely some American flair as well, but it just really extends from a lot of love for really good food."
Parks calls his 12-inch, wood-fired pies "Neapolitan-esque," not bound by any particular rules. His crust features a crispy yet airy consistency. Guests can choose from such signature options as the West End, with wood-fired chicken, applewood bacon, fontina, Gorgonzola, onion marmalade, arugula, béchamel and balsamic glaze.
Another highlight is the lobster-and-shrimp pizza, with poached lobster, roasted shrimp, fontina, arugula, rose sauce and orange-tarragon gremolata. The Pig Ate My Pizza is a meat-lover's option, with pepperoni, applewood bacon, Italian sausage, ricotta, arugula, San Marzano and basil.
Antipasti options include Mamma Mia Meatballs made of ground Angus, San Marzano, shaved Parmesan and basil, served with garlic-butter bread. Salads include Strawberries & Champagne with arugula, Champagne-infused strawberries, Gorgonzola, red onion, walnuts, balsamic glaze and extra-virgin olive oil. All sound like excellent eats before seeing An American Soldier from Opera Theatre of Saint Louis.
For dessert, guests can choose from such selections as Irish-coffee cheesecake and an apple-pie pizza with Granny Smith apples, bourbon caramel, brown-sugar streusel and cinnamon whipped cream. To drink, Cork n' Slice offers wine by the glass or bottle, bottled local craft beers and a limited signature cocktail menu.
Cork n' Slice Woodfire Bistro, 4501 Maryland Ave., St. Louis, 314-833-3283, corknslice.com