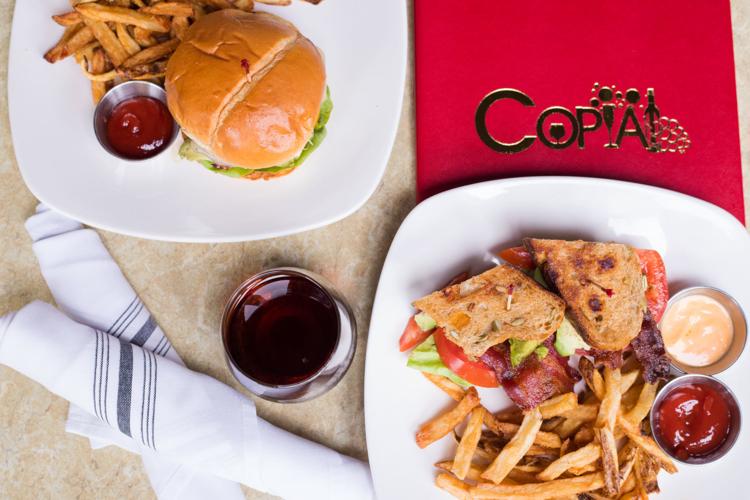 Copia – a "new American" restaurant known for its large, diverse wine list – launched a second location in Clayton early last month.
According to director of operations Steve Boulch, the Clayton location marks the first phase of the brand's expansion, which will include another opening in Des Peres this fall. (Copia originated in downtown St. Louis 14 years ago.) Boulch says owner Amer Hawatmeh is also investigating such municipalities as Kansas City, as well as locations in Tennessee, Kentucky and Iowa.
The Clayton Copia fills the 8,600 square feet or so previously occupied by Morton's The Steakhouse. Although the downtown flagship focuses on hosting events in its unique extensive private spaces, the new satellite seeks to create an environment that can be replicated for future locations.
Eyad Tammas developed the design, which features a bold red-orange color scheme, eye-catching wine bottle displays and a custom-built bar. The new restaurant features two private dining areas – a Champagne room that seats 10 and a banquet space for 60 to 70 that can also be halved.
"We are a wine-centric restaurant," Boulch says. "We carry a list of about 1,200 wines. The food fare is American fine dining – steaks, pasta and seafood along with lighter lunch options."
From the menu, guests can choose from such highlights as an 8-ounce filet of beef tenderloin au jus, with duck butter, whipped Yukon potatoes and seasonal vegetables; New Zealand slow-braised lamb shank with roasted garlic red wine demi-glace and Moroccan couscous; and lobster mac 'n' cheese with Maine lobster tail and claw meat, rich brandy, three-cheese cream sauce and cavatappi.
Off-menu "executive cuts" can include such options as a tomahawk steak, a veal tomahawk and a bone-in filet. To pair with Copia's fare, guests can choose from its massive wine list or opt for wine or spirit flights, French-pressed cocktails or in-house, barrel-aged cocktails.
"Our bottle list has about 900 labels on it, and our by-the-glass has about 40 – it's a very wide range," says Copia's beverage director and sommelier, Cherie Moery-Metzka. "We pretty much have wine from every country. I love wine education, so it's kind of how I built the book." She adds that the revamped list features a user-friendly index and descriptors outlined by grape varietals, as well as old-world versus new-world styles. Copia also holds a retail license for its wine.
So whether hoping to try a new wine or simply to indulge in the divine culinary delights available, guests should make certain to visit Copia before catching Yeast Nation from New Line Theatre.
 "Don't be afraid to ask questions," Moery-Metzka urges potential guests about Copia's oenophilic offerings. "The staff is really knowledgeable and always willing to give samples to people who want to learn and don't want to be intimidated by the wine." 
Copia, 7822 Bonhomme Ave., Clayton, 314-241-9463, copiastl.com