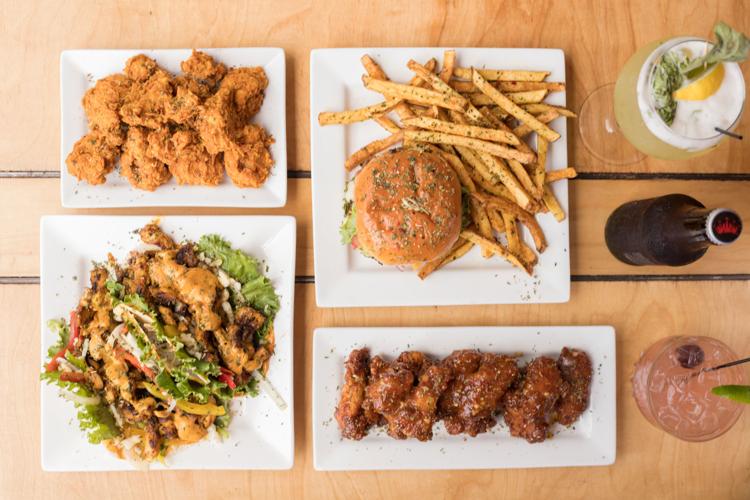 Sports bistro fans, take note: Champs On Jefferson just debuted at the start of June in St. Louis' Gravois Park neighborhood and hopes to impress visitors with a culinary full-court press.
Champs On Jefferson constitutes a new venture from Spare No Rib and Egg owner Lassaad Jelitti and chef and longtime friend Anthony Stewart. In fact, it occupies the former home of Spare No Rib (which, ironically, returned to its original location in the Polar Wave Ice & Fuel building of St. Louis' Benton Park neighborhood, where it shares space with Egg).
"Champs is Anthony's baby," Jelitti says. "I'm going to be a shepherd in the back in an advisory post. It's a great position to be in after all these years in the business – to pull back and give someone an opportunity who always wanted to have his own place and help him with his dream. The food is very good, and they're keeping things simple, which is great."
Stewart worked with associate Marlon Whitfield to realize his vision for the eatery, which stems from a love of – you guessed it – basketball. It bears noting that Stewart previously worked as a caterer under the moniker The Mixologist, doing various pop-up dinners at Egg, while Whitfield has a background in marketing, as well as in the wireless and music industries.
"This place is a lot like a suite inside a sports event, so it's more upscale – a sports bistro," Whitfield says. "We call the main floor 'The Infield.' Upstairs is 'The Clubhouse.' Outside is 'The Outfield' with a 'Dugout' for bands and DJs. It's really just a unique space. I think it's one of the hidden gems in South City."
Champs On Jefferson seats roughly 50 patrons in the dining area, with space for an additional 50 upstairs and 100 outside. Visually, the eatery pays homage to what the sportscasters love to call "round ball," with basketball and hoop light fixtures and a bright orange-and-gray paint job.
Stewart's menu items come infused with his own blends of seasonings and spices, which he named after his daughter. His Layla spice, for instance, features a blend of ingredients like pink Himalayan salt, garlic, paprika, turmeric, onion powder, ginger and cayenne. Similarly, the Layla crunch garnish features such components as parsley, black sesame seeds, turbinado, red pepper flakes, oregano and basil.
Guests can try such flavors infusing items like turkey and lamb burgers, served on brioche buns with lettuce, tomato, onions, pickles and cheese. Additional gustatory highlights include fried mushroom poppers; sweet chili wings or nuggets made of cauliflower; red lentil soup; and chicken tacos – 6-inch tortillas stuffed with chicken thigh, onions, red and green peppers, and house taco sauce.
From the bar, tipplers can choose from five beers on tap and cocktails like Champ's Punch, a refreshing libation made with vodka, papaya juice, Sprite and additional fruit juices. Other concoctions by bartender Brittany "B-Starr" Starr are Basil Island Tea and The People's Champ shot – a red-white-and-blue layered shot. Champs also offers the joys of the hookah, available upstairs and on the back patio.
All things considered, Champs On Jefferson sounds like a fun, lively eatery to visit before enjoying a performance of The Robber Bridegroom from Stray Dog Theatre. [LN dingbat]
Champs On Jefferson, 3701 Jefferson Ave., St. Louis, 314-354-8444, facebook.com/pg/champs-on-jefferson-2504826979741555