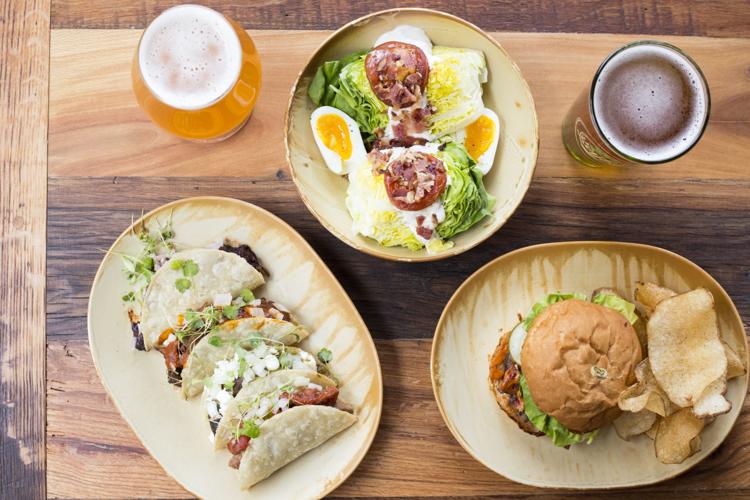 The metro area's ever-growing craft beer scene just added another oasis for lovers of suds. Brew Hub Taproom, which debuted in March in St. Louis' Cheltenham neighborhood, features 20 taps and a four-barrel pilot brewing system accompanied by modern pub fare.
This marks the first full-service combination bar and restaurant in the Midwest for the brand, following the 2014 opening of Brew Hub Taproom's flagship brewery in Lakeland, Florida.
Former Anheuser-Busch executive Tim Schoen founded Brew Hub Taproom. Andy White, who previously ran the brewpubs at the Schlafly Tap Room and Schlafly Bottleworks, serves as its general manager and executive chef, and James Ottolini heads brewing operations.
Brew Hub Taproom fills the space formerly occupied by St. Louis Rib House, with roughly 120 seats. The space features reclaimed woodworking by local company Rustic Grain, as well as warm tones throughout the bar and dining area.
"Our menu features a variety of handcrafted beer-friendly entrées, from single bites to shareable larger appetizers, sandwiches, salads and larger plates," White says. "It's ingredient-focused but very inviting."
Menu highlights include such items as a house bacon double burger featuring two patties from grass-fed cattle, applewood-smoked bacon and beer cheese made with Diver Down IPA from Tacoma, Washington's Narrows Brewing Co. Sandwiches include a grilled pimento cheese sandwich with pickles and roasted tomato on multigrain bread; a duck confit Reuben with house kraut, Swiss and house sauce on rye; and pretzel-crusted chicken with honey mustard, bacon and pepper jack on a brioche.
Small bite options designed for sharing include crunchy tacos with duck, shredded beef, chopped pork or roasted mushroom; kebabs with beef, chicken, bacon-wrapped dates or tofu; and 2-ounce sausages (brats, chorizo, turkey and Italian) on soft toast.
Snacks include warm bar nuts with smoked spices and herbs; Moroccan-inspired lamb meatballs with harissa; and spicy cauliflower with Buffalo spice and blue cheese. Also available is a selection of salads, among them a wedge salad with a little gem, a soft-boiled egg, an oven-roasted tomato, bacon and creamy blue cheese.
So whether you're ready for a full meal, a quick bite or simply a brew, visit Brew Hub Taproom before venturing to see Caught from The Repertory Theatre of St. Louis.
Behind the bar, patrons will find cocktails, wine and signature libations like the award-winning Rome City IPA and Keybilly Island Ale, an approachable, refreshing amber ale finished with fresh Key lime juice. The house selection also offers an introduction to quality beers from Brew Hub Taproom's 14-plus partner brewers for a taste of their expertly designed products.
"I'm excited to bring these unique home and partner brands to this market. This is the only place where you can find them," White says.
Brew Hub Taproom, 5656 Oakland Ave., St. Louis, 314-833-5453, tapbrewhub.com