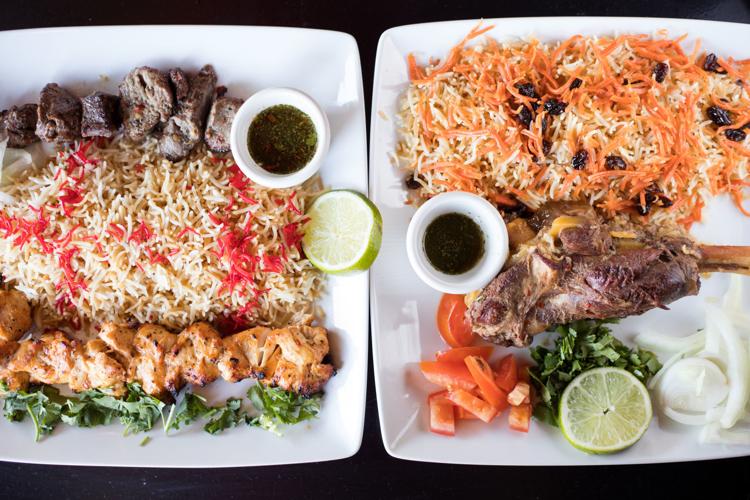 Barg Continental Restaurant, which opened this past spring in the St. Louis Hills neighborhood of that city, offers hungry guests authentic Afghan cuisine.
Barg, which takes its name from the Afghan language's word for "leaf," comes from co-owners Ameen Akbarzada and Zack Zabih. According to Zabih, the two Afghanistan natives, who have been friends for 16 years, met after immigrating here to work as role-players for the National Guard of the United States. (Zabih also served as an interpreter for the U.S. Marines.)
Barg fills the space previously occupied by MK's Asian Persuasion. Its vibrant red-and-gold palette accentuates plush traditional seating in the back section of the dining room, whose capacity totals 90 guests.
At a young age, Akbarzada got experience in the kitchen while working at a small restaurant with his father. His menu at Barg features dishes inspired by the food he grew up with.
"All of them are hard work and my favorite, but the people right now like the samosa and the bolani," says Zabih, who serves as the restaurant's chef. "They eat it with the sauce and love it every time they come here. The mantu is always very good. I make everything fresh myself."
The aforementioned samosa, an appetizer, involves frying a pastry filled with potato, cilantro, green onions and herbs, served with chutney. Traditional Afghani bolani, another popular appetizer, features very thin layers of bread stuffed with seasoned potatoes and scallions, then sautéed.
Afghani mantu, another savory option, comprises steamed pockets stuffed with seasoned ground beef and onions, topped with seasoned beef, split pea sauce and garlic yogurt. Barg offers a variety of other traditional entrées, including lamb or chicken qabili palau – a dish with braised lamb shank or grilled chicken served with basmati rice cooked in lamb stock and garnished with sautéed carrots and raisins.
For something slightly more casual, an Afghani burger features a pound of coriander- and cumin-spiced ground beef wrapped in naan flatbread with sweet-and-spicy ketchup, cilantro and marinated cucumber, with french fries.
A mixed grill features a combination of ground beef, chicken and lamb kebabs, served with rice and naan. An Emperor platter features a combination of lamb, chicken and koobideh kebabs served with shirazi salad, eggplant boorani, grilled tomatoes and rice. All of which sound like delectable options before catching A Doll's House, Part 2 from The Repertory Theatre of St. Louis. 
Barg Continental Restaurant, 6417 Hampton Ave., St. Louis, 314-338-1245, facebook.com/bargcontinantalresturant (sic)