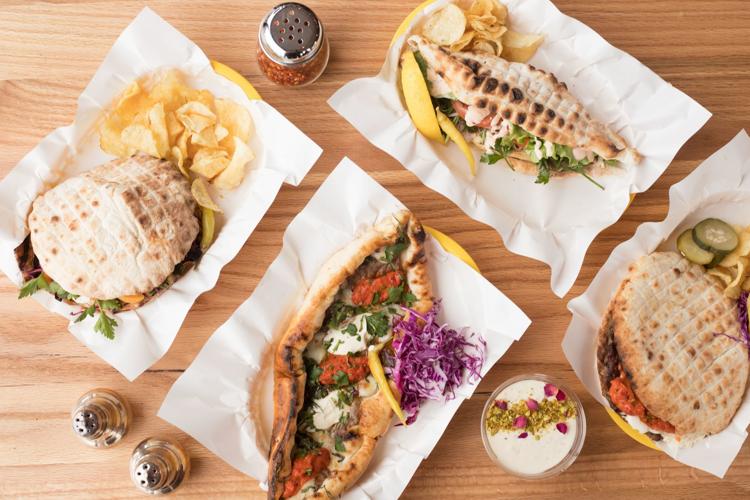 Balkan Treat Box – a much-loved area food truck that first rolled out in spring 2017 – debuted its first brick-and-mortar restaurant last month in Webster Groves, serving street food inspired by the Balkan region from Bosnia to Turkey.
Chef-owner Loryn Nalic and her husband, Edo, helm the restaurant, which features mainstays like spit-roasted and shaved-to-order chicken doner kebabs, wood-fired Bosnian somun bread and spicy ajvar (a roasted red-pepper relish) spooned over stuffed pide (a Turkish flatbread).
"Everything is made fresh here in our wood-burning oven and with a wood-assist grill," Loryn Nalic says. "You can expect smoky flavors. It should smell like the streets of the Balkan area."
"I really hope that people will appreciate the effort that goes into how we do things," Edo Nalic adds. "It takes a little bit of time, but it's worth it."
The fast-casual restaurant fills the 1,825 square feet previously occupied by Stratton's Cafe, with 50 seats and a clean, colorful interior design created by the Nalics, with help from family and friends. Its copper-covered oven constitutes the restaurant's jewel. A coinciding wooden wall mosaic by Tim Kent showcases the vibrant colors of the Balkan Treat Box logo, serving as an eye-catching accent in the dining area. Tables were crafted by David Stine Furniture from rural Illinois.
From the menu, guests can choose from popular signature dishes as well as a variety of new items such as pljeskavica – a grilled Balkan-style burger with cheese, kaymak, somun and a side of cabbage salad. Another addition is balık ekmek, grilled fish of the day in somun with lettuce, parsley, lemon, onion, sumac salad, tomato and Better Than … Brand Hot Sauce with chips.
Patlidžan, a vegetarian option, features wood-fired eggplant in somun with cheese, cabbage, cucumber, tomato, lettuce, pickles, marinated egg, herbs, kaymak and apricot-pomegranate molasses, with chips. For dessert, the menu features sutlija, a rice pudding with pistachio and rose. To drink, guests can choose from canned drinks such as Coca-Cola products and S.Pellegrino sparkling water. With so many exotic options, Balkan Treat Box makes the perfect stop to fill up on food before catching Well from Mustard Seed Theatre.
"Even though we created a following with the truck, we really hope that this will become a St. Louis staple," Edo Nalic says.
"I think what we're most excited about is to become part of the community," Loryn Nalic says. "In the end, we want to become synonymous with St. Louis – the city where I grew up, where we fell in love." 
Balkan Treat Box, 8103 Big Bend Blvd., Webster Groves, 314-733-5700, balkantreatbox.com