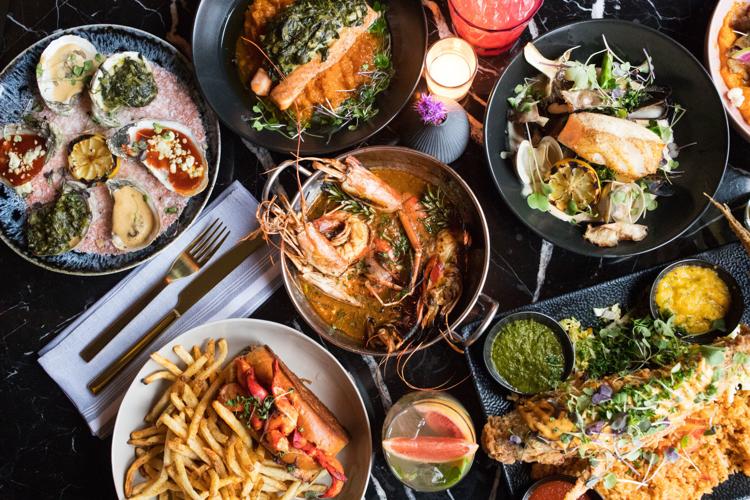 Looking for "fine-casual" seafood? If so, then look no farther than Bait (in St. Louis' Central West End neighborhood) for artfully presented small plates and entrées along with an extensive beverage list for dinner.
Bait, which debuted in February, comes from owner Kalen Hodgest, who bought the building it occupies to house offices for his home health care business in 2015 before deciding to convert the first floor into a unique eatery.
Working with Hodgest to bring the idea to life are executive chef Ceaira Jackson and general manager Misha K. Sampson – who previously served as the chef and co-owner, respectively, of Fleur de Lilies in St. Louis' Soulard neighborhood.
"We are an intimate, boutique-style seafood restaurant," Hodgest says. "It's a different vibe than what people are used to in St. Louis, inspired by spots in Los Angeles and Las Vegas. Freshness is the focus. We have the highest-quality seafood, quality wines and handcrafted cocktails."
Filling the space previously occupied by The Grind Coffee/Sol Lounge, Bait feels cozy and confidential, with roughly 60 seats in the dining area. Hodgest credits his fiancée, Alexis Morris, for designing the space. The classic elements of the historical house, which was built in the late 1800s, are juxtaposed with modern touches like refurbished floors and trim accentuated by gold and marble textures. Slate velvet chairs and antique mirrors complete the moody, elegant atmosphere.
Amid that refined décor, guests can choose from colorful, shareable small plates such as lobster fries with poached lobster, spiced aioli and herb sauce or scallops with carrots, lemongrass and saffron-ginger purée, mushroom blend, watermelon radish and spiced popcorn.
Jackson works with local vendors including Fox River Dairy, Mushrooms Naturally and Three Vegan Brothers. "One thing about our food is that it's very 'wow' – in your face," she says. "The flaming wicked prawns come out literally flaming. I always tell people I'm an artist first. We want to have eye-catching dishes that are fun to eat. We're a 'scratch' kitchen, and the creative aspect is the most exciting part."
Mains include a Connecticut-style lobster roll, as well as swordfish with red quinoa, wilted spinach, coconut-dark rum sauce, coconut foam and mango salsa. Another highlight is Caribbean red snapper, a whole fried fish served with Caribbean rice, pickled napa cabbage slaw, spiced aioli, fresh herb sauce and hot pepper sauce. In light of all of the preceding, guests should take a night to treat themselves to Bait's beautiful, bold food before catching the first local presentation of Nice Work If You Can Get It from the Kirkwood Theatre Guild.
The beverage list includes wine by the glass or bottle, a selection of spirits and beer, and both classic and signature cocktails. Guests can choose from options like a grapefruit caipirinha and the Sexy B with Tanqueray No. Ten, coconut rum, lime juice, mango syrup and hibiscus syrup.
Bait, 4239 Lindell Blvd., St. Louis, 314-405-2797, baitstl.com