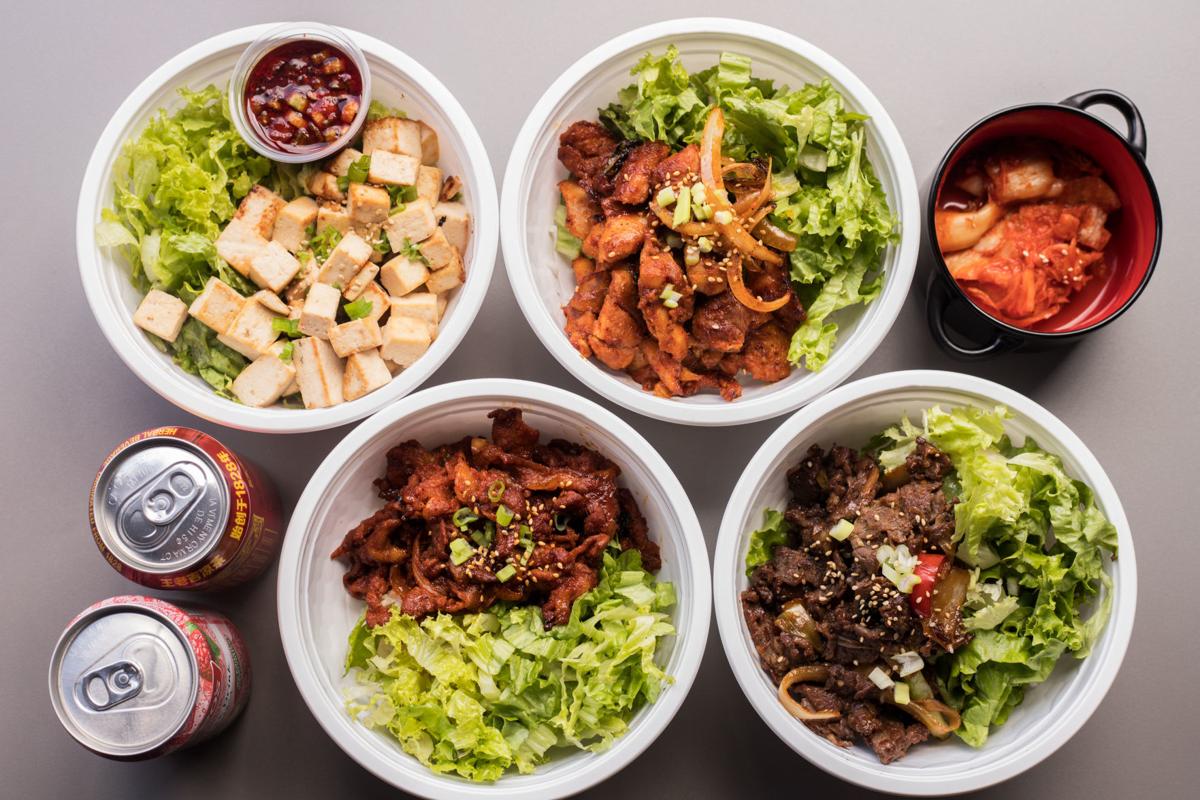 BoB.Q, a fast-casual Korean barbecue eatery, opened in June in University City, offering a simple menu of rice bowls with the diner's choice of flavorful, marinated and grilled proteins.
"BoB means 'rice' in Korean, so when you add the 'Q,' it becomes rice with Korean barbecue," says co-owner Victor Jang, explaining the restaurant's name.
Jang co-owns BoB.Q with his wife, Moon Kim. The couple also owns and operates Wudon, a popular full-service Korean barbecue restaurant in Creve Coeur. With BoB.Q, Jang hopes to bring quick, affordable Korean fare to the area.
"St. Louis is a big city, and there are lots of Asian restaurants," Jang says. "However, there is a lack of Korean food compared to other cities. So we decided to serve fresh and quality Korean food with inexpensive prices for the neighborhood."
BoB.Q fills the 900-square-foot space previously occupied by Shawarma King, with around 16 seats available in the dining area. The walls received a fresh coat of black paint, embellished by Kim's whimsical drawings in gold and silver. According to Jang, his wife has a background in art, and with the interior design, she hoped to make the dining room feel youthful and modern. To contribute to the relaxed vibe, Korean pop music videos play on a TV mounted over the counter.
From the menu, guests can choose from four different rice bowl options: beef bulgogi, spicy chicken or pork, and organic tofu with house-made Korean tofu sauce. A half-and-half bowl, also available, features two proteins of the diner's choice. Each protein is marinated for more than 24 hours in a special Korean house-made barbecue sauce from a longtime family recipe that uses fruits rather than sugar to provide sweetness.
The proteins are grilled with onions and peppers and served atop soft Korean-style white rice with fresh lettuce and garnishes of green onion and sesame seeds. Additional options include extra protein and extra rice, as well as sides of authentic house-made kimchi. Dumplings and miso soup are also available. Still, regardless of which option they ultimately choose, visitors should give BoB.Q a try before catching Antigone from SATE, also known at the Slightly Askew Theatre Ensemble.
"We are offering high-quality Korean barbecue," Jang says. "It comes fast and fresh."
BoB.Q, 571 Melville Ave., University City, 314-659-8439, facebook.com/bobqstl
Be the first to know
Get local news delivered to your inbox!