Dinosaurs? Almost universally fascinating. They entrance many children at a very early age. Parents, though, sometimes hesitate to share with their children nonfiction about dinosaurs for fear of mispronouncing multisyllabic names.
So to satisfy budding paleontologists areawide, Ready Readers this month recommends a duo of fictional tales featuring different dino species – sans pronunciation anxiety. (Parents, visit your favorite online book retailer now to order one or the other of these books – or both!)
Our first recommendation, I'm a Dirty Dinosaur by writer Janeen Brian and illustrator Ann James, features deliberately simplistic concepts that should engage children from the start. The story begins simply enough. A clean dino with a muddy smudge on its smiling face proclaims across a two-page spread, "I'm a dirty dinosaur with a dirty snout. I never wipe it clean I just sniff and snuff about." The otherwise pristinely clean character walks a muddy path past a mud-drawn tree.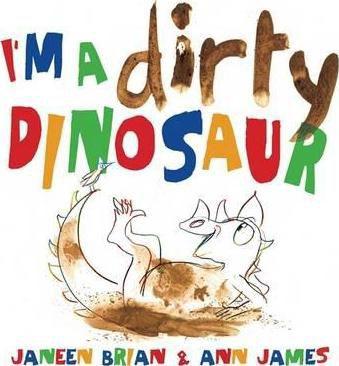 A turn of the page greets readers with Brian's brightly colored onomatopoetic rhyming text celebrating the dino's love of dirt: "Sniff, sniff, snuff, snuff, Sniff and snuff about!" As each part of the jubilant beast's body becomes newly dirty, young readers are treated to a "happy dance" of sorts, encouraging them to join their mucky friend in moving and shaking with delight.
A great choice for slightly older children to read to younger siblings, I'm a Dirty Dinosaur, coincidentally, also can be enjoyed as the perfect before-bath read-aloud.
Ready Readers' second recommendation this month, What the Dinosaurs Did Last Night: A Very Messy Adventure, tells a tale of magic and mischief by the Kansas City husband-and-wife team of Refe and Susan Tuma. As parents of four children, the Tumas creatively turned plastic dinosaurs into the protagonists of modern adventures by photographing the toys amid perfectly staged household pandemonium.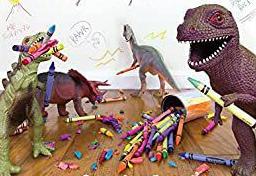 Their story follows the chaos of dinos invading a kitchen, licking lunchmeat, gobbling cheese puffs and slobbering in salsa. The dinos then trash a toy room by unstuffing a sock monkey, toppling block towers and conquering a dollhouse. After that, they muck up a bathroom, wreak havoc on parental possessions and rejoice in a bubble bath in a laundry room before expressing their artistic whims by spray-painting cataclysmic scenes throughout the invaded house.
The narration offers helpful hints to keep disaster to a minimum, while encouraging readers not to judge the creatures too harshly. This delightful tale should transport even the oldest reader back to childhood, when many of us just knew our toys lived lives of their own while we slumbered. 
Join Ready Readers in sharing the magic of books with our community's most vulnerable preschoolers. Visit our website, readyreaders.org, to learn how you, too, can get involved. Kids Who Read Succeed!
Be the first to know
Get local news delivered to your inbox!