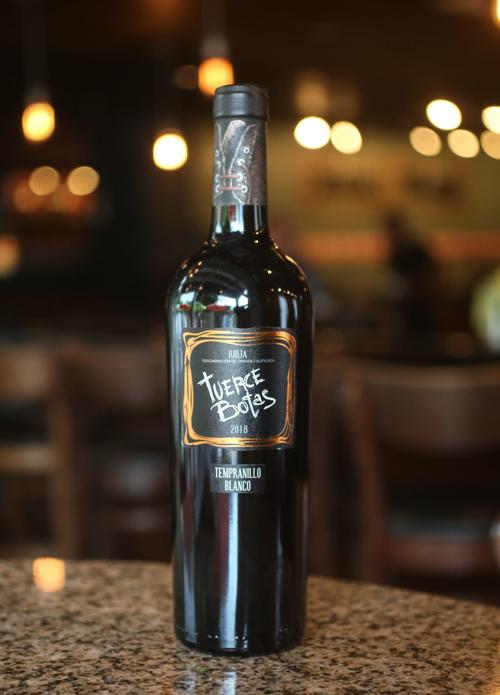 2018 BODEGAS DEL MEDIEVO, TUERCEBOTAS TEMPRANILLO BLANCO – RIOJA, SPAIN
Grape: 100% Tempranillo Blanco
Winemaker: Unknown
Approximate Retail Price: $16
Website: bodegasdelmedievo.com
TASTING NOTES:
Color: Pale lemon yellow, highly reflective and clear
Aroma: Subtle yet ripe citrus and Golden Delicious apple laced with white florals and a hint of pineapple
Taste: Refreshing tropical and apple flavors, with crisp acidity and a lingering finish
In northeastern Spain, not too far from its border with France, lies the province of La Rioja, one of the nation's foremost regions for winemaking. Though not officially named La Rioja until 1980, barely preceding the Spanish transition into democracy, the area abounds with culture, history and industry. Its lineage of wine production dates as far back as the Phoenicians, possibly as early as 1500 B.C.; it received its first legal recognition for wine production from the Kingdom of Navarre in the year 1102.
Tucked in the eastern end of La Rioja is the municipality of Aldeanueva de Ebro, with a 2018 population of less than 3,000. Translating to "New Village of the Ebro," Aldeanueva de Ebro has earned the nickname the Town of Three Lies because, vernacularly, "it is not a town, it is not new and the River Ebro does not pass through it" (although that waterway does run north of the municipality).
Here the winery of Bodegas del Medievo has its roots (pun intended). The winery focuses on the vineyards, whose owners also function as partners at the winery. Each of its varietals – tempranillo, garnacha, Mazuelo and graciano – has been planted according to the various soil types and other land conditions in the vineyards, with great care taken in cultivating the vines.
Tempranillo, arguably the most popular varietal of La Rioja, dominates the wine production at Bodegas del Medievo. Tempranillo blanco, a fairly recent adaptation of the tempranillo grape, was discovered quite by accident in a tempranillo vineyard La Rioja in 1988. After veraison (in viticulture, the onset of ripening), some of the vines had produced a yellow/green mutation as opposed to the anticipated dark red. Since then, tempranillo blanco has been cultivated and planted in a few areas throughout La Rioja. In 2007, it was allowed to be used in DOC (denominazione di origine controllata, "controlled designation of origin") wines.
Still an extremely rare varietal, tempranillo blanco remains low in production and usually finds use only in blending. However, Bodegas del Medievo has dared to produce a wine using 100 percent of the varietal, much to the winery's benefit, resulting in a unique, delicious wine that "drinks easy" and should please every part of the palate.
Tuercebotas Tempranillo Blanco obviously constitutes a rare find worthy of considerable excitement.
Food Pairings: Shellfish in white wine and garlic sauces, green salads with lemon vinaigrette and even some spicier dishes such as blackened chicken all pair well with this wine. Tuercebotas Tempranillo Blanco also requires no food to be amazing.
Certified Sommelier Stanley Browne owns Robust Wine Bar in Webster Groves.
Be the first to know
Get local news delivered to your inbox!