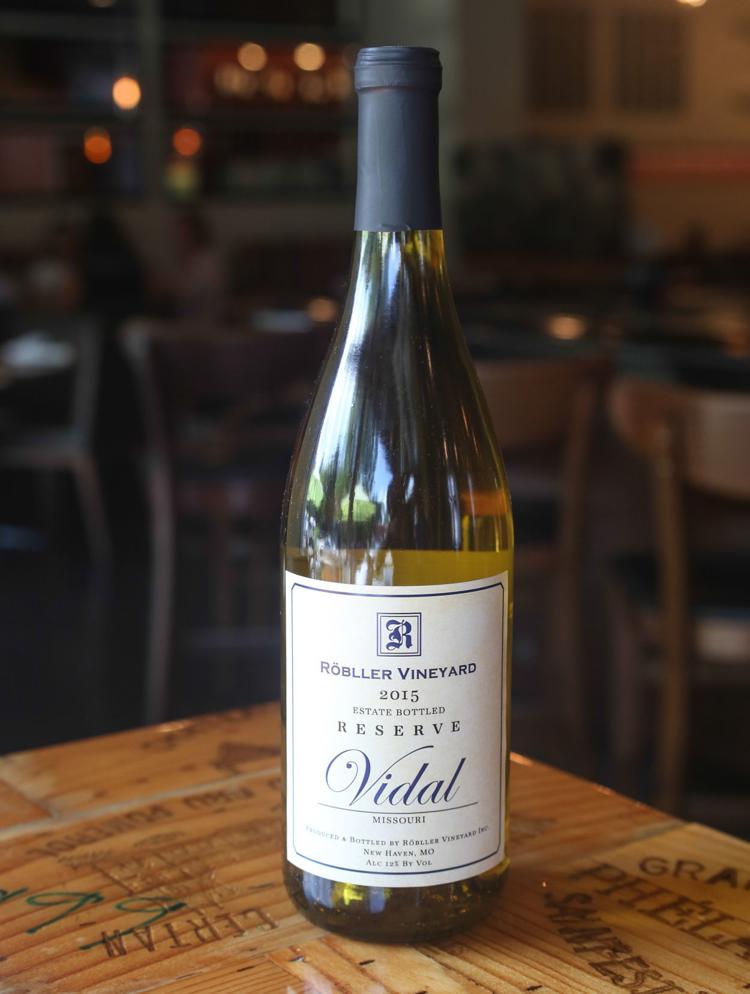 2015 RÖBLLER VINEYARD, VIDAL BLANC RESERVE – NEW HAVEN, MISSOURI
Grape: 100% Vidal Blanc
Owners/Winemakers: Robert and Lois Mueller, owners/Jerry Mueller, winemaker
Aged: Slow cold-fermented with eight months in new American oak
Approximate Retail Price: $19
TASTING NOTES:
Color: Bright with an intense straw yellow hue
Aroma: Ripe pineapple, honeydew and floral with a hint of citrus
Taste: Rich mouthfeel rounded out with perfect acidity and tropical fruits and a pleasant, lingering finish
Although its residents recognize the rich history and culture surrounding Missouri wine country, a common misconception holds that Show-Me State wines tend to be sweet, even though dry wines have always played a part in vinification here. As a prime example, consider Röbller Vineyard.
Located in New Haven, Missouri, roughly 60 miles due west of Ladue, between Washington and Hermann, Röbller Vineyard started in 1988 when Robert and Lois Mueller purchased the property and began planting select local varieties of grapes on separate blocks. The land itself contributes enormously to the wines' high quality, of course, as all good wine starts in the vineyard. The vineyard here occupies gentle, south-facing slopes, which allow constant east-to-west solar exposure, water drainage, soil quality, wind, elevation and so forth.
Jerry Mueller, the couple's son and the current winemaker, uses his background in French winemaking when approaching Missouri wines. Primarily, he considers them to be "terroir-driven," meaning he relies on the influence of the terroir and farming on the grapes, then takes a fastidious, minimalist approach in making the wines. (When asked about his experience and background in winemaking, the younger Mueller laughs and replies that much of his work comes from deducing what not to do.)
With the Vidal Reserve, the Muellers harvested the grapes once they'd achieved a particular ripeness. They then cold-soaked the grapes for 24 hours before destemming, thereafter using a specific yeast strain from the Alsace region of northeastern France for initial fermentation.
The wine next underwent malolactic fermentation (a technique involving conversion of one sort of acid to another) to add a creamier texture and, after that, aged in new American oak barrels for 20 months, with the aging involving stirring the lees (the dregs or sediment). This meticulous treatment resulted in an amazing, easy-drinking Missouri white wine with good body, a rich but not overpowering creamy texture, and a long, smooth finish.
The next time you visit Missouri wine country, the Katy Trail or whatever else might draw you to those environs, definitely take the time to visit Röbller Vineyard (whose name, its website notes, derives from a contraction of Robert Mueller) and try all of its astonishing and impressive wines. You won't regret doing so.
Food Pairings: This wine pairs nicely with crabcakes, creamy pasta with shrimp, chicken with lemon-butter sauce, and soft, creamy cheeses.
Certified Sommelier Stanley Browne owns Robust Wine Bar in Webster Groves, as well as Snax Gastrobar in St. Louis' Lindenwood Park neighborhood.