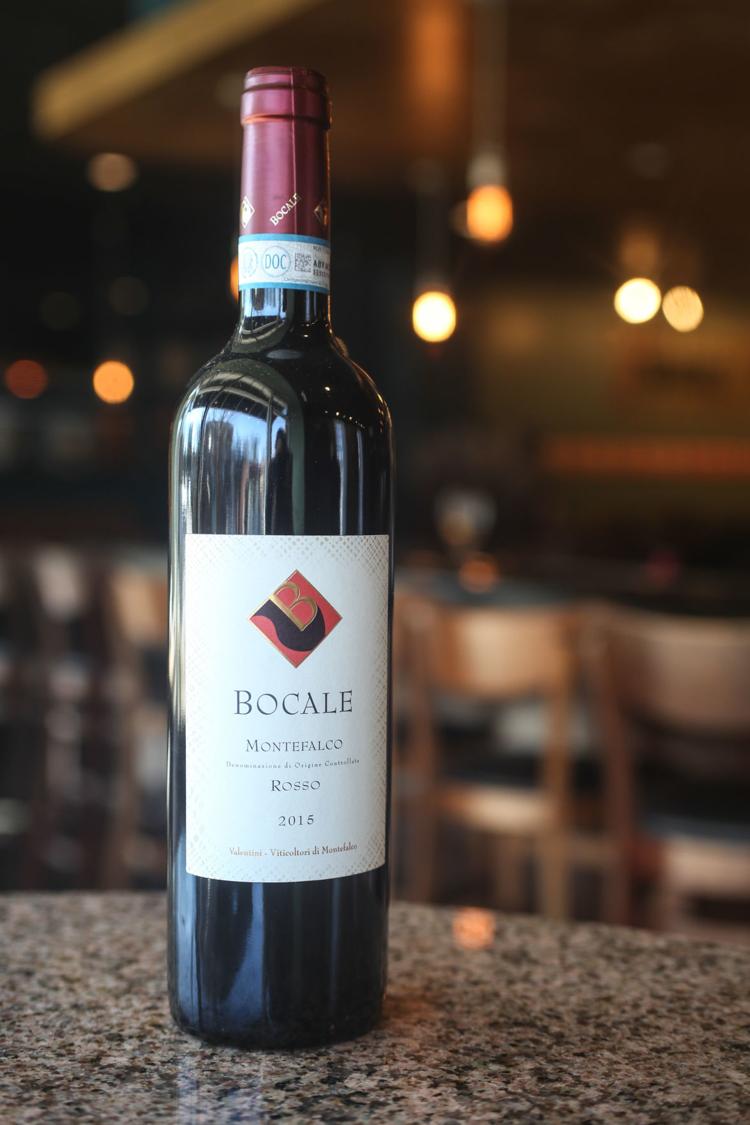 2015 BOCALE, MONTEFALCO ROSSO – UMBRIA, ITALY
Grape: 70% Sangiovese, 15% Sagrantino, 10% Merlot, 5% Colorino
Owner: Valentino Valentini
Winemaker: Emiliano Falsini
Approximate retail price: $24
Website: bocale.wine
TASTING NOTES:
Color: Dark ruby hue, bright reflective surface, translucent
Aroma: Violet floral notes, dried cherry, vanilla and smoke with a hint of tobacco and spice
Taste: Medium- to heavy-bodied, spicy and tannic with dark fruits of blueberry, black cherry and blackberry, long, balanced finish with ample acidity
Bordering the central Italian region of Tuscany to the south and east, the magical Umbria region abounds with cultural and historical attractions, perhaps the best-known being La Corsa dei Ceri ("the festival of candles"). That annual race, which has been held on May 15 since A.D. 1160, celebrates three saints – Ubald, Giorgio and Antonio – with teams carrying large symbolic "candles" (statues of the individual saints) weighing more than 600 pounds each. Umbria also hosts one of the biggest jazz festivals in Italy.
Agriculturally, the region specializes in tobacco, olive oil and, of course, vineyards. The best-known vineyards surround Orvieto, a small medieval town bearing the same name as the wine. This D.O.C. (Denominazione di Origine Controllata, "controlled designation of origin") white wine comes from a blend of trebbiano and grechetto grapes and ranks among the more popular and sought-after white wines of Italy.
Another popular wine from Umbria, the Rosso di Montefalco, bears the name of another small commune in central Umbria, the birthplace and death place of St. Clair of the Cross. This rosso, or red wine, comprises 60 to 70 percent sangiovese, 10 to 15 percent sagrantino and up to 30 percent of the winemaker's choice of other red varietals.
Indigenous to Umbria, sagrantino has a recorded history dating as far back as the 16th century – although red wine from Montefalco mentioned as early as the first century by Pliny the Elder could have been sagrantino. This small, disease-resistant, low-yielding varietal requires a long, hot season to ripen. It's often not harvested till late October, and it numbers among the most tannic grapes in the world, doubling the amount of tannins in nebbiolo and cabernet sauvignon. Although forming only a small percentage of the Rosso di Montefalco, its inclusion in the wine all but ensures that rosso's uniqueness.
The Valentini family, an absolute favorite producer of this wine, owns and operates the Bocale Winery. The Valentinis' roots in Montefalco go back at least 100 years. Their dedication to tradition and quality natural winemaking begins with the farmers and the fields and finds its truest expression through a minimalist approach in the winery.
Food Pairings: Salumi e formaggio, rich pastas, rib-eye, veal chops, seared duck breast and roasted poultry, all with a sauce made from the same wine, would pair nicely with this rosso.
Certified Sommelier Stanley Browne owns Robust Wine Bar in Webster Groves.