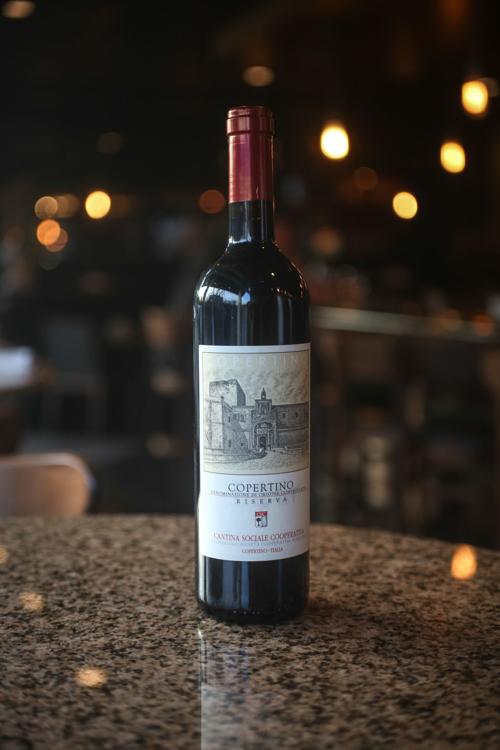 2010 CANTINA SOCIALE COOPERATIVA COPERTINO RISERVA
Grape: 95% Negroamaro, 5% Malvasia Nera
Location: Copertino, Puglia, Italy
Owner: Cooperative
Winemaker: Giuseppe Pinzolanti
Approximate Retail Price: $15
Website: banvillewine.com
TASTING NOTES:
Color: Ruby red with garnet hints; slightly hazy but reflective
Aroma: Intensely earthy with leather, black tea and potting soil followed by inviting cherry and blackberry
Taste: Moderate dark fruit and black cherry laced with pepper and coriander, then rounded out with mouthwatering earthiness and the perfect balance of acidity
The Italian winemaking co-op Cantina Sociale Cooperativa ("Cooperative Social Cellar") dates back to 1935. Having started with 36 growers, it has nowadays blossomed to more than 300 producers with more than 1,000 acres under vine. Though much larger, the co-op remains focused on quality and limited production and adheres strictly to local laws of crop yield, winemaking and aging.
The wine region of Puglia (the Italian name for Apulia, a historical and administrative region in the nation's south) is best known for its primitivo varietal, an often dark, rich and intense red wine, related to zinfandel and displaying similar taste profiles to its American cousin. Negroamaro tends to a slightly more mellow wine with more delicate flavors and aromas, yet still can match the intensity of its local counterpart.
The Copertino Riserva constitutes a delightful, extremely affordable gem, made from negroamaro with 5 percent malvasia nera (another local varietal, albeit one less widely produced). With a current vintage at 2010, the producers take their time to ensure quality. Its age has allowed the wine to settle in the bottle, with its aromas and flavors intermingling in a relaxing culmination, making it ready to drink right from that bottle.
The more intriguing qualities of this wine include its earthiness. Earthiness, of course, can lend aromas of natural atmospheres – not necessarily for everyone. Fairly common in varying degrees among most European reds, earthiness can come from the soil from which the grapes sprang (hence the term) but also can involve a fungal byproduct of fermentation known as Brettanomyces – literally, "British fungus," often shortened to just "Brett." A particular yeast that can be introduced to wine in various ways, Brett can be very tricky: Too much in a wine can ruin it, but just a bit can yield a much-favored flavor component, sought out by many an oenophile.
The Copertino Riserva ranks as just such a wine, with the Brett in it just enough to excite the nose and entice the palate, making it a favorite for many on a wine list.
Food Pairings: Cured meats, aged cheeses, grilled steak, lamb, venison and mushroom-filled pizzas or pastas all would pair well with the Copertino Riserva.
Certified Sommelier Stanley Browne owns Robust Wine Bar in Webster Gr
Be the first to know
Get local news delivered to your inbox!