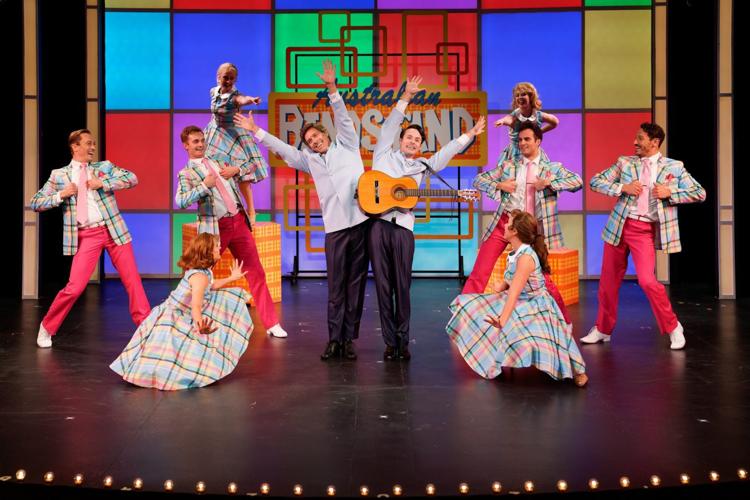 Story: It's a long way from Tenterfield, New South Wales, in Australia – commonly nicknamed Oz, of course – to the glitz and glamour of New York City and Los Angeles, but that doesn't stop Peter Woolnough. He is born in 1944 to an ex-soldier named Dick Woolnough and his wife, Marion. Peter starts performing for the locals in bars at age 10, but his alcoholic father, carrying psychological scars from World War II, takes his earnings to buy booze.
Peter teams with another lad, named Chris Bell, to form the Allen Brothers, a duo that achieves some notoriety on the Australian Bandstand TV show. From there, the pair heads across the seas to perform in Hong Kong, where American superstar Judy Garland catches their act and invites them to open for her own show.
Following Judy to New York, Peter meets the singer's daughter, Liza Minelli, and the two eventually marry. However, the stress of two burgeoning careers, often at opposite ends of the country, along with Peter's growing attraction to men, ends their marriage, although their friendship remains solid.
Peter's solo career as a singer, songwriter and performer hits rough spots along the way, but eventually, he achieves stardom at New York City's Radio City Music Hall and Carnegie Hall, as well as elsewhere. He meets and falls in love with an advertising executive named Gregory Connell, who joins him on tour, designing sets and lighting for Peter's shows. Back home, Marion is happy to hear that Peter has found his true love.
Greg's contraction of AIDS and subsequent death devastate Peter, but he continues his work. When he himself is stricken with AIDS, he returns to Australia for one grand finale before dying in San Diego in 1982, looking back on his life with no regrets.
Highlights: STAGES St. Louis opens its 2019 season with the Midwest premiere of The Boy From Oz, a show rarely performed in North America since its Broadway debut in 2003. David Elder commands the stage in the title role of the flamboyant and irrepressible showman from Down Under.
Other Info: The Boy From Oz was a hit when it opened in 1998 in Sydney, as Australians took to the tale of a native hero. Fellow Aussie Hugh Jackman won a Tony Award as Allen in the Broadway version, but the musical has rarely been performed in America since.
Actually, the book by Martin Sherman and Nick Enright surpasses Allen's lyrics and music, which tend to be bland and vanilla, albeit loaded with showbiz shtick. Songs such as "Best That You Can Do" – which won an Oscar as the theme to the 1981 film Arthur – and "I Honestly Love You," a ballad made famous by Aussie Olivia Newton-John, define "pop" in both good and bad ways, sometimes bordering on the maudlin.
The STAGES version, directed and musically staged by company artistic director Michael Hamilton, excels in several areas, however. First and foremost, Elder's performance electrifies the audience, as he totally inhabits the personality and persuasion of the indefatigable Allen. He leads the charge on bright, bold numbers accentuated by the dazzling choreography of Dana Lewis, remaining amiable and good-hearted throughout.
There's also an explosion of rainbow-hued lighting in the design by Sean M. Savoie that captures the flavor and essence of the musical, underscoring its vitality. Teamed with the eye-popping costumes designed by Brad Musgrove and James Wolk's appealing set, the technical aspects of this Boy From Oz richly embellish the production.
Hamilton gets smooth performances from a supporting cast that includes Michele Ragusa as the gifted but caustic Judy and Zach Trimmer as the self-confident Greg. Corinne Melançon brings out the maternal love and pride of the long-suffering Marion, while Steve Isom shines in two roles, as the ashamed alcoholic Dick and as Peter's shrewd and crusty manager.
Caitlyn Caughell, a late substitute in the role of Liza, handles the role of the young woman emerging from the shadow of her famous mother with aplomb and appeal. Ben Iken and Simon Desilets rotate in the part of the precocious young Peter, a lad with a showman's flair even in the Outback, with Iken delightful in the media-night performance.
Others contributing handsomely include Erik Keiser as Chris; Brad Frenette as Peter's approving grandfather; Nic Thompson as Judy's husband, Mark Herron; and ensemble players Nathaniel Burich, Ashley Chasteen, Lydia Ruth Dawson, Caleb Dicke, Kari Ely, Bryn Purvis, Frankie Thams and Madison Tinder.
Stuart Elmore's orchestral design and musical direction by Lisa Campbell Albert add smoothly polished support for the sundry vivacious dance numbers.
Elder's tour de force performance, along with its strong technical aspects, make this STAGES version of The Boy From Oz a pleasant evening of glitzy entertainment.
Company: STAGES St. Louis
Venue: Robert G. Reim Theatre, Kirkwood Civic Center, 111 S. Geyer Road
Dates: Through June 30 (except Mondays)
Tickets: $52 to $68; contact 314-821-2407 or stagesstlouis.org
Rating: A 4 on a scale of 1-to-5
(Photo courtesy of Peter Wochniak)