St. Charles artist Adam Long politely emphasizes his wish to be billed by his business name, Adam Long Sculpture. "There are a lot of Adam Longs out there," he says. "Adding Sculpture gets people to me."
The straightforward nature of that wish and observation belies the utterly blissful strangeness of Breeze in the Boughs, the 2018 work showcased here.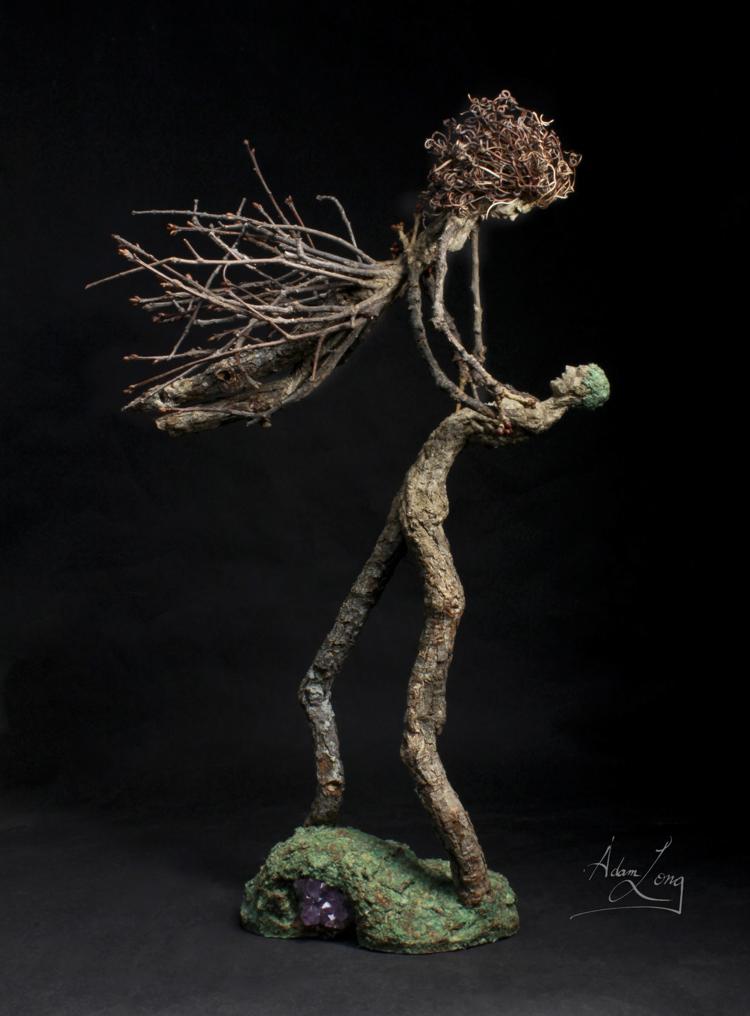 Measuring 20 by 12 by 6 inches, that sculpture incorporates preserved natural objects (white oak, pin oak, wild grapevine tendrils and an amethyst crystal), an environmentally conscious sculpting compound that Long created and steel.
Long, who serves as an associate instructor at Town and Country's Maryville University, dwells on the background and creation of that piece.
"Working with natural objects requires me to have an open mind and follow the unique forms where they want to go," he says. "It could be said that I communicate with branches, and they tell me who they want to be.
"Creating a dynamic sculpture of two Forest Figures [a signature series of sculptures from Long] dancing means that Breeze in the Boughs is a rare artwork. Making two figures that work together both conceptually and proportionally is something that can't be forced.
"When this sculpture started coming together, it was obvious that the couple would require stronger internal support. I developed new methods to insert steel into the small curved branches of the arms to hold up the female figure. This technique is now standard on all of my sculptures, regardless of pose."
As do an increasing number of contemporary artists – and, to be sure, nonartists – Long has embraced eco-friendliness wholeheartedly.
"Humankind tends to view itself as separated from and above its environment," he muses in a general artist's statement. "My work is ultimately about humanity and explores our connection to nature, our place in it and how we seek to explore and understand our environment. The sculptures examine what it means to be human and bring nature back to us by using natural and manmade found objects.
"We are not apart from nature, but a part of it."
Mythologically oriented readers may well relate Breeze in the Boughs and other works on Long's website to multicultural "Green Man" sculptures, facial and other representations formed of foliage or surrounded by it, often with vines or branches (sometimes flowered or fruited) sprouting here and there and also often used as ornamentation in both religious and secular contexts.
Be that as it may, Long, his artist's statement continues, "has had a love of sculpting the human form since childhood," with the afflatus for the Forest Figures coming during the creation of a figure study early in his professional sculpting career. In seeking a unique vision for a project, a whim led Long to glue some pine bark from his backyard to it.
"The effect amazed him," the statement relates. "Common bark textures were given new life. The pose of the figure juxtaposed with the natural forms could communicate so much."
The statement, perhaps punningly, adds: "His budding environmentalism was ensured, and the path toward creating artwork that speaks of humankind's integral connection to the natural world was begun."
Beyond the piece showcased here, other works displayed at Adam Long Sculpture online testify, quite astonishingly, to how well the artist has succeeded in communicating that, from the exquisite sensuality of Mourning Moss and Spring Awakens, through the solemnity of the bust Revered, to the vibrancy of Maple Showers.
"Breeze in the Boughs is one of my favorite sculptures," Long concludes. "The figures came out beautifully. I love the pose, the dynamic energy, their loving faces and the crystal in the base." 
To learn more about our featured artist, visit adamlongsculpture.com.
St. Louis-area artists who wish to be considered for future installments of this monthly department of Ladue News should email inquiries to bhollerbach@laduenews.com with "Art and Soul" in the subject line.