Summer makes the perfect time for landlocked families to venture to coastal waters. In that light, this month, we recommend two books that highlight different types of ocean-loving families: those that live there and those who only visit.
Somewhere in the Ocean written by Jennifer Ward and T.J. Marsh and illustrated by Kenneth J. Spengler – our first recommendation – combines a rich vocabulary set in lilting rhyme to the tune of the popular 19th-century counting rhyme "Over in the Meadow."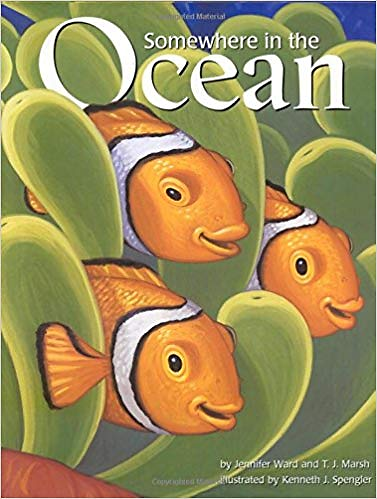 Ward and Marsh introduce the reader to rhythm, counting sequence and animals this way: "Somewhere in the ocean where the warm waters run lived a mother manatee and her little calf one. 'Nibble!' said the mother. 'I nibble!' said the one, so they nibbled sea lettuce where the warm waters run." The book's short stanzas brim with information about oceanic creatures, among them orcas, sea anemones, hermit crabs, tiger sharks, seahorses and more.
At the same time, Spengler's gorgeous gouache paintings of the aquatic world create scenes filled with wonder that should spark an appreciation of the vast realm beneath the waves.
Page by page, Somewhere in the Ocean should whet the inquisitive appetites of all those longing to learn more about each creature. Intellectually hungry children and parents alike also should relish a five-page glossary of "fun facts" at the book's end, delving further into ocean life and each animal's habitat and appearance. Somewhere in the Ocean, therefore, can be a valuable tool to explore and enjoy before and after a trip to saltwater destinations.
Our second recommendation for shore vacation, When a Dragon Moves In, comes from writer Jodi Moore and illustrator Howard McWilliam, a comic companion to the subtly beautiful and informative previous title. This book centers on the power of imagination.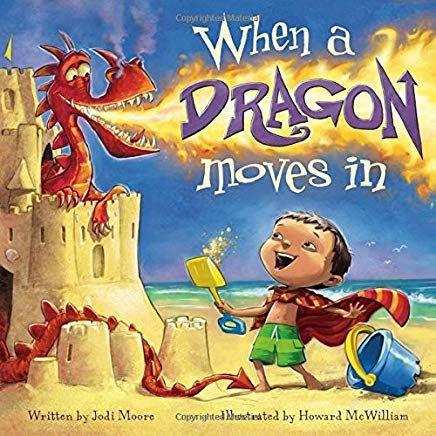 Moore delivers an entertaining tale of a young boy's complete surrender to his beach-day fantasy: his acquisition of a dragon playmate. As his parents and older sister sit nearby engrossed in their books and thoughts, the boy constructs an elaborate sandcastle that, to his amazement, becomes home to a dragon! The boy attempts to engage his family in the exciting scenario, only to be met with dry, realistic replies and disinterest in pretending along with him. The boy's methods of engagement lead to "the dragon" causing a bit of trouble – which in turn leads him to rethink his actions.
Moore provides a simple storyline, but McWilliam elevates the narrative to a visual opera, complete with characters bursting with life and expression amid a vividly detailed backdrop of color and activity. Children should revel in the images of the boy dreamer and his dragon flying kites, blowing bubbles, toasting marshmallows and floating without a care in calm waters. McWilliam's cartoony style perfectly captures the boundless energy of the pesky boy and his beach buddy, making When a Dragon Moves In a joyful ode to the child in all of us.
At Ready Readers, we know that "Kids Who Read Succeed!" Visit our website (readyreaders.org) to learn how you can support our efforts to share the magic of books with our community's most vulnerable children. We prepare children to be successful lifelong readers by providing new books, early literacy experiences and more.
Be the first to know
Get local news delivered to your inbox!