With summer unofficially here, we at Ready Readers are preparing for seasonal fun!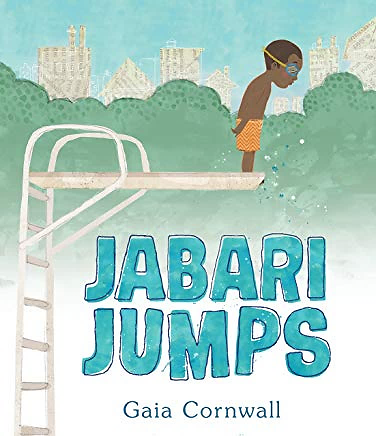 Because entertaining experiences can lead children to feel concerned or fearful, even in familiar activities, this month we're recommending two books parents and their young ones can enjoy while having gentle discussions about fear and bravery.
Our first recommendation, Jabari Jumps by author/illustrator Gaia Cornwall, recently went to our program's 10,000-plus children living in low-income areas here. Both the students who received the book and the adult volunteer readers who shared it with them thoroughly enjoyed Jabari Jumps.
Joy, excitement, anticipation and apprehension fill this story– all sublimely balanced with kind, supportive, wise and understanding characters.
Cornwall employs subtle color tones to portray a carefree summer day. Her artwork combines pencil, watercolor and collage to produce deeply layered visuals that highlight the perspective of the young protagonist in his suburban surroundings.
Cornwall's text, meanwhile, conveys Jabari's eagerness to conquer the high dive at his neighborhood swimming pool. His "I'm a great jumper, so I'm not scared at all," however, quickly changes to "You can go before me if you want … I need to think about what kind of special jump I'm going to do." Throughout his stops and starts in this daunting endeavor, Jabari's trepidation meets love and care from his patient, supportive father.
This relatable story for children should double as a primer for parenting them through the various "firsts" along the way. Jabari Jumps centers on overcoming fear to achieve a goal – an especially significant insight because bravery can be difficult for preschoolers to understand, with many children linking it to superheroes battling "bad guys."
Speaking of superheroes, Brave by author Stacy McAnulty and illustrator Joanne Lew-Vriethoff, this month's second recommendation, features text typically found in stories about such characters, but pairs it with pictures of common activities and choices that children (and adults) may not immediately associate with bravery.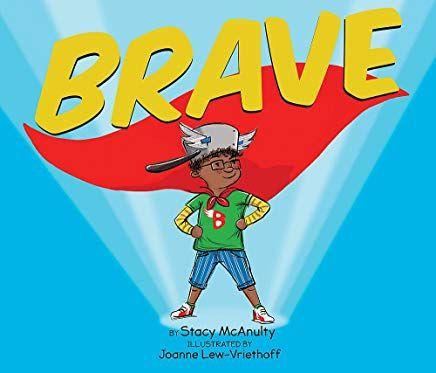 Many children's books involve a scenario of a brave child seeking adventure, accompanied by illustrations of children dressed as pirates or other adventurers. Instead, here, Lew-Vriethoff shows children in a backyard fort reading books, spinning a globe and looking at maps while wearing a saucepan hat with wings, a red remnant cape and a cat-eyed mask.
Another such scenario, of a brave child with superstrength, challenges expectations by showing a determined little girl using her wits to battle a perplexed adult in a challenging chess match. Yet another, of a brave child speaking truth, shows muddy children confessing to a gardener that they broke her flowerpot, while a scenario of brave children saving the world features a gang of colorfully clad youngsters picking up trash in the park.
The final image of subtle bravery shows a child standing at center stage for a violin recital, reminding readers just how many diverse acts of courage can be experienced daily. [LN dingbat]
At Ready Readers, we know that "Kids Who Read Succeed!" Visit our website (readyreaders.org) to learn how you can support our efforts to share the magic of books with our community's most vulnerable children. We prepare children to be successful lifelong readers by providing new books, early literacy experiences and more.