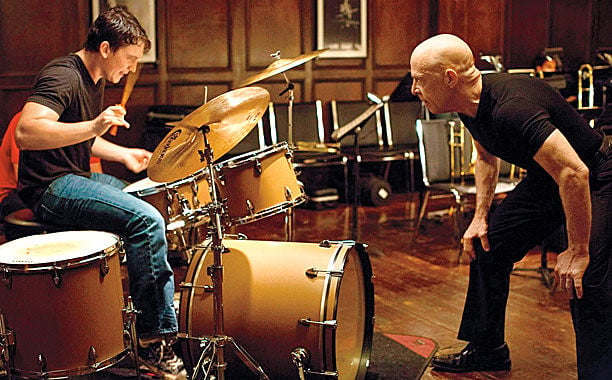 All right, let's cut to the chase, because clearly I'm missing something: This film has won prize after prize. It has a 97 percent critic-approval rating from the Rotten Tomatoes website. The advertising boasts words like 'riveting' and 'astounding.' Sadly, I was neither riveted nor astounded.
Andrew (Miles Teller) is a talented young drummer with a dream of becoming the next jazz great. He is a student at an elite music conservatory in New York with his sights set on the renowned studio jazz band conducted by the infamous Terrence Fletcher (J.K. Simmons). Fletcher berates his musicians with epithets and slurs about their race, religion and sexual orientation. He humiliates and derides, all in an attempt to coax a stirring performance from his young charges. Andrew is completely indoctrinated into Fletcher's abusive method to the point where he appears at a competition broken and bleeding from a car accident trying to perform. When Andrew is pushed to the breaking point, the tables turn.
Here's the thing: Even if you buy into that abusive-but-beloved teacher cliché, this scenario strains believability. It's hard to imagine any elite Manhattan school having a teacher freely throwing ethnic slurs about like hello and goodbye. Even then, if you're willing to suspend disbelief for that, a second problem awaits: Andrew, our hero, is a bit of an a$$. He's awful to a girlfriend, intolerant to his family, and gladly steps on his friends to move up at school. In the end, that's the point of the film. The music is the only thing that matters. A lot of sacrifices need to be made to produce a Buddy Rich or a Charlie Parker--that's fine. It would just be nice to have someone to root for along the way. It's a 5.