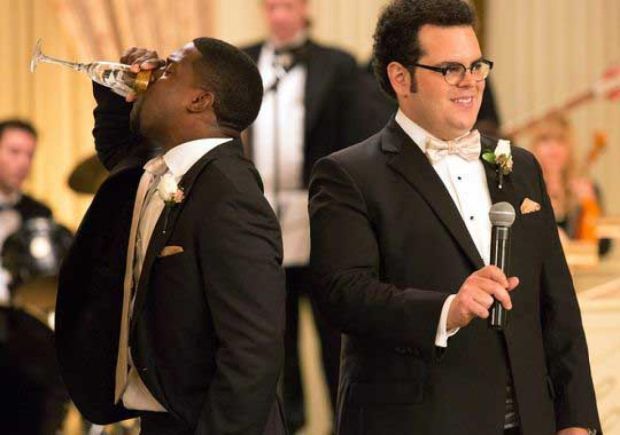 I will be brief. Add another one to the 'unexpected/uninvited/incognito wedding guest' genre. To date, we have Wedding Crashers, The Wedding Singer, The Wedding Date, I Love You Man, and now, The Wedding Ringer... and I'm sure I've forgotten a few.
You see the point. It's a funny concept. People are weird about weddings, and despite any attempt to express genuine feelings, the urge to prove one's happiness (existent or not) is almost uncontrollable. The problem is this: Much like a marriage, the laughs only come if there is something genuine beneath the humor. I think you see where this is going.
Doug (Josh Gad) is getting married--married to someone way out of his league, I might add. He is tying the knot with Gretchen (Kaley Cuoco-Sweeting) and he needs a best man. Sadly, Doug apparently is a huge loser. He cannot track down one guy to be in his wedding. Despite what would seem to be myriad alternative, intelligent options, Doug is referred to Jimmy (Kevin Hart), who, for a fee, will step into all best man duties with aplomb.
Honestly it's exactly as you'd expect. Kevin Hart is, as in most of his comedy, hit or miss. There are a couple laugh-out-loud moments, but it is impossible to overlook the absurdity of the story, and the utter lack of chemistry all around. It's a 4.