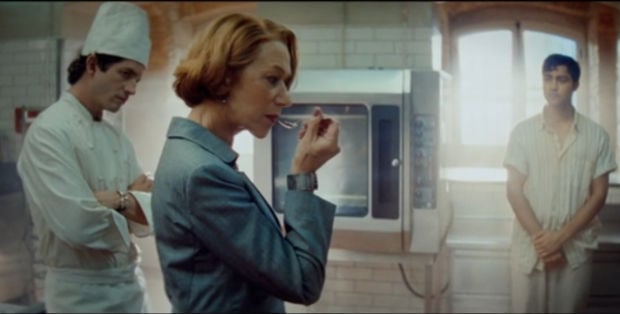 Movies that revolve around food and cooking make me nervous. It's almost as if the director thinks he can sacrifice a plot for a lingering shot of a bell pepper--or a magical moment of whisking an egg. And while food is an incredible thing to look at, assembling a salad does not a movie make. This film, I'm delighted to say, was more than a pleasant surprise. Yes, the food is mouth-watering, but the story is even better.
Since his childhood, Hassan Kadam (Manish Dayal) has been a gifted chef. When political violence forces his family from Mumbai, they settle in a small French village. There is one restaurant in town, and Madame Mallory (Helen Mirren) runs it with an iron fist. Nothing will threaten her Michelin-star rating. So when the Kadams open an Indian restaurant across the street, she is less than thrilled.
As their rivalry mounts, Madame Mallory becomes all too aware of Hassan's talent and must decide the best course of action. Meanwhile, Hassan becomes taken with Mallory's sous chef, Marguerite (Charlotte Le Bon), as she teaches him about French cuisine.
This is another one I would tell you to run out and see. As you might imagine, visually, it's a stunning film, and the story is endearing. Dayal and Le Bon are charming, and Helen Mirren, well, is Helen Mirren. Enough said. It's an 8.