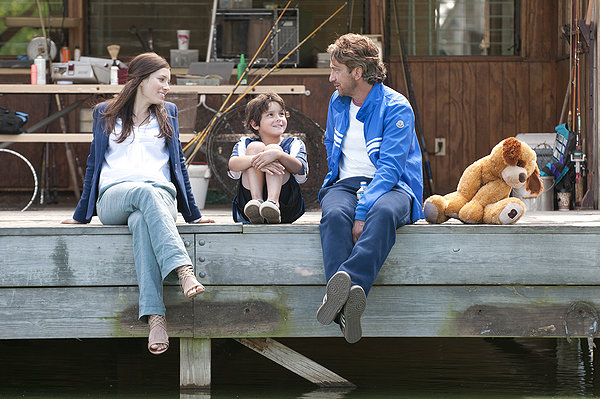 Let's keep this short and sweet. Gerard Butler needs to fire his agent. How on earth he attaches himself to these projects I have no idea. I mean, I muddled through The Naked Truth, where he wooed the flinty Katherine Heigl. I threw up a little into my mouth during Bounty Hunter with the lovely and talented Jennifer Aniston. I tried to go see his surfing movie, Chasing Mavericks, but apparently between the time I pulled out of my driveway and the time I parked my car, it had left theaters. Here, I draw the line.
George (Butler) is a washed-up sports star who has lost everything. In an attempt to win back his wife, Stacie (Jessica Biel), and son Lewis (Noah Lomax), he volunteers to become the children's soccer coach. And that's when the watch-checking begins. Forget match.com or the bar scene—become a soccer coach and desperate, libidinous soccer moms will be on you like chrome on a bumper.
I can't really tell you much more after that. There was a guy sitting next to me tugging at a thread on his sweater; and trust me, that was far more interesting than what was happening on screen. Quite simply, what we have here is a romantic comedy that is neither.
It's a 3.