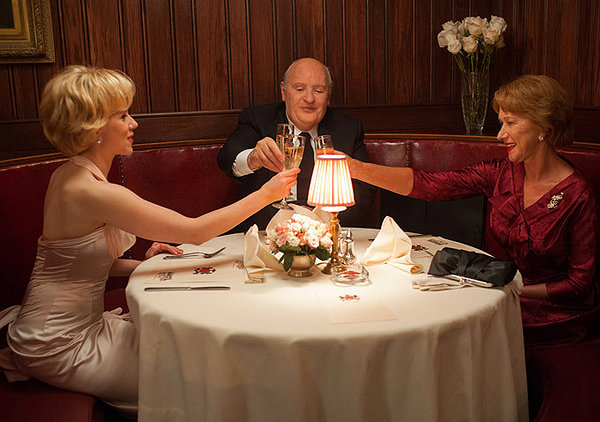 I always wanted to be some sort of 'buff'—turns out I am a movie buff. I also happen to love all things Hitchcock; well, most things Hitchcock, and frankly, I thought I knew quite a bit about the man. Turns out that wasn't the case, and I have this film to thank for enlightening me. Hitchcock is quite simply an intelligent and brilliantly acted film about a genius and his many obsessions.
Our story begins late in Alfred Hitchcock's (Anthony Hopkins) career. He is just coming off the wild success of North by Northwest and is desperately in search of a new project. Paramount offers him script after script, and he rejects them with overt disdain. Then he discovers a novel called Psycho, the story of Ed Gein, the most notorious serial killer of the time. Among other atrocities, Gein exhumed his dead mother and kept her in her bed. Psycho is going to be Hitchcock's next film…of course, not if the studio or the censors have anything to say about it. Show a toilet? Film a woman in a shower? Hitchcock finances the film himself; and with the help of his wildly capable wife, Alma (Helen Mirren), and devoted secretary, Peggy (Toni Collette), they go to work.
He casts Janet Leigh (Scarlett Johansson) in the lead role, Anthony Perkins (the uncanny James D'Arcy) as Norman Bates, and Vera Miles (Jessica Biel) as the sister. Hitchcock slaves tirelessly over the film, which is looking more and more like a disaster as time passes. Meanwhile, he walks a fine line between voyeur and pervert as he perpetually scours the landscape in search of the illusive Hitchcock blonde.
I cannot tell you how much I enjoyed this film. Even if you've never seen a Hitchcock film in your life, it's worth seeing for the performances alone. Hopkins and Mirren are both on the Oscar short list after this fabulous journey back to the golden age of Hollywood.
It's a 9.