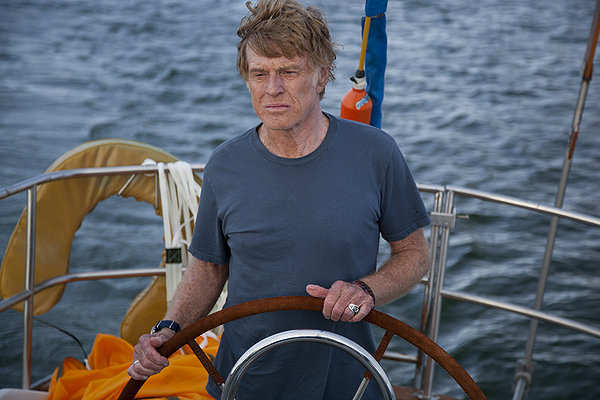 One can't help but immediately be struck by the striking similarity between this film and another Oscar contender, Gravity. Neither is a plot-driven film, and both feature a lone character fighting for survival against a powerful force of nature. Instead of Sandra Bullock's frenetic stream-of-consciousness chatter, here we have Robert Redford's stoic sailor. For those of you who have thought through the years that Redford is so spectacularly attractive you could just watch him for two hours, here's your chance.
Billed only as 'the man,' Redford's character sets out on a seemingly normal sailing trip off the African coast. When he collides with a drifting freight container, his vessel is damaged beyond repair. An experienced seaman, the man does everything to ensure his survival: repairs, distress calls, provisions. Eventually as the boat succumbs, the man is left adrift in a life raft at the mercy of the ocean.
Now, I feel obligated to warn you that the film is almost completely silent. Other than one or two lines of dialogue, a stirring soundtrack and the sounds of the elements, there is nothing. The audience can only imagine what the man is thinking as he confronts the possibility of death. Knowing that in advance might have spared the man in my screening from yelling--yes, yelling, Why don't you narrate so at least we would know what you're thinking?! In any event, the film is a subtle acting exercise and a triumph of cinematography; it is also a tad ho-hum. It's a 6.
Be the first to know
Get local news delivered to your inbox!