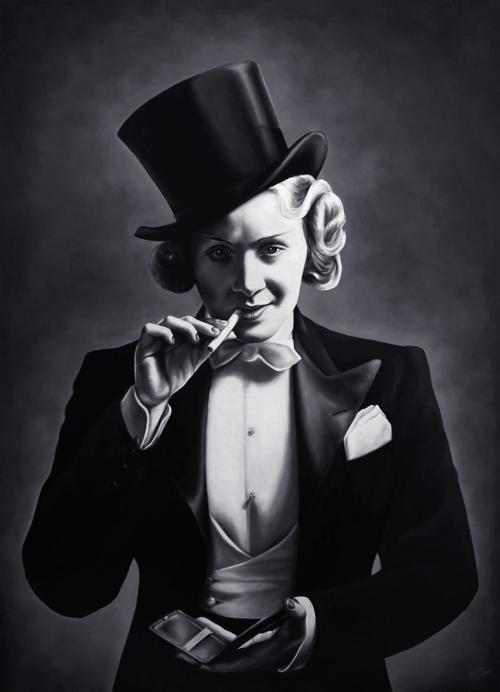 Before today's (likely ephemeral) panoply of peroxide princesses, before Madonna, before the heartbreakingly iconic Marilyn Monroe, before even Jean Harlow, the zeitgeist elevated Marlene Dietrich – and Maplewood artist Maxine Thirteen continues to celebrate that über-sultry blond German-American actress and singer with I am, at heart, a gentleman.
Currently on display at 31art gallery at 3520 Hampton Ave. in St. Louis' North Hampton neighborhood, that oil on canvas dates from earlier this year and measures 26 by 36 inches. Thirteen (the artist's chosen nom du pinceau) based the painting on a famous still from the 1930 cinematic classic Morocco, Dietrich's Paramount Pictures debut, shot by photographer Eugene Robert Richee.
"I've wanted to paint this photograph of Marlene Dietrich for a long time," the artist relates. "I've been a fan of hers since I was a child. I've always admired her individuality and the powerful demeanor she exudes. There's really no one else like her.
"When I got invited to participate in the Punk Rock Art Show at 31art gallery [last month], I felt a great centerpiece for my display in the exhibit would be this painting of Dietrich looking dapper in her top hat and tails, so I created this painting with that exhibit in mind. The title I decided on, I am, at heart, a gentleman, is a quote from Dietrich which I felt fit the piece perfectly."
Indeed! Even after the better part of a century, that quotation/title couples with the painting's soigné subject to puissant effect; Thirteen's depiction of the Teutonic titaness gazes from the picture plain with all the sang-froid of a latter-day Valkyrie scanning a silent battlefield in search of worthies to accompany her to Valhalla.
Despite being self-taught, Thirteen herself ranks as something of a titaness, having exhibited works "in numerous spaces throughout the metro area, including the Angad Arts Hotel, 31art gallery, The Last Hotel, Green Door art gallery, Le nu Figurative Art Salon, Soulard Art Gallery, the Jacoby Arts Center, Artisans in THE LOOP, Clr-Mnstr, the Koken Art Factory, Heartland Art Club gallery, Gracie's Shop at Laumeier Sculpture Park and the Let Them Eat Art festival."
She also has provided diverse artistic services to individuals and businesses here and has worked with other clients nationwide and beyond. Thirteen's website, in fact, showcases a delightful selection of endeavors, including portraits of other legendary screen stars like Lauren Bacall and Ingrid Bergman, as well as everything from designs for T-shirts and tattoos through commissioned portraits to some deliciously perverse wedding-cake toppers.
Returning to the artwork here showcased, Thirteen reflects further on I am, at heart, a gentleman. "This painting is my largest oil painting to date, which proved to be challenging," she says. "Previously, I had mainly worked on much smaller oil paintings, and because I'm very detailed in my work, it was difficult to adjust to creating such a large piece. I had to remind myself to step back and take in the work as a whole, instead of becoming focused on specific, small areas as I was working.
"Ultimately, I'm very happy with how it turned out. It has a commanding, intriguing presence. I have a special love for this piece, and it has inspired me to plan more large paintings." 
To learn more about our featured artist, visit maxinethirteen.carbonmade.com.
St. Louis-area artists who wish to be considered for future installments of this monthly department of Ladue News should email inquiries to bhollerbach@laduenews.com with "Art and Soul" in the subject line.