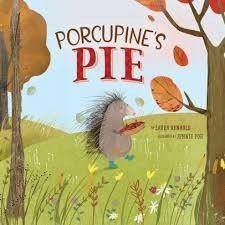 With the fall feasting nearing, Ready Readers recommends two books that celebrate sharing with those who mean the most to us.
Porcupine's Pie, the month's first recommendation, comes from writer Laura Renauld and illustrator Jennie Poh and involves the title character, a baker intent on making her Famous Cranberry Pie for Fall Feast Day. She gathers necessary ingredients from her pantry: butter, sugar, flour and the all-important juicy cranberries. Knowing she must wash the fruit before baking, Porcupine dons her favorite boots and waddles down the path to the river, clutching her bright blue pail brimming with the rose-red fruit.
In meeting several woodland neighbors along the path, Porcupine learns they're less excited about the holiday than she herself because they're all missing important ingredients for their own baked goods: Squirrel needs flour, Bear needs butter and Doe needs sugar. Because she has more than she needs, Porcupine invites her three friends to visit her pantry and help themselves to her staples.
Making their way to Porcupine's house, the three are surprised to find cranberries strewn along the path, the result of a hole in Porcupine's pail. On arriving at the river, meanwhile, Porcupine is devastated to find her once-full pail empty. Disappointedly, she returns home to make what she can with the remaining ingredients – a plain pie crust.
Poh's colorful watercolor and ink pictures provide a welcoming invitation into the woodland environs, while Renauld's text leads readers through Porcupine's dilemma to the heartwarming resolution made possible by her grateful and equally generous friends. Families may enjoy baking something special and sweet for their own upcoming holiday using the recipe for Friendship Pie provided at the end of the book.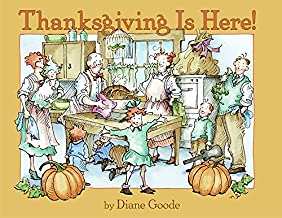 As the month's second recommendation, Thanksgiving Is Here! focuses on the endearing chaos as family and friends assemble at Grandma and Grandpa's house for the all-American holiday. As both writer and illustrator, Diane Goode tells her story through an exuberant granddaughter, delightfully drawn with red curls, a green dress and matching hair bow. The earliest to arrive, she serves as Official Greeter of Guests and informal play-by-play announcer of the day's events. Goode's impish narrator wrangles kids, stray dogs and a myriad of visiting adults all dressed in their colorful holiday best.
Goode's detailed watercolor-washed pen-and-ink drawings depict the elation and confusion of a large family celebration: attendees moving furniture to make room for the many tables needed to feed the assembling small army, children playing hide-and-seek, groups of adults visiting in one room while others stir gravy, peel potatoes, roll pie dough and check the turkey in the kitchen with Grandma. The illustrations provide humorous depth to the simple text, which proclaims such cherished truths as "At Grandma's house we can take off our shoes … aaaah!" and "At Grandma's house the chairs don't match … but we don't mind. We all have a place at the table."
Thanksgiving Is Here! constitutes a lovely ode to holiday traditions and memories made with family and friends.
You can join Ready Readers in sharing the magic of books with our community's most vulnerable preschoolers. Visit our website (readyreaders.org) to learn how you can make a difference. Kids Who Read Succeed!
Be the first to know
Get local news delivered to your inbox!