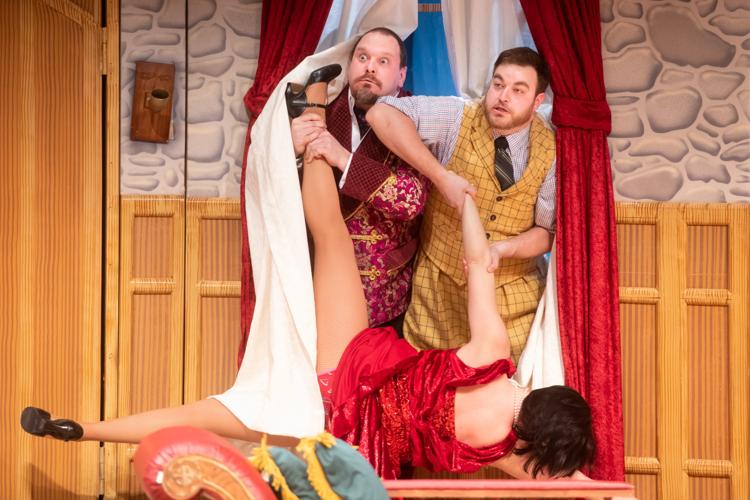 Story: Chris Bean is anxious and excited about the Cornley University Drama Society's debut performance of The Murder at Haversham Manor – anxious because he dearly wants this production to exceed previous CUDS efforts such as Cat (sic) and The Lion and the Wardrobe (ditto), both of which were altered from their more familiar iterations due to cast defections.
He has much time and energy invested in the show as its director, designer, costume designer, prop-maker, box office manager, press and PR person, "dramaturgy," voice coach, dialect coach and fight choreographer and in the rehearsal role of Mr. Fitzroy. He even wrote some informative notes in the program book. (And you thought you were busy.)
So while lighting and sound operator Trevor searches for a missing CD by 1980s pop icons Duran Duran and hardworking stage manager Annie summons assistance from an audience member to help handle elements of the balky set, Bean announces that CUDS is delighted to make its initial appearance at the vaunted Repertory Theatre of St. Louis, albeit while noting the abrupt cancellation of its proposed production of another play.
He encourages the audience to sit back and absorb this sparkling whodunit by the esteemed Susie H.K. Brideswell (the fictitious counterpart of real playwrights Henry Lewis, Jonathan Sayer and Henry Shields). In it, Charles Haversham has been found dead at his country estate, and now Inspector Carter (portrayed by Bean) must sift through the myriad clues to ascertain and apprehend Charles' killer. Is it his dapper younger brother, Cecil, or his scheming fiancée, Florence? What about trusty aide Perkins or Charles' pal Thomas Colleymoore?
Rest assured that Carter is on the case, come hell or high water – or a malfunctioning prop or other set piece or four. Under the valiant tutelage of the indomitable Bean, the show must assuredly go on. Kind of.
Highlights: Rep Augustin Family Artistic Director Steven Woolf brings down the curtain on his illustrious tenure with The Rep with this rollicking presentation of England's Mischief Theatre company's fun-filled comedy of high-energy errors, expertly directed by Melissa Rain Anderson.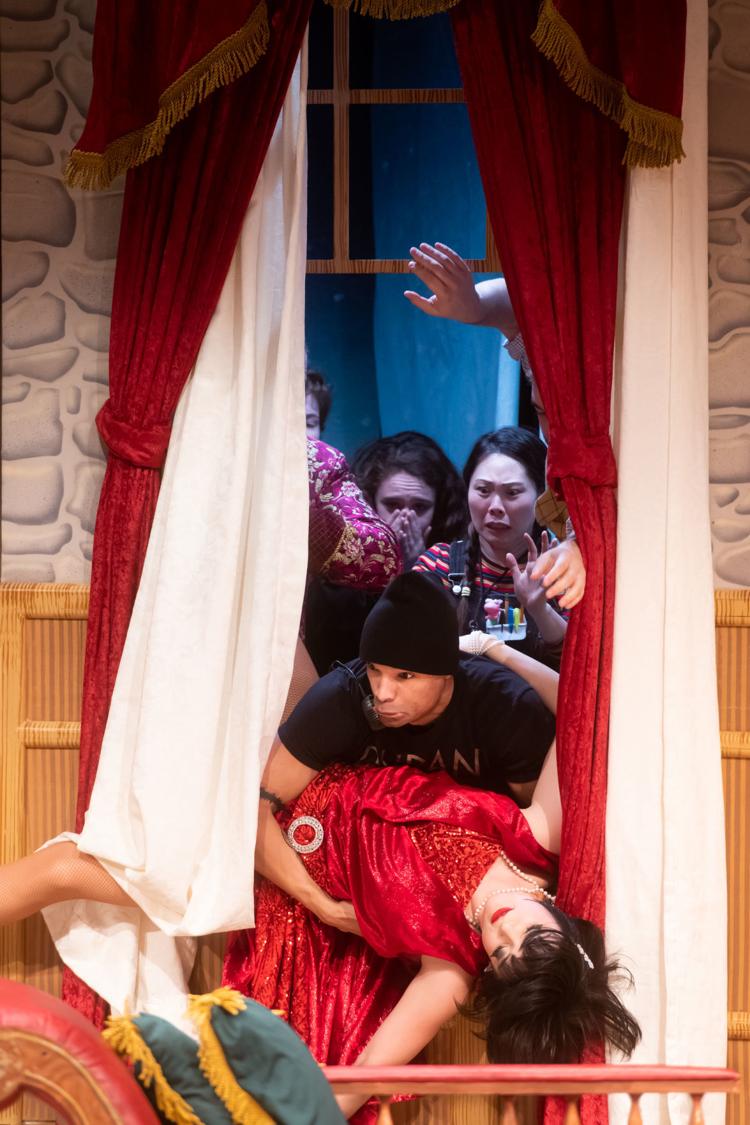 Other Info: The Play That Goes Wrong opened in London in 2012 and is still running in the West End, along the way picking up an Olivier Award for Best New Comedy in 2015 for the production that transferred to the Duchess Theatre in 2014. The Rep's version marks its American regional theater debut, the first self-produced rendition outside of New York City.
Special recognition needs to be made to scenic designers Peter and Margery Spack, who concocted the wondrous set, which garners many of the comedy's abundant laughs with its propensity for calamity and destruction.
The mayhem begins even before the show-within-a-show officially "begins," as Trevor and Annie wrestle with a set door that won't stay closed, loose floorboards and a mantel that won't stay affixed to the back wall.
Kudos go to The Rep's construction crew for making the purposely disastrous set so wondrously woeful. The precarious pieces, such as a collapsing second-level floor, make the cast's acrobatic and athletic abilities all the more impressive with their pratfalls and slapstick.
Lines are dropped or repeated at the wrong points in the script with deliciously hilarious results, as are Evan Zes' mangled pronunciation of words that his character, Dennis, carefully utters from notes he's written on the palms of his hands.
Matthew McGloin is hilarious as the overly eager Max Bennett, the self-impressed actor who is exhilarated with the audience's reception of his wildly gesticulating onstage antics as both Cecil and a crusty gardener.
Ruth Pferdehirt shows her own flair for physical comedy in portraying Sandra Wilkinson, who in turn portrays Florence, especially after she's knocked out by a faulty prop and replaced by Annie. Ka-Ling Cheung is a hoot as Annie, who steps in for the dormant Sandra and then refuses to return the role, leading to amusing altercations onstage and off.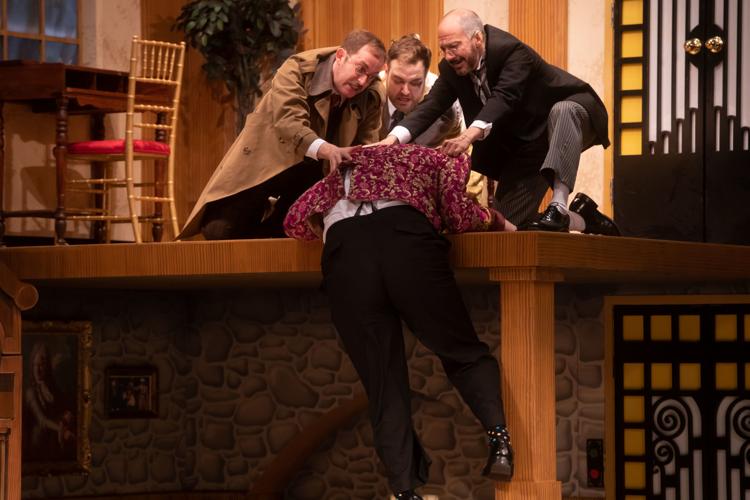 Benjamin Curns does his stiff-upper-lip best as Jonathan Harris, the actor portraying the groaning corpse of Charles, while John Rapson shows the exasperation of Robert Grove, the CUDS actor playing the suspicious Thomas.
Ryan George is fun to watch as Trevor in a booth above stage right, and Michael Keyloun is a stitch as the long-suffering and questionably talented Bean (doubtless an hommage to British comedian/actor Rowan Atkinson's Mr. Bean), who thanks The Rep audience for returning after intermission.
Costume designer Lauren Roark dresses the players in their finest Edwardian attire for the 1920s setting-within-a-setting of Haversham Manor, and Kirk Bookman's lighting underscores the impish activities of the unpredictable set. Sound designer Rusty Wandall matches the pratfalls with accompanying sounds of chaos, as well as some judiciously placed snippets, aptly, from Duran Duran.
Some of the jokes here drag on too long, and one or two occasionally is beaten to death. Overall, though, there's much fun to be had under Anderson's spirited guidance with the witty The Play That Goes Wrong, which does physical comedy right.
Company: The Repertory Theatre of St. Louis
Venue: Browning Mainstage, Loretto-Hilton Center for the Performing Arts, 130 Edgar Road
Dates: Through April 7 (except Mon., April 1)
Tickets: $19 to $92; contact 968-4925 or repstl.org
Rating: A 4.5 on a scale of 1-to-5.
Be the first to know
Get local news delivered to your inbox!