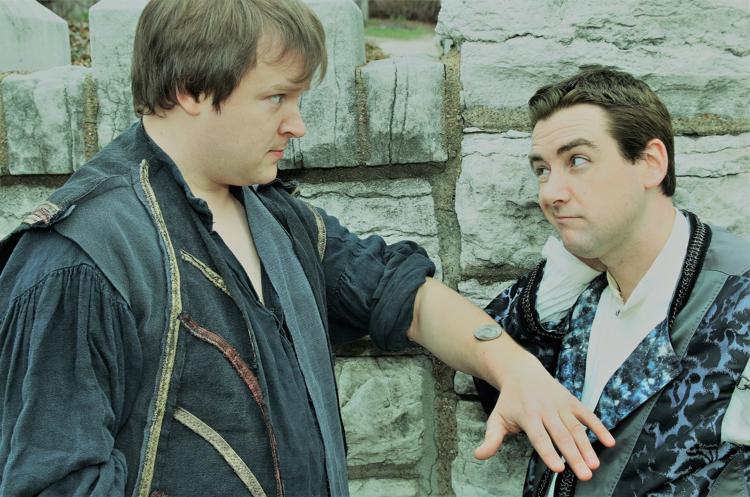 Just because it doesn't feel like spring doesn't mean spring isn't truly upon us. The following entries sketch what to expect this season in the theater world. 
THE FABULOUS FOX THEATRE
Later this spring, a new production of Andrew Lloyd Webber's The Phantom of the Opera will run at The Fabulous Fox Theatre from May 9 through 20, excluding May 14. With newly reinvented staging and scenic design, this version of Phantom is performed by a cast and orchestra of 52, making it one of the largest productions on tour in North America.
The Fabulous Fox Theatre, 527 N. Grand Blvd., St. Louis, 314-534-1678, fabulousfox.com
THE MIDNIGHT COMPANY
The nation's current polarized political climate offers a backdrop for a new presentation of Abby Mann's post-World War II drama, Judgment at Nuremberg, by The Midnight Company at the Missouri History Museum. Mann's story depicts the second wave of post-World War II trials in Nuremberg, Germany, as influential judges who cooperated with the Nazis such as Dr. Ernst Janning face a military tribunal. Performances are April 25 through 29.
The Midnight Company, 314-487-5305, midnightcompany.com
THE ST. LOUIS BLACK REPERTORY
The Black Rep closes its 41st season with the world premiere of Nikkole Salter's play Torn Asunder from April 13 through 29 (except Mondays and Tuesdays) at the Edison Theatre on the campus of Washington University in St. Louis. Set in Maryland in 1859, the drama focuses on Hannah, "a relatively contented enslaved woman," whose life is changed when her master dies and for the first time she is separated from her family. In the process of finding them, slavery is abolished, and the Confederacy surrenders to the Union, giving Hannah an opportunity to search for her husband and child.
The St. Louis Black Repertory, 6662 Olive Blvd., University City, 314-534-3810, theblackrep.org
SHAKESPEARE FESTIVAL ST. LOUIS
Designer Sarah Stallman will use William Shakespeare's 38-play canon to inspire some original clothing ensembles at Reclamation: Contemporary Fashion and the Canon, the kickoff event for this year's SHAKE 38 festival organized by Shakespeare Festival St. Louis. Reclamation takes place April 18 at the Saint Louis Fashion Incubator, 1533 Washington Ave., St. Louis, and serves as the beginning of the ninth annual five-day, community-based marathon of the Bard's work at many locales.
Shakespeare Festival St. Louis, 6604 Fine Arts Drive, St. Louis, 314-531-9800, sfstl.com
NEW JEWISH THEATRE
New Jerusalem: The Interrogation of Baruch de Spinoza at Torah Talmud Congregation: Amsterdam, July 27, 1656 is the lengthy title of David Ives' drama about Jewish philosopher Baruch de Spinoza. The play is based on de Spinoza's excommunication from the Jewish community of Amsterdam in the mid-17th century in order to keep the peace for the Jews of Amsterdam, following their agreement to police their own community for unorthodox beliefs. The play will be performed by New Jewish Theatre and will run on selected dates between April 4 and 22.
New Jewish Theatre, Jewish Community Center, 2 Millstone Campus Dr., St. Louis, 314-442-3283, newjewishtheatre.org
ST. LOUIS SHAKESPEARE
Tom Stoppard's "existential tragicomedy," Rosencrantz and Guildenstern Are Dead, will be staged by St. Louis Shakespeare April 6 through 15 at the Ivory Theatre, 7620 Michigan Ave., in St. Louis' historic Carondelet neighborhood. Artistic director Suki Peters notes that the "comedy, penned during the height of the absurdist movement, follows the two hapless friends of Hamlet, Rosencrantz and Guildenstern, as they go on a journey from which they never return … as they explore fate, their purpose and the very nature of existence."
St. Louis Shakespeare, 4579 Laclede Ave., No. 345, St. Louis, 314-361-5664, stlshakespeare.org
PLAYHOUSE @ WESTPORT PLAZA
The smash hit musical A Closer Walk With Patsy Cline visits the Playhouse @ Westport Plaza for a run from April 17 through May 6, except on Mondays. Julie Johnson portrays the country music superstar who defined the term "crossover hit" by dominating country, blues, pop and gospel charts simultaneously in the 1950s and early '60s. Prior to that, the venue will present Angela Ingersoll in the one-person show Judy Garland: Come Rain or Come Shine April 12 through 15, with Ingersoll portraying the legendary Garland in concert.
Playhouse @ Westport Plaza, 635 Westport Plaza Drive, St. Louis, 314-534-1111, playhouseatwestport.com
WEST END PLAYERS GUILD
West End Players Guild concludes its 2017-18 season with Hansol Jung's drama Cardboard Piano from April 6 to 8 and 12 to 15. Set in northern Uganda, it tells the story of a missionary's daughter and a local teenage girl who exchange secret wedding vows but cannot escape the reach of an encroaching civil war. A hit at the 2016 Humana Festival of New American Plays, this production will be the St. Louis premiere.
West End Players Guild, 733 Union Blvd., St. Louis, 314-667-5686, westendplayers.org
ST. LOUIS ACTORS' STUDIO
Ronald Harwood's drama The Dresser was based on his own experiences as dresser to Sir Donald Wolfit and is an elegy to a bygone era. Backstage at a theater in England during World War II, dresser Norman valiantly works to ensure that Sir, the last of the great breed of English actor/managers, gets through his role as Shakespeare's King Lear. The Dresser, winner of the 1994 Pulitzer Prize for drama, will be presented from April 13 through 29 at The Gaslight Theater.
St. Louis Actors' Studio, 360 N. Boyle Ave., St. Louis, 314-458-2978, stlas.org
TENNESSEE WILLIAMS FESTIVAL ST. LOUIS
And the Tennessee Williams Festival St. Louis returns May 10 through 19 in Grand Center with a number of performances, including a main stage production of A Streetcar Named Desire at The Grandel, directed by Tim Ocel. This year's celebration is titled Tennessee Williams: The French Quarter Years.
Tennessee Williams Festival St. Louis, 3224 Locust St., No. 2J, St. Louis, 314-517-5253, twstl.org