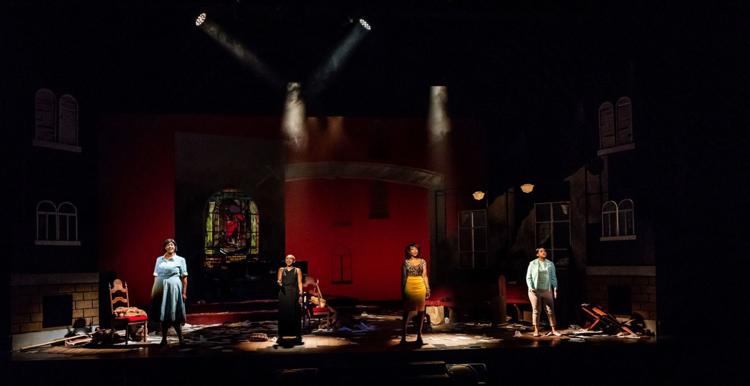 Story: Singer/songwriter Nina Simone, née Eunice Kathleen Waymon of Tryon, North Carolina, pays a visit to the 16th Street Baptist Church in Birmingham, Alabama, the day after a bomb decimates the holy building, killing four young black girls who were attending services there on Sept. 15, 1963.
Sitting at a piano amid the ruins, Nina thinks about composing a song to reflect her anger and grief over these senseless deaths in the middle of the civil rights movement. Sarah, a member of the church, stops by on her way to work to view the wreckage and notices Nina there.
The two are decidedly different, both in appearance and education, and yet they share striking similarities. As black women, they have suffered injustices their entire lives, just as their mothers and grandmothers before them.
Nina is a self-described "classical musician," an artist who enrolled in the famous Julliard School of Music in New York City. Sarah, on the other hand, works two menial jobs to help support her husband and their children.
She objects to Nina taking the Lord's name in vain and considers the outsider "a peculiar lady," yet the two share much in common.
Eventually, they're joined by Sephronia, a mixed-race young woman derisively referred to as "high yellow" because of her mixed ancestry and light skin color. She's been in a quarrel with Sweet Thing, a local prostitute who claims to be pregnant with Sephronia's boyfriend's baby.
Nina is one of four black women who find themselves drawn together in hellish circumstances. The gifted musical artist exhorts all of them to fight for their rights as she uses her own talents to express her growing activism in the civil rights movement and to demand equality long overdue.
Highlights: Christina Ham's powerful and moving drama with music brings The St. Louis Black Repertory's 2018-19 season to a glorious close in an excellent production helmed by Black Rep producer/director Ron Himes.
Other Info: Ham expertly weaves several Simone anthems throughout this two-act, two-hour presentation, admittedly using dramatic license to include numbers such as "Old Jim Crow" and "Sinnerman" along with "Mississippi Goddam," the only tune written at about the same time as the church bombing.
Ham sets up her riveting story in segments labeled "Overture," "Verse 1," "Verse 2," "Chorus" and "Bridge," with long periods of dialogue between soulful renditions of standards written by her and others.
Tim Jones presents a powerful scenic design, with broken windows on the back wall and debris littering the floor of the Edison Theatre stage to represent the aftermath of the fateful bombing. The bombing itself is rendered especially scary thanks to Sean Savoie's pyrotechnic lighting and the explosive sound design provided by Justin Schmitz, each authentically harrowing.
Costume designer Nikki Glaros provides startling contrast in the attire of the four women, from Sarah's domestic-worker uniform to the gaudy garb favored by Sweet Thing and the elegant black dress adorning Nina.
Musical director Charles Creath is seated near the rear of stage right to provide smooth, persuasive piano accompaniment to the powerful voices of the performers, who convincingly shape Simone's anthems with soulful interpretation. Heather Beal's choreography especially accentuates the ensemble's efforts on the "Shout: Oh Mary" number composed by Ham herself, a woman whose family actually attended services at the 16th Street Baptist Church.
Leah Stewart packs a convincing wallop as the fiery and determined Nina, committed to social justice and using her natural musical gifts as her weapons of choice. She opens the show with a well-honed rendering of Simone's familiar hit, "I Loves You, Porgy," then propels the drama with a soaring version of Simone's "Mississippi Goddam" protest tune.
Alex Jay does a fine job depicting Sephronia, antagonized not only by the white majority but also by blacks suspicious of her skin color, adding luster to the women's presentation of "Sinnerman."
Camile Sharp shows the sassy, defiant edges of Sweet Thing, joining the others in an unlikely display of unity for several numbers in the second act, including "To Be Young, Gifted and Black" and the "Four Women" concluding piece.
Ham's moving drama taps into Simone's rich musical legacy to underscore the artist's lifelong commitment to social justice in a deeply satisfying fashion. 
Company: The St. Louis Black Repertory
Venue: Edison Theatre, 6445 Forsyth Blvd. at Washington University
Dates: Through June 2
Tickets: $40 to $45, $15 for children 5 to 12 and students when purchased 30 minutes before show; contact 314-534-3807 or theblackrep.org
Rating: A 4.5 on a scale of 1-to-5