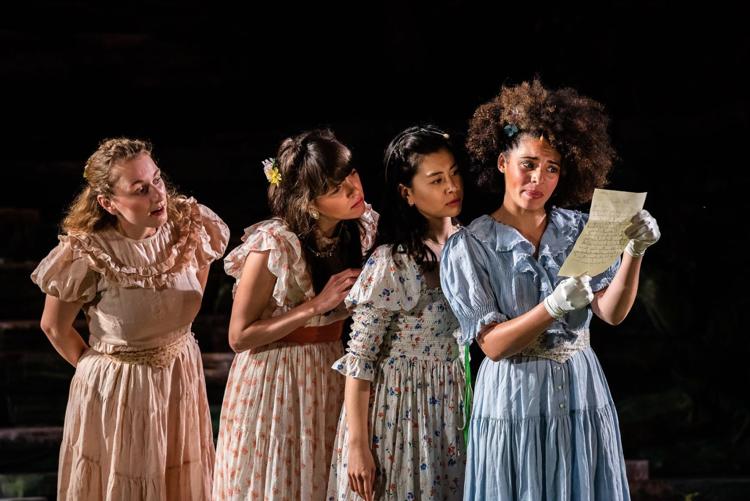 Story: King Ferdinand of Navarre convinces three of his pals, namely the lords Biron, DuMaine and Longueville, to join him in three years of fasting and studying and, most important, resisting the powerful allure of women. They somewhat reluctantly agree to do so, with Biron the least enthusiastic.
Don Adriano de Armado, a Spaniard visiting Navarre, reports to the king that the commoner Costard has been having a fling with a country wench named Jaquenetta. Armado is pleased when the king admonishes Costard, revealing to his own page, Moth, that he himself fancies Jaquenetta.
The Princess of France arrives in Navarre accompanied by three of her ladies, Roseline, Catherine and Maria, to discuss a political matter with Ferdinand. Instantly, the king is smitten with the princess, as are his three pals with the trio of French ladies. Separately, they devise schemes to meet the women clandestinely, in clear violation of their newfound pact swearing off the opposite sex.
Meanwhile, Armado writes a letter to Jaquenetta and entrusts the simple Costard to deliver the message. However, Costard inadvertently switches the letter with another he's been given by Biron to hand over to Roseline.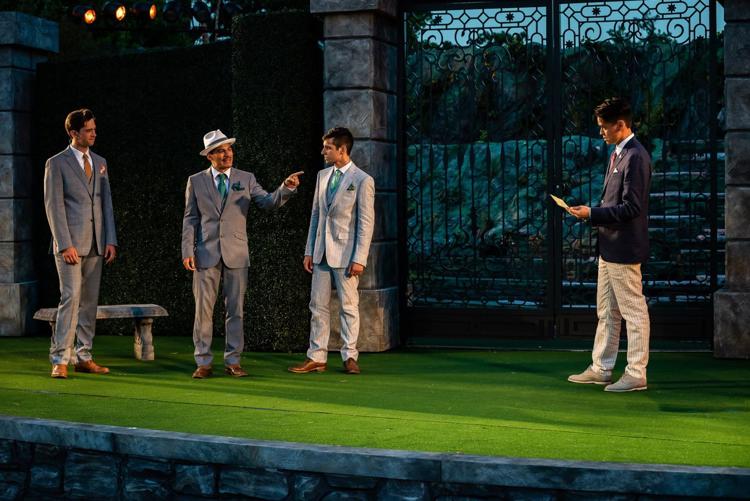 When Costard shows Jaquenetta Biron's letter by mistake, two court scholars named Nathaniel and Holofernes consulted by Jaquenetta interpret Biron's letter as treasonous and send Jaquenetta off to inform the king of Biron's crime.
After Biron realizes what has happened with the two letters, he admits his transgression but also reminds the king and his fellow lords of their same offense, which they admit. They then decide to masquerade as Muscovites to entertain the women, who in turn disguise themselves once they learn of this ploy.
As the pairs happily reunite after learning each other's true identities, the princess is visited by a French messenger named Marcade, informing her of the death of her father and the urgency for her to return home as the new queen of France.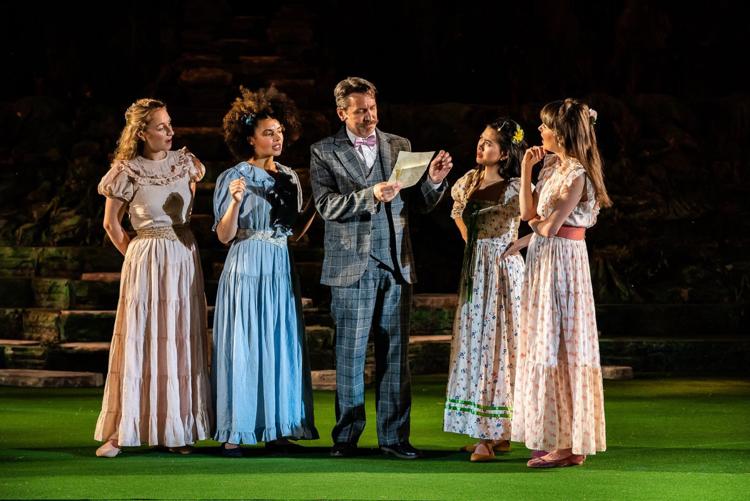 She then tells Ferdinand that he and his lords must wait a year and a day before they can wed their soul mates to prove their undying love. Armado agrees to do the same to prove his worthiness to the fair Jaquenetta.
Highlights: Shakespeare Festival St. Louis executive producer/director Tom Ridgely coaxes delightful performances from his polished ensemble in this sparkling presentation of one of the Bard's wittiest and most engaging comedies.
Other Info: As Ridgely observes in his program notes, "Taking place over two midsummer days in the royal park of the King of Navarre, it's hard to imagine a play more perfectly suited to our glorious surroundings right here in Forest Park."
Right he is about that. The Shakespeare Glen makes an ideal location for performing this breezy and well-paced piece, two acts that span about 2½ hours. Scenic designer Jason Simms' pastoral set blends into Forest Park's natural scenery to accentuate the outdoor element in the Bard's comedy, which is replete with wordplay.
Strolling on and off the stage during intervals between scenes are members of The Rats & People Motion Picture Orchestra, whose musical direction and composition enhance the gentle, agreeable nature of the story along with Rusty Wandall's pleasant sound design. The orchestra's composers/performers Matt Pace and Brien Seyle are joined by Patrick Blindauer on accordion.
Topping the performances are Philip Hernández, extracting every ounce of comedy from the rich role of the blustery Armado, and Naima Randolph as his plucky and enterprising page, Moth. The lanky Hernandez and diminutive Randolph are amusing in their physical contrast, as well as their immersion in their roles.
Bradley James Tejeda expertly delivers the speeches and emotions of the lovestruck Biron, while Patrick Blindauer excels in the role of the unflappable and determined Costard. There's accomplished work as well by Laura Sohn as the affecting Roseline, Kea Trevett as the self-confident princess, Kiah McKirnan as the independent Catherine and Vivienne Claire Luthin as the agreeable Maria.
Sky Smith is accomplished in the role of the well-meaning if shortsighted king, ably joined by Sam Jones as Longueville, Riz Moe as DuMaine and the aforementioned Tejeda as Biron.
Jeffrey Cummings is a polished Boyet, attendant to the princess, while Molly Meyer is entertaining in the role of the lusty maiden Jaquenetta.
John Wylie's lighting captures the nocturnal elegance of numerous scenes, while Melissa Trn dresses the royalty in Great Gatsby-era clothing, keeping the peasants in more Elizabethan attire and Hernandez looking like Don Quixote.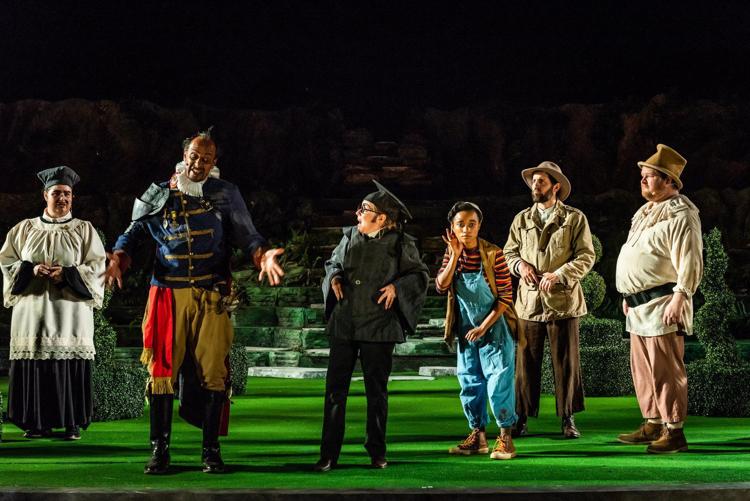 Lara Teeter's choreography adds flair to the romantic bits as well as the comic Russian dance. Erik Kuhn's fight choreography is used in a short scene between Costard and Armado, and Laura Skroska provides amusing props. Suzanne Mills suitably serves as voice and text coach.
Language aficionados will appreciate the Bard's wordplay, especially well delivered by Blindauer and Carine Montbertrand (Holofernes), and all in attendance can appreciate the lighthearted romance behind this enchanting version of Love's Labors Lost. 
Group: Shakespeare Festival St. Louis
Venue: Shakespeare Glen in Forest Park near the Saint Louis Art Museum
Dates: Through June 23 (except Mondays)
Tickets: Free; for details, visit sfstl.com.
Rating: A 4.5 on a scale of 1-to-5