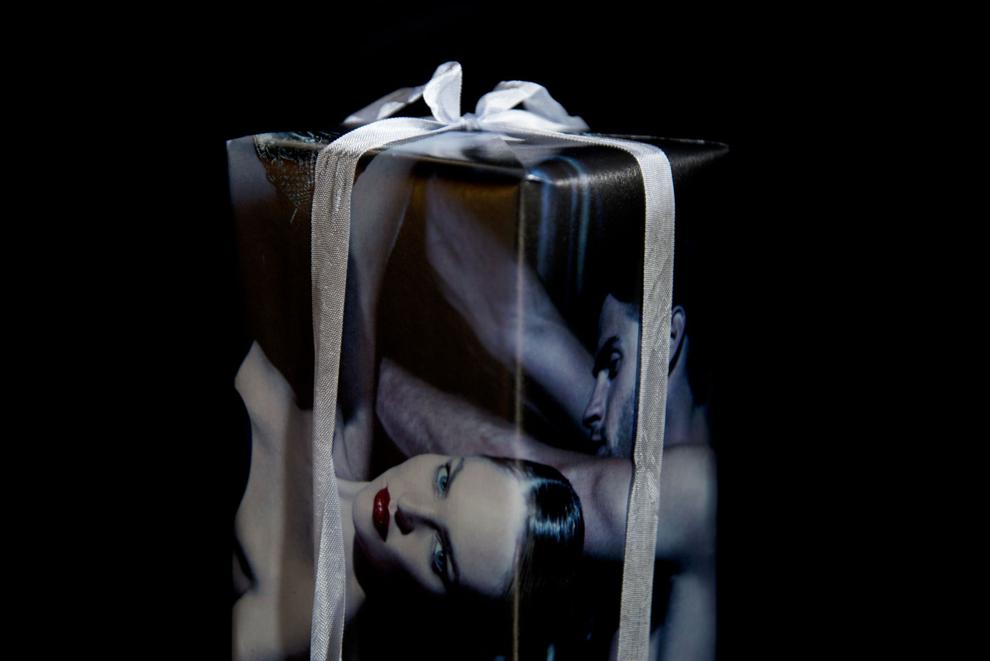 At a glance, the beribboned rectangular solid looks less like an enigmatic gift than an outsize ice cube darkened by a black background.
At more than a glance, though, it looks much, much colder than any mere chunk of frozen agua – degrees-Kelvin cold.
The perplexing present in question forms the focus of a 2015 piece of art by St. Louisan Heather Bennett titled Patron for Stan, a 65- by 44-inch digital photograph printed on treated all-cotton paper. It numbers among an octet of similar works by her in an exhibition entitled "Photos of Gifts" on display at Clayton's Bruno David Gallery.
The dreadful frigidity of Patron for Stan derives, ironically enough, from an element of indisputable fire: the visage of a raven-tressed beauty printed, whether actually or virtually, on the gift's wrapping paper near its base.
The woman's head rests or appears to rest on the left triceps of a shirtless, bearded rake. (Asleep? Dead? Who knows?) Moreover, her expression conjures that of some mid-20th-century Hollywood film noir diva – she rather resembles the now-little-known American actress Carol Ohmart – albeit a diva ready to defenestrate someone. Her heavily lipsticky mouth has congealed into a terrifying scowl, while her kohled feline eyes have become a glare sharp enough to lase a girder.
The woman behind that woman earned a Bachelor of Arts degree in political science and a Bachelor of Fine Arts in printmaking from Washington University in St. Louis; Bennett then earned a Master of Fine Arts in painting from New York City's Hunter College. She currently serves as a lecturer at Washington University.
Unfortunately, regarding the manifold mysteries posed by Patron for Stan, including its title, Bennett (as is an artist's prerogative) provides few clues in reflecting on the work and its related works.
"Photographic images have traditionally depicted space, revealing people and objects," she states. "They are the stuff of illusion. They are also things.
"At the intersection of these identities is a kind of gooey vacillation, as we look at and through a photographic image in contemporary culture. This work seems to depict exactly what the series title, 'Photos of Gifts,' describes.
"However, objects are often wrapped with magazine images complicating illusionistic space, as well as obscuring object identities. Women acting as objects for magazine advertisements are subtly transformed here to the focused subjects of the images, only to then be flattened, inextricable from the object portrait, as they are wrapped around that object and tied with a bow. The subject/object reversal of the female form gets a seasickening treatment.
"The small act of wrapping a gift becomes a potent metaphor, exploding within its supposedly quiet, often assumed-to-be-feminine place."
It bears noting that those wishing to contemplate Patron for Stan and its seven related pieces at their real size have roughly a week yet to do so. Bennett's "Photos of Gifts," which opened Oct. 14 at the Bruno David Gallery, will continue to run there till Nov. 11.
In the context both of Halloween and of the mysteries implicit in that exhibition, some visitors may have to strain not to pack a deerstalker and a meerschaum.
To learn more about our featured artist, visit heatherbennett.com.
St. Louis-area artists who wish to be considered for future installments of this monthly department of Ladue News should email inquiries to bhollerbach@laduenews.com with "Art and Soul" in the subject line.