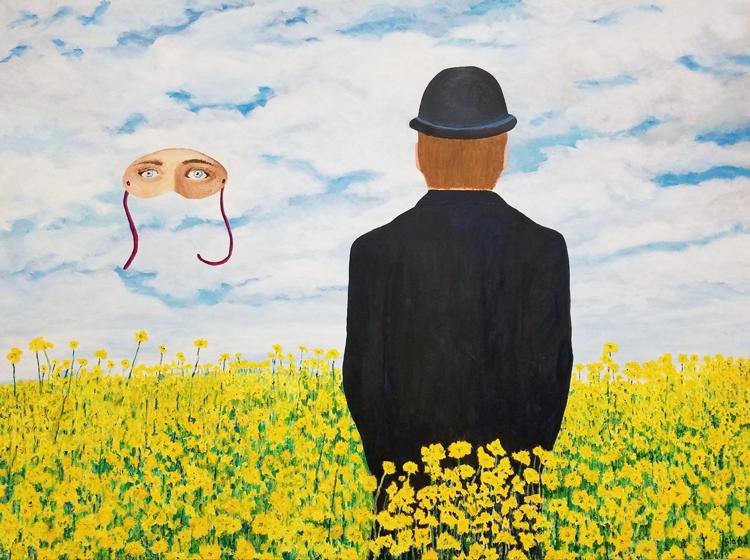 In The Story of Art, his eminently readable 688-page overview of the subject, E.H. Gombrich characterizes the paintings of the Belgian René Magritte as "memorable precisely because they are inexplicable."
One can't help suspecting St. Louisan Tom Blood – whose Memories of June, a 2018 acrylic measuring 40 by 30 inches, appears here – might beg to differ, given his description of that canvas.
"A man in a bowler hat stands with his back to the viewer, waist high in a field of flowers," Blood says. "Next to him, a mask with a woman's face on it is floating against a cloudy sky. Does the mask represent June? Are these memories the man is holding onto on a brilliant June day? These are the thoughts that I want the viewer to have in their head."
The derby-topped dandy, of course, should serve as an instantly recognizable prompt to anyone with even a smattering of knowledge about 20th-century fine art.
"That figure showed up in many of Magritte's paintings," Blood explains, alluding to such iconic works as Golconda from 1953, The Mysteries of the Horizon from 1955 and The Son of Man from 1964, "and he turns up in quite a few of mine as well, in an ongoing homage to my favorite painter of all time." (It also bears noting that the facial domino may reference, by accident or by design, The Age of Enlightenment from 1967.)
And why not? Even slightly more than half a century after his death in '67 and 120 years after his birth in 1898, Magritte retains the cachet of the outré, which, to be sure, he achieved without striving as transparently as Spain's storied Salvador Dalí. The Belgian, after all, associated sequentially with an almost mind-boggling cadre of proponents of the original "-isms," who still cast their figurative shadows, in lowercase, across the contemporary art scene: the Impressionists, the Futurists, the Cubists, the Purists, the Dadaists and, of course, the Surrealists.
"Like Magritte, I love to paint ideas," Blood relates. "I want my paintings to raise questions in the viewer's mind and create a sense of mystery. So many artists deal in the abstract. With my paintings, it's quite clear what they are – you just don't know why."
By way of background, Blood describes himself as an artistic autodidact who always loved to draw but nonetheless earned a collegiate degree in journalism. Thereafter, he served as a writer and creative director at a number of St. Louis-based advertising agencies.
In 1989, a Christmas gift of an airbrush – an atomizer using compressed air to spray paint, nowadays increasingly superseded by digital processes – prompted him to revisit his artistic leanings, Blood notes, and he "began creating paintings using a combination of airbrush and acrylic paint."
As Fate would have it, though, his painterly ways again went on hiatus with the birth of his and his wife's third child, which necessitated the conversion of his domestic studio into a basement bedroom. That 17-year break ended in 2014 at the urging of his eldest son, also named Tom, and Blood resumed painting.
"As an artist, I continually seek to paint the impossible – or at least the highly improbable," Blood remarks regarding his creative process. "I love it when people ask me, 'What does this mean?' or 'How did you ever think of that?'
"So how do I think of these things? I let my subconscious roam. I jot down ideas and sometimes use words, and will do image searches based on those words. All of my paintings begin on my sketchpad as small drawings less than 3 inches high. Once I decide on what to paint – which is always the most difficult decision – I upscale the drawing, free-handing it onto the canvas, and then the painting process begins."
As the end of his first solid lustrum as a practicing artist looms, Blood muses on what a long strange trip it's been (to filch a phrase from the Grateful Dead, themselves likely no strangers to surrealistic tendencies).
"As I continue my painting journey, I feel that I'm developing my own distinct style and look, and I'll continue to try and get better every time I start a new canvas," he says. "I want to surprise and delight, and ultimately, I want the viewer to want to see more."
To learn more about our featured artist, visit bloodlinesart.com.
St. Louis-area artists who wish to be considered for future installments of this monthly department of Ladue News should email inquiries to bhollerbach@laduenews.com with "Art and Soul" in the subject line.