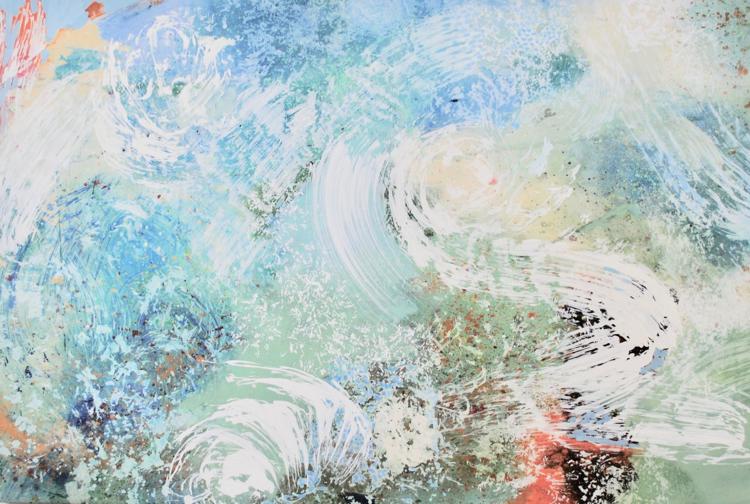 Modern masters whom Sheppard Morose cites as her greatest influences include not only Alexander Calder, Ellsworth Kelly, Henri Matisse, Mies Van der Rohe and Pablo Picasso but also Helen Frankenthaler – and that seems apt, in light of Aqua Glacier, the exuberant 6- by 4-foot acrylic on stretched canvas reproduced here.
Frankenthaler (a small but splendid selection of whose work Clayton's Greenberg Gallery showcased from early last November through the end of January) pioneered what came to be called color field painting, a style of abstractionism emergent in New York City midway through the 20th century.
Like Frankenthaler's color field lovelies, Aqua Glacier seduces the viewer with sheer and utter chromatic exuberance, ravishing the eye with lavish celadon and teal, as well as varied blues – in addition to perhaps incongruous white riptidal effects.
"I'm enthralled by Frankenthaler's use of moody color and how it creates emotion in her paintings," Morose, who lives in St. Louis, notes. "Evidence-based design, the field of study in health care which gives credible evidence to the colors best for improving patient and staff well-being, influences my soft pieces … Bold colors in geometric design have always energized me."
Perhaps predictably in context, Aqua Glacier also may owe a certain debt to Jackson Pollock and his action painting branch of abstract expressionism, in that its creator identifies it as "part of a series of paintings inspired by the Earth's elements and atmosphere. The layers are created with traditional paintbrushes, with what I call a 'kinetic paintbrush' – also known as a large, swinging industrial mop – and with paint applied out of a spray bottle."
Intriguingly, for younger individuals seeking to distinguish themselves in art, Morose recommends not only working harder than their counterparts but also studying business to a degree. "Knowing how our global society is evolving is imperative," she says, before citing physics, of all things, as her favorite subject in high school. "I use a lot of math to create my compositions. I studied advertising in college and worked as a graphic designer for 12 years before I started a career in fine art."
By way of more specific background, Morose mentions having earned a bachelor's degree in communications in the '80s from the University of Illinois at Urbana-Champaign before pursuing post-baccalaureate work at the esteemed School of the Art Institute of Chicago. After that, she worked first for a global media company based in Chicago, then for public relations/marketing behemoth FleishmanHillard here.
For both of those erstwhile employers, Morose recalls using her "design strengths to create bold, colorful paintings and original pigment prints" and characterizes her niche, at the time, as "work[ing] with designers, architects and homeowners to create interiors that uplift and engage those who pass through. Some colorful, modern installations stretch three stories high in downtown loft spaces, while other nature-inspired pieces promote wellness in health facilities."
In 2004, Morose transitioned from serving as a graphic designer to creating fine art, and in the intervening decade and a half, she notes, her works have graced a number of collections both individual and corporate, domestic and foreign.
In sum, Morose revisits the masters, as well as the planet's abiding mistress: "The east building of the Saint Louis Art Museum has a superb collection of modern art. I visit the classics – work by Monet, Matisse and Picasso – and always find new inspiration. Walking through the Missouri Botanical Garden or simply out the front door, endless color combinations come to mind. From subtle to vibrant, we have Mother Nature to thank." 
To learn more about our featured artist, visit sheppardmorose.com.
St. Louis-area artists who wish to be considered for future installments of this monthly department of Ladue News should email inquiries to bhollerbach@laduenews.com with "Art and Soul" in the subject line.
Be the first to know
Get local news delivered to your inbox!