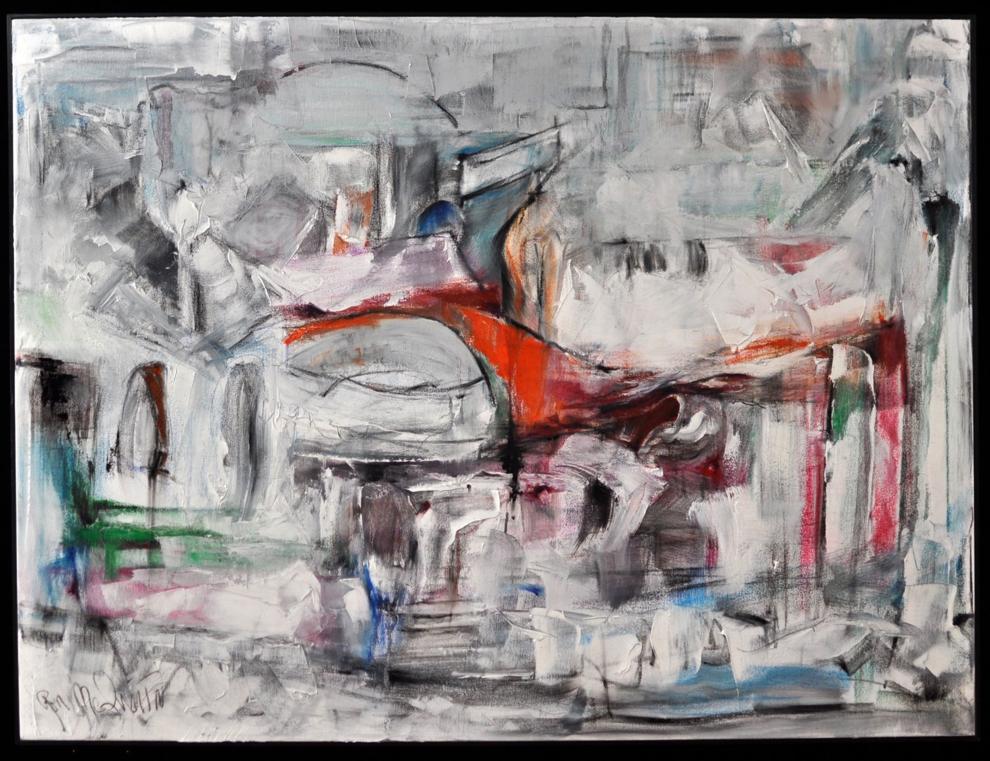 With its titular geographic reference, A Dublin Cityscape by Kirkwood's Ron McIlvain (shown here) almost perforce calls to mind that most iconic of Dubliners, 20th-century literary giant James Joyce, and for most folks, any Joycean reflection probably ends, in one way or another, with some thought of Finnegans Wake.
That seems apt. After all, arguably few works – in any medium – can match the oneiric impact of that literary behemoth, and A Dublin Cityscape seemingly communicates in the vernacular of dreams.
McIlvain relates that he painted the 4- by 3-foot oil abstract on canvas in the spring of 2015. "It's based on a photograph that I took of the city of Dublin, Ireland, from the top of the Guinness Tower while visiting there with my daughter," he says.
"Although I haven't always based paintings on photographs, lately I've found that subjects like the outside of City Museum and inside of Union Station provide challenges when photographed that offer interesting opportunities to explore the relationship of lines, space, color, form, texture and composition.
"Some of these elements, of course, may be included in most paintings regardless of whether the paintings are representational or abstract. I'm primarily interested in how they relate to abstraction."
Since retiring almost a decade ago, in fact, McIlvain has devoted himself to painting abstracts like A Dublin Cityscape.
Prior to his retirement, in 1963, he earned a Bachelor of Science degree in education and fine arts from Southeast Missouri State University in Cape Girardeau. Then came a Master of Arts degree in painting and bronze casting from the University of Kansas in 1972.
For a time thereafter, McIlvain taught art in the Jennings and Ritenour school districts before entering the corporate world to leverage skills in design, photography, filmmaking and production.
From 1974 through 2008, he served at various concerns in the publishing industry, managing creative, design, photographic, product development, marketing, sales and media consulting organizations. Ultimately, McIlvain retired after a 17-year stint as a divisional vice president/general manager at a mixed financial services, information technology and media/news company.
A Dublin Cityscape, he notes, has landed various laurels in its brief existence. As a JPG file, for instance, it earned the Award of Distinction last October at ViewPoint 48, a national juried art competition sponsored by Ohio's Cincinnati Art Club, whose website characterizes it as the "second oldest continually operating organization of its kind west of the Allegheny Mountains." Prior to that, the painting also earned acceptance into the St. Louis Artists' Guild's Missouri and Illinois juried "MOVE! All Media Exhibition" in June 2015.
Returning to its Finnegans Wakefulness, A Dublin Cityscape, as noted, commands attention for its seeming dreaminess.
Predominated by shifting grays, it "feels" foggy, perhaps also ashen, like a chill Irish night inadequately but still invasively heated by peat. Amid those grays, other colors – a disquieting splash of scarlet, wisps of cobalt, a small but emphatic emerald daub – invite a retreat to Freud's concept of sekundäre ẞearbeitung ("secondary revision") and the imposition, right or wrong, of some sort of narrative. Do human faces peer from the fog – and if so, what do their expressions convey? Does an aproned woman stand framed in a doorway there, or does that merely constitute an optic conceit?
In short, like all art – or all the finest art – A Dublin Cityscape poses more questions than it answers.
To learn more about our featured artist, visit ronmcilvain.com.
St. Louis-area artists who wish to be considered for future installments of this monthly department of Ladue News should email inquiries to bhollerbach@laduenews.com with "Art and Soul" in the subject line.