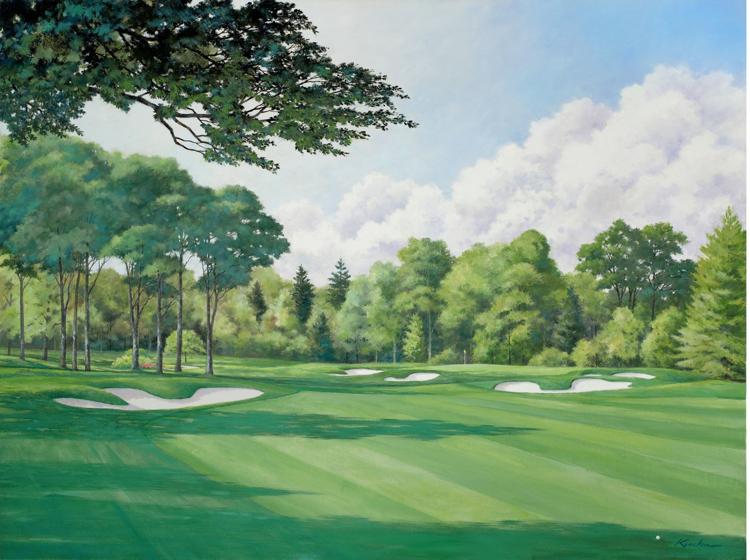 With Town and Country's Bellerive Country Club (pardon the pun) scrambling to finalize preparations for the PGA's centennial championship from Aug. 6 to 12, much of the metro area seemingly has gone golf gaga – including the local arts community.
Since June 1, for instance, The Sheldon Concert Hall & Art Galleries has been showcasing the delightful exhibition "Golf the Galleries – Artist-Designed Mini Golf" (featured in the May 25 Ladue News), and now gamely shouting, "Fore!" is Paul Kuchno of St. Louis' Dutchtown neighborhood.
With this 32- by 24-inch landscape painted last year, in fact, Kuchno confesses to an effort to salute that upcoming swinging celebration. The landscape's title? The Green Monster of Ladue Road – the Bellerive course's moniker mixing vexation and affection.
Now, those uncharitably tempted to suspect Kuchno of a bit of topical opportunism should divest themselves of that suspicion; his artistic involvement with golf long predates the PGA centennial.
During three consecutive years in the 1990s, for instance, Kuchno relates that he numbered among just 30 artists invited by Golf Digest and North Carolina's famed Pinehurst Resort (the so-called "Cradle of American Golf") to a festival devoted to the art of the sport. Also, for seven years, he served as tournament artist for the Senior PGA Championship in Tampa, Florida, and works of Kuchno's have graced two suggestively titled books: A Tribute to Golf by Thomas P. Stewart and Arnold Palmer and Fine Art of America's Fairways by Michael E. Ventola Jr.
Moreover, from Aug. 3 to 30, the University City Public Library's gallery will be spotlighting a golf-intensive exhibition of Kuchno's works entitled "A Walk in the Park." (For that exhibition, by the way, Kuchno has crafted a fun chapbook entitled Fore! Poems, one of whose verses, "Cure My Slice," deliciously laments, "The more I keep trying, the more I keep missing. / [T]he only sure cure is to take up fishing.")
Before Kuchno started puttering around tees, fairways and greens, he notes that he attended Chicago's American Academy of Art. He then worked as a graphic artist and art director in various places and owned and operated a graphic design studio for a decade.
Otherwise, for five years, Kuchno taught a basic watercolor class at the Liga Estudiantes de Arte de San Juan in Puerto Rico; he also ranks as a signature member of the Florida Watercolor Society, inducted in 1995.
"Most of my work is done in watercolor, but I decided to produce this painting in oil," Kuchno relates of The Green Monster of Ladue Road, which specifically depicts the course's 17th hole (a 531-yard, par-5 problem, according to one online source). "This alone presented a challenge – to change to a different medium.
"While working on this painting, and totally by accident, I started painting an area of trees behind the green. I stood back from the painting, and like looking at clouds, I saw a figure appear in the trees – a subliminal monster appeared in the trees, so I left it in. …"
Impishly, Kuchno reflects on the course's sobriquet and concludes by inquiring, "Can you find the monster?"
To learn more about our featured artist, visit instagram.com/paulkuchno.
St. Louis-area artists who wish to be considered for future installments of this monthly department of Ladue News should email inquiries to bhollerbach@laduenews.com with "Art and Soul" in the subject line.