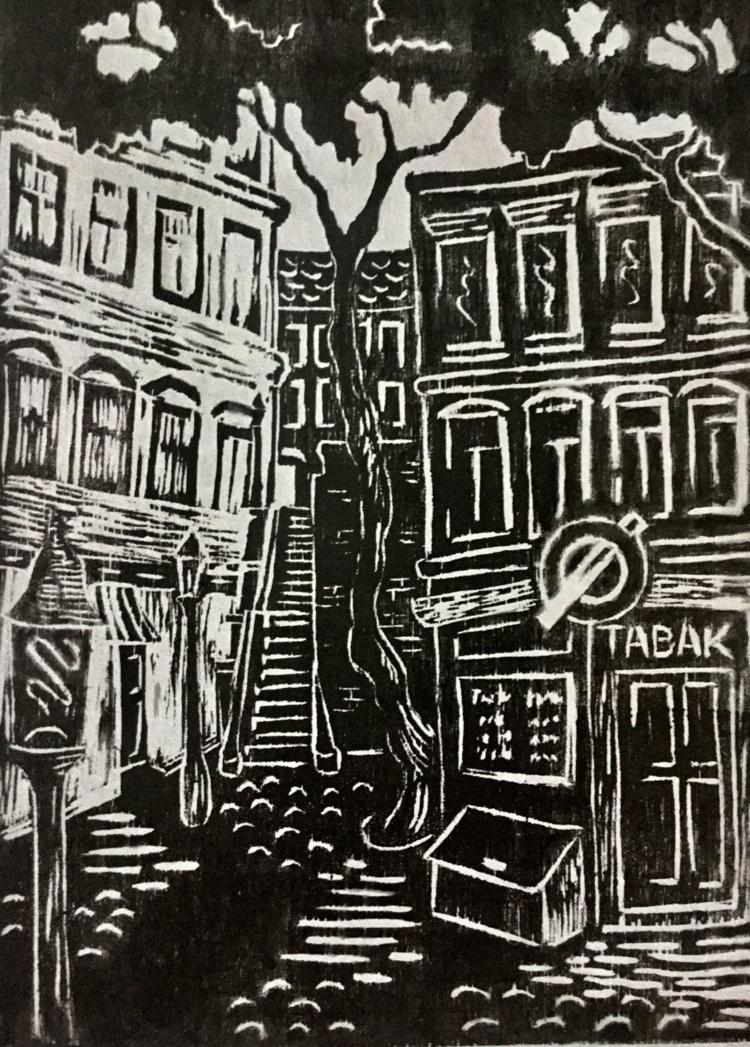 Moelker-Steig, the work shown here, exemplifies the art of making wood engravings and woodcuts (technically xylography, a term Scrabble buffs likely will file for future use) and comes from Patrick Murphy of Webster Groves.
That stark streetscape measures 8 by 10 inches, Murphy says, cut in birch plywood and printed on sumi-e (Japanese, loosely, for "black ink painting") paper using the press at the St. Louis Artists' Guild in Clayton.
"This past October, my wife, Annie, and I rented an apartment in Vienna for a couple of weeks," Murphy relates about the woodcut's origin. "The weather was perfect, and I loved sketching the Old City. This particular scene is a crooked little corner called the Moelker-Steig, and it was one of our favorite places to sit, drink coffee and soak up the city. When I returned to St. Louis, I used the sketches as my guide for a series of woodcut prints.
"The process involves sketching a scene on a piece of wood and then carving out lines and spaces which, after ink is applied, create a black-and-white image on the block. Finally, paper is laid upon the inked block, which is cranked through a mechanical press. The final print is imprinted on the paper as a mirror image of the carving."
To an eye at least semi-discerning, Moelker-Steig, in its rough-hewn, expressionistic black-and-white splendor, may recall certain works from the Die Brücke group of early 20th-century Germany, which influenced the formation of the original Expressionists.
Analogously, it also may recall not only the Brutalist architecture that originated in England in the 1950s but also The Third Man, Carol Reed's exquisite 1949 film noir, set in post-World War II Vienna; the latter anecdotally includes a scene involving a cat prowling the Mölker Steig, as the byway's name is sometimes shown.
Oddly enough, a certain audiovisual influence factors into Murphy's background that dovetails with Moelker-Steig and other woodcuts whose images appear on his website.
"For the past 30 years, I've produced television programs, primarily for St. Louis public television, Channel 9," he relates. "Many of those shows focused on art and artists, so it was a wonderful ongoing education for me.
"Television is a two-dimensional medium, like painting and printing, with its own toolbox of tricks to invite audiences to stick around and watch. But in TV, each scene is defined by the clips that appear just before and after it, and nothing is up there very long. What attracts me to painting and printmaking is that a single image must tell the whole story, by itself, and viewers can look at it as long as they like."
Murphy also expands on the geographic inspiration for a number of his works, including Moelker-Steig, as well as the procedure of creating those works.
"I'm attracted to subjects that offer an opportunity to invite viewers to places they might like to visit through the power of their own imaginations or elicit some kind of emotional response," he says. "In this particular scene, the buildings seem to reach out and welcome us. There is a stairway that takes us somewhere – we're not sure where. Of course, a tree in the middle of a garden is always a good start.
"I like working with wood because – having once been alive – it has a mind of its own and demands some respect. I like the feel of the knives as they cut through the wood. I enjoy rolling the ink, cranking the press and peeling the paper from the block. For me, it's about creating balances between the blacks and the whites and rhythms in the lines.
"And if all works according to plan, the final step is when the viewers bring their own feelings and experiences to the print, completing the process and making it a work of art."
To learn more about our featured artist, visit pmurphystl.com.
St. Louis-area artists who wish to be considered for future installments of this monthly department of Ladue News should email inquiries to bhollerbach@laduenews.com with "Art and Soul" in the subject line.