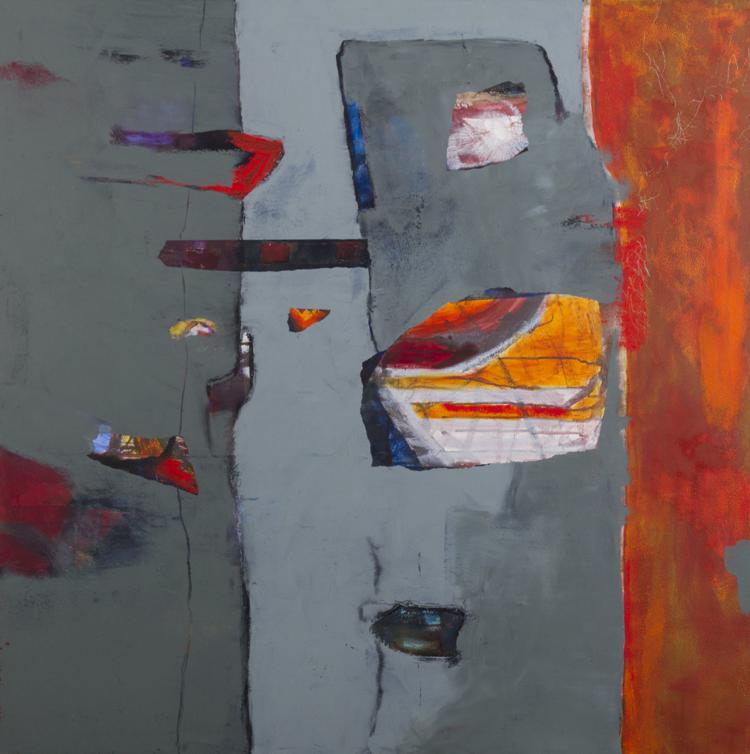 Maryland Heights artist Mark Witzling's Intellectual Rigor immediately strikes the eye with its chromatic juxtaposition.
Created last year, that 4-foot-square painting – in oils and mixed media on a wooden panel – balances largely ashen vertical swathes on its left three quarters or so with a scorching column of reds and oranges down its right side.
With its grays recalling clay-heavy loam and the remainder of the painting almost ablaze, Intellectual Rigor suggests a clash of elemental proportions, earth versus fire. Coincidentally, the painting's creation did involve a dualistic afflatus, Witzling relates, albeit not one involving classical Greece.
"Intellectual Rigor is part of a recent series of abstract oil paintings inspired by my interpretation of the loss of truth in public discussion," he says. "When both sides of an issue neglect the truth, truth becomes obfuscated. The painting reflects the way truth becomes buried beneath layers of obfuscation. I use oils, cold wax medium and graphite to build up multiple layers, and then excavate back into those layers to reveal portions of the truth beneath."
In his artistic métier, it bears noting, Witzling mentions the inclusion of certain of his works in "the first book about this medium": Cold Wax Medium: Techniques, Concepts & Conversations, a recent, award-winning Squeegee Press trade paperback by Rebecca Crowell and Jerry McLaughlin.
On any given work, Witzling continues, after layering, he "use[s] a variety of tools and processes to move and remove portions … This process repeats many times until there's a deep sense of depth in the final painting. I rarely use brushes in my process, instead using a variety of palette knives, pastry scrapers, rollers and even old credit cards to achieve the desired results."
Witzling – who holds a bachelor's degree from Macalester College in St. Paul, Minnesota, and, of all things, a Master of Business Administration degree from Boston University – says that his "art has been placed in spaces from California to New York, Florida, and as far away as Berlin and Mumbai."
He also admits to enjoying a busy 2018. In March, for instance, one of his works won the second-place Award of Mastery in two-dimensional art at an area art fair. Shortly thereafter, in April, he traveled to the commune of Orquevaux in northeastern France, where, as part of a monthlong artist residency and grant, he "painted alongside selected artists from countries around the world."
"I have five paintings in the 'Sky's the Limit' show opening Aug. 3 at OA Gallery in Kirkwood and running through the end of August," Witzling also notes, adding that he's not only taking part in the Art Fair at Queeny Park over the Labor Day weekend but also showing in the emerging artists booth at the Saint Louis Art Fair in Clayton from Sept. 7 to 9.
Oh – one other minor detail about Witzling's busy 2018. In April, before his jaunt to France, the Craft Alliance Center of Art + Design introduced him as its new executive director.
To learn more about our featured artist, visit markwitzlingart.com.
St. Louis-area artists who wish to be considered for future installments of this monthly department of Ladue News should email inquiries to bhollerbach@laduenews.com with "Art and Soul" in the subject line.