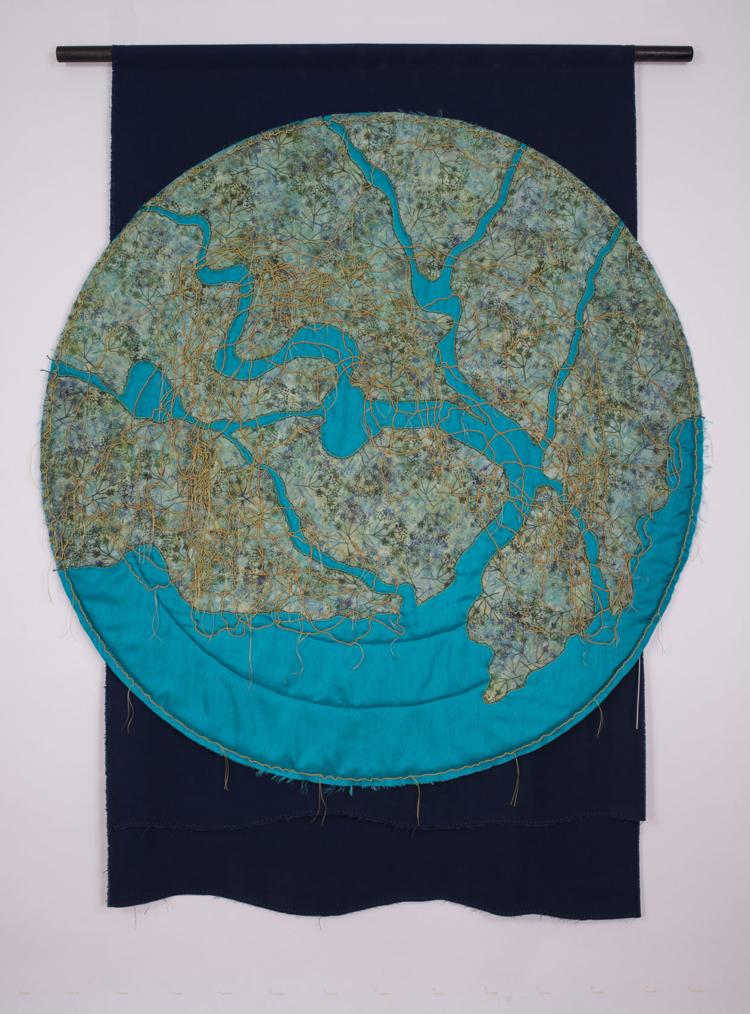 Only a dolt would gainsay the élan and elegance of fiber or textile artwork, like that of Infected, this 2017 piece by St. Louisan Kacey Cowdery.
Such artwork, to be sure, often goes by names other than that and functions in a utilitarian capacity ranging from haute to homey – yet few, surely, could deny the breathtaking allure of a New York or Parisian fashion catwalk or a blissfully bucolic quilting bee.
By contrast, Cowdery's Infected, photographed here by Carl Valle, operates as "pure" art (for want of a better phrase) and measures 57 by 74 inches. She reports that it will appear in the distinguished Ann Metzger National Biennial Exhibition, opening at the St. Louis Artists' Guild's Clayton headquarters next Friday, Jan. 11.
In addition to the Jungian mandala, Infected – given its shape, coloration and interior components – may well call to mind The Blue Marble, the famous 1972 photograph of this planet shot by the Apollo 17 crew roughly 18,000 miles from the terrestrial surface. Almost necessarily, the work's title also suggests the contents of a Petri dish inoculated with microbes of some sort, reflecting the tangles of yellow snaking across its surface like spirochetes.
Cowdery treads a path between micro and macro, between bacteriology and global ecology, in discussing Infected. "Directly or indirectly, mankind is responsible," she says. "Our planet is in a downward spiral. Improvement is possible, but only mankind – meaning you and me – can respond to improve the condition of our precious earth. Each of us has the ability to formulate a plan we can accomplish – and to do it now."
Cowdery's pure work with textiles, perhaps not unpredictably, originated in a framework far more utilitarian. "Fiber art was natural for me," she relates. "I was taught to sew as a child and developed an appreciation and knowledge of textiles. I earned a [bachelor of fine arts degree] at Maryville University, majoring in interior design. That curriculum included several mediums. When students could choose the medium for a project, I always chose fiber."
After graduating from Town and Country's Maryville, Cowdery passed many years working in commercial interior design, which she followed with a 20-year stint in natural stone sales.
"Over time, I made the transition from making garments to fiber art," Cowdery continues with regard to her artistic métier. "My work usually consists of art quilts and drawing with thread. My preferred methods of handwork are embroidery, beading and appliqué, and I gravitate toward bright colors.
"As my work has developed, I've begun to experiment with dolls and three-dimensional constructions. Lured back to garments, I've also developed a series of wearable art."
Cowdery, who shows regularly and whose fiber art has earned various awards and other recognition, belongs both to the St. Louis Artists' Guild and to Missouri Fiber Artists, which just observed its 40th year of "Celebrating the Fiber Arts in Missouri," according to its website.
Last but scarcely least, in addition to her fiber art, Cowdery notes that she and a friend have written a book, but that their publisher, Concord, California's C&T Publishing, has enjoined them from discussing its subject till June. As an enigmatic teaser, though, Cowdery concludes, "I can say it's an art how-to book."
To learn more about our featured artist, visit kaceycowdery.com.
St. Louis-area artists who wish to be considered for future installments of this monthly department of Ladue News should email inquiries to bhollerbach@laduenews.com with "Art and Soul" in the subject line.