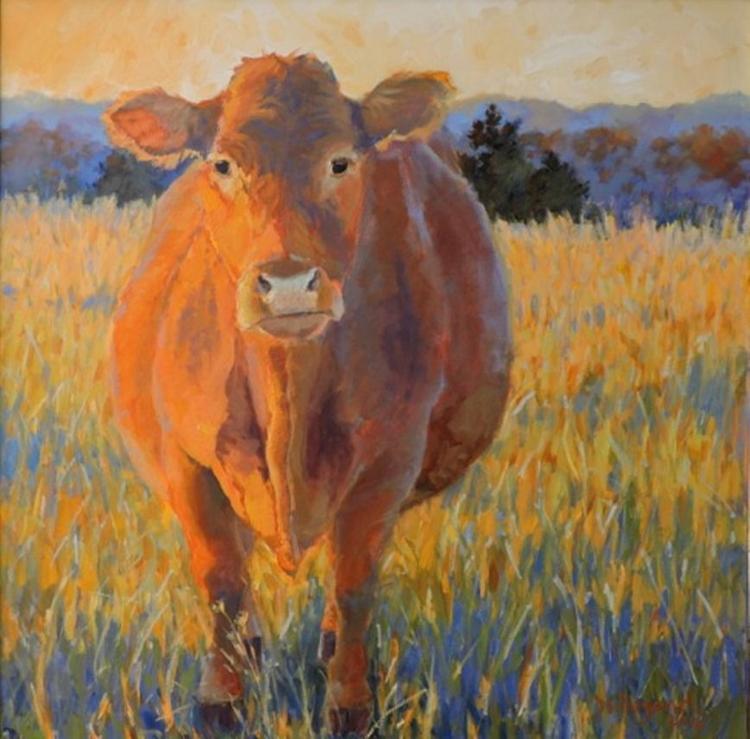 Julie Wiegand, who lives somewhere hereabouts, prefers to characterize herself as simply "a Missouri artist."
That seems apt in light of both the bucolic nature of much of the state – and the wonderfully rustic nature of much of Wiegand's work, like Red Cow at Sunset, the 36-inch-square oil on canvas from 2018 reproduced here.
"Creating feelings with paint is a wonderful thing to be able to do – that's what I strive for," Wiegand says. "Nature is my muse. I've always had an attraction to cows – their serenity, solidness and personalities.
"This piece expresses the sweet afternoon light with the hills of Hermann in the distant background, and front and center – looking deeply into your eyes – a big red cow, a Limousin breed [highly muscled beef cattle originating from that former south-central French region]."
Wiegand relates being born into a family of artists and musicians, a multigenerational household that included not only her parents and her but also four siblings, a grandmother and a great aunt.
As early as the age of 14, Wiegand estimates, art took the forefront among her many youthful interests, and she held her first solo show in 1985, at the Chesterfield sculpture studio of one of her brothers.
"I've been a working artist in Missouri for over 40 years," Wiegand says. "I grew up in the Missouri River bottoms of Chesterfield, surrounded by huge cottonwood trees and farm fields for miles. I continue to express my connection and love of the countryside through my art.
"My oil paintings and murals express light and color interactions within a subject. A large percentage of my oils are painted en plein air [outdoors, customarily with a portable easel], and I truly enjoy this challenging and rewarding work. Many of my plein-air subjects then become larger studio works. I'm drawn to simple compositions and strive to convey the feelings of my chosen subjects – solitude, peace, joy, excitement – within landscape, figurative and still-life murals and oil paintings. There is true joy for me in capturing a mood with color and light."
Within the metro area, Wiegand's work graces Astral Glass Studio in New Haven, Gallery Augusta in Augusta, Harvest Table Eatery & Miscellany in Hermann, the Kodner Gallery in Ladue and OA Gallery in Kirkwood.
Also, in state, she's taken part in art shows and won awards in Augusta, Osage Beach, historic Ste. Genevieve and Town and Country, as well as exhibiting at various events elsewhere.
Appropriately enough, Wiegand and her husband, Tommy Griesedieck, own and operate Lyon School Studio & Gallery, an 1868 limestone one-room schoolhouse on 15 acres at 4588 Lyon School Road 3 miles from the Missouri River in the hamlet of Berger (pop. 221).
There, by happy accident, Wiegand will host a spring house concert and art show this Sunday, April 7, from noon to 6 p.m., with the concert proper at 2 p.m. Later in the year, on June 22 and 23, she also will host a summer studio sale and open house. "Lyon School Studio & Gallery is open anytime by appointment for individuals or small groups – come for a field trip!" Wiegand urges.
She concludes on a philosophical, borderline-Thoreauvian note: "I admire and study nature every day. We have everything to learn from a lizard on a rock and the light on a cloud. I try to live with an open mind and an open heart, to learn from every day and believe in the good of all." 
To learn more about our featured artist, visit juliewiegand.com.
St. Louis-area artists who wish to be considered for future installments of this monthly department of Ladue News should email inquiries to bhollerbach@laduenews.com with "Art and Soul" in the subject line.